PRODUCT

GUIDE

|

►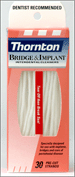 Bridge and Implant Cleaners Thornton International, Norwalk, Conn, offers Bridge and Implant Cleaners that fit any interproximal space where some degree of gum recession has occurred or where a large space exists near a dental bridge, implant, or other appliance. The product's spongy nylon yarn brush section can accommodate a large space and if the yarn is stretched, it can fit into a smaller space or be used subgingivally. They do not contain any metal and the hydrophilic nature of the nylon yarn construction is designed to absorb any type of liquid medications that may be part of a home care program. (800) 445-3567; www.thorntonfloss.com.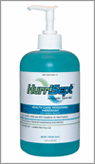 Antiseptic Hand Gel Beutlich® LP Pharmaceuticals, Waukegan, Ill, introduces HurriSept® Antiseptic Hand Gel, a waterless, alcohol-based hand rub for health care personnel. HurriSept contains 70% ethyl alcohol for hand antisepsis with aloe vera gel for hand softness. It comes in a 16 fl oz pump bottle with a berry scent. (800) 238-8542; www.beutlich.com.

Topical Anesthetic DENTSPLY Pharmaceutical, York, Pa, introduces Oraqix®, a needle-free topical anesthetic for use in adults who require localized anesthesia in periodontal pockets during scaling and root planing. Approved by the Food and Drug Administration (FDA), Oraqix is applied at room temperature using a blunt tip applicator to periodontal pockets as a liquid and transforms into a gel. A mixture of lidocaine and prilocaine, the anesthetic has a 30-second onset action time. On average, one cartridge or less of Oraqix is sufficient for one quadrant of dentition. (800) 225-2787; www.oraqix.com.

Infection Control Mask Crosstex International, Hauppauge, NY, makes Crosstex Isolator Plus Masks, providing maximum protection against infectious disease exposure. The masks are NIOSH approved as N-95 Particulate Respirator, they meet guidelines for tuberculosis exposure control, and exceed ASTM High Barrier performance class specifications. They offer bendable chin pieces and nose pieces cinch in to conform to any size. (888) CROSSTEX; www.crosstex.com.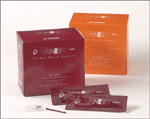 Fluoride Varnish OMNII Oral Pharmaceuticals, West Palm Beach, Fla, introduces VANISH® 5% NaF White Varnish, the only white fluoride varnish available. The varnish offers 22,600 ppm fluoride but does not leave a yellow color on patients' teeth. VANISH comes in cherry and melon flavors and has no tree sap aftertaste. (800) 445-3386; www.omniipharma.com.

Ergonomic Handled Toothbrush Sunstar Butler, Chicago, converted its GUM® specialty toothbrush line to new ergonomically designed, colorful handles. The new handle comes with a soft, raised thumb grip designed for easy maneuvering and raised thumb ridges designed for comfort. The new handles appear on the Sulcus Toothbrush, the Orthodontic Toothbrush, the End-Tuft Toothbrush, and the Delicate Post-Surgical Toothbrush. (800) 528-8537; www.sunstarbutler.com.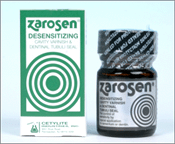 Desensitizer

Cetylite Industries Inc, Pennsauken, NJ, offers Zarosen, a desensitizer designed to deliver immediate relief from hypersensitivity using strontium chloride. One bottle of Zarosen contains nearly 100 applications. Zarosen can be applied before and after prophylaxis and is applied in a one-step, chairside procedure, requiring no light curing or mixing. It can be applied to wet or dry surfaces with cotton or brush applicator. (800) 257-7740; www.cetylite.com.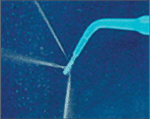 Irrigation Tip Vista Dental Products, Racine, Wis, makes the Vista Pocket Probe™ Tip, designed to irrigate interdental spaces and periodontal pockets. The flexible, prebent irrigation tip with a closed end and three way side perforations allows patients to flush thoroughly and safely at home. The flexible luer-lock design enables easy attachment to a filled syringe or Vista's Perioflex Reservoir, a bottle that allows for one handed irrigation at any angle while protecting from recontamination of the product. (877) 418-4782; www.vista-dental.com.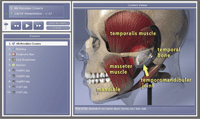 Update on Software CAESY Education Systems, a Patterson Company, Vancouver, Wash, announces the release of CAESY Enterprise 5.5, the newest update of its server-based software for patient education. The update features new and updated multimedia presentations and an elegant new look and feel for ShowCase, the case presentation software included with CAESY Enterprise. ShowCase enables dental professionals to create case presentations that can be presented chairside or sent home with patients to reinforce case acceptance. (800) 691-1980; www.caesy.com.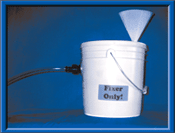 Used Fixer Recycler Fixer Treatment System, Escondido, Calif, offers a Fixer Treatment System (FTS) to safely recycle hazardous spent fixer for 1 year in the dental office. FTS can handle 1 gallon per week and up to 4 gallons a month and will last 1 year. Stand alone installation is very simple and in-line installation instructions are provided with the unit. (760) 746-4281; www.fixer.net.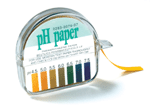 Oral Health Evaluation Tool Beutlich® LP Pharmaceuticals, Waukegan, Ill, provides pH paper, an oral health evaluation tool used to identify oral pH levels. An acidic oral environment—low pH—may lead to demineralization of the enamel and can be caused by poor oral health or eating habits. Beutlich's pH paper allows patients to check their pH at home on a routine basis. The paper works by moistening a strip of test paper with saliva and comparing to a color chart on the dispenser to reveal the level of acidity in the mouth. (800) 238-8542; www.beutlich.com.
2
|
►
---
From Dimensions of Dental Hygiene. December 2005;3(12):20, 22.