PRODUCT

GUIDE

|

►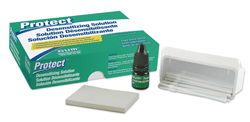 Desensitizing Solution Sunstar Butler, Chicago, introduces Protect™ Desensitizing Solution, a treatment for dentin hypersensitivity. Dispensed in-office, Protect's applicator system is designed to clear the smear layer to expose open tubules, creating deep tubule occlusion and depositing a surface varnish. Its primary action binds calcium and protein molecules deep in the tubules. The temporary fluoride varnish lasts several days to seal the tubule opening. (800) 528-8537; www.sunstarbutler.com.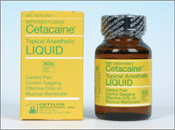 Topical Anesthesia Cetylite Industries Inc, Pennsauken, NJ, provides Cetacaine Liquid, a rapid onset topical anesthetic designed to last up to 30 minutes. It is an alternative to injection for scaling and root planing or it can be used for topical anesthesia prior to injection. Its viscous solution allows cotton or instrument application or subgingival irrigation with a blunt tip needle for localized results and is recommended for use before deep scaling, curettage, and mucous membrane surgery. (800) 257-7740; www.cetylite.com.

Air/Water Syringe Tips Vista Dental Products, Racine, Wis, provides the Ez-Lock™ Disposable Luer-Lock Air/Water Syringe Tip, which converts air/water syringes into subgingival irrigators. Ez-Lock directs spray with no aerosol and no splatter. The design allows for greater access and will not obstruct visibility during irrigation and drying. The disposable tips are easy to use and are designed to eliminate cross contamination. (877) 418-4782; www.vista-dental.com.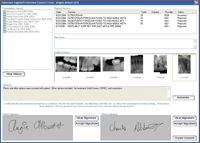 New Version of Software Patterson Dental Supply Inc, Effingham, Ill, announces Patterson EagleSoft Version 12.00, which offers many new features like the informed consent module designed to track patient acknowledgement and acceptance of treatment recommendations. Version 12.00 also features the EagleSoft Today desktop day planner and advanced patient tracking. (800) 294-8504; www.eaglesoft.net.

Toothpaste Colgate-Palmolive, New York, makes Colgate Total®, designed to fight gingival inflammation. Triclosan, an ingredient in the toothpaste, provides 12-hour antibacterial action and inhibits potent mediators responsible for gingival inflammation. In combination with triclosan, the toothpaste includes a broad spectrum antibacterial and a patented copolymer designed to prolong the retention of triclosan on the surface of the teeth and gums. (800) 2COLGATE; www.colgateprofessional.com.

Glove Box Holder Palmero Health Care, Stratford, Conn, provides a glove box holder to keep gloves close at hand in the operatory. Designed to accommodate either one or two separate boxes of gloves, the white metal holders allow a variety of styles and sizes to be easily accessed. A three box holder is also available. (203) 377-6424; www.palmerohealth.com.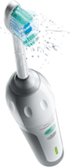 Sonic Toothbrush Philips Oral Health Care, Stamford, Conn, offers the Sonicare® Elite, designed to create fluid cleaning action to access hard-to-reach places. The brush has a slim angled neck and a tapered brush head with contour-fit bristles. The Sonicare Elite is designed to significantly disrupt plaque biofilm beyond the bristles. (800) 676-7664; www.sonicare.com.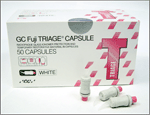 Glass Ionomer Sealant GC America, Alsip, Ill, offers GC Fuji TRIAGE™, a glass ionomer sealant and surface protectant. No isolation or bonding agent is required. TRIAGE works in a moist field and is designed for sealing over immature enamel or noncavitated lesions. Self-adhesive TRIAGE releases a high level of fluoride to create a strong, acid-resistant fused layer, providing patients up to 24 months of fluoride protection. (800) 323-7063; www.gcamerica.com.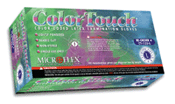 Size Identifying Colored Gloves

 Microflex Corp, Reno, Nev, provides ColorTouch®, lightly powdered latex examination gloves with a peppermint scent and with a different color for each size. Made from natural rubber latex, Color Touch gloves are ambidextrous with a fully textured exterior for enhanced sensitivity and control. They are manufactured without chlorination to maintain pliability and barrier properties. (800) 876-6866; www.microflex.com.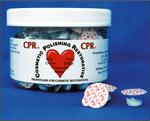 Polishing Paste IC Care Inc, Rolling Bay, Wash, offers CPR, the universal polishing paste. CPR is a 2 gram unit dose polishing paste containing a blend of polishing compounds designed to clean and maintain all tooth surfaces. CPR contains no pumice or fluoride and is safe on restorations and natural teeth. It may be used with any prophy brush or rubber cup. (877) 477-5486; www.iccare.net.
1
|
---
From Dimensions of Dental Hygiene. December 2005;3(12):14, 16.