PRODUCT

GUIDE

|

►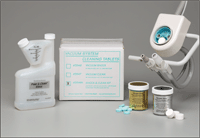 Vacuum Cleaning System Kit Palmero Health Care, Stratford, Conn, offers the Shock & Clean Kit, containing one jar of Vacuum Shock, one jar of Vacuum Clean, and one Pour & Clean Rinse bottle to keep vacuum systems clean. The Shock & Operatory Kit is also available and contains 16 Vacuum Clean Tablets and one Vacuum Shock Tablet. (203) 377-6424; www.palmerohealth.com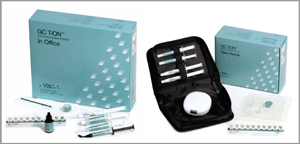 Tooth Whitening System GC America Inc, Alsip, Ill, provides GC TiOn™ Whitening System In-Office Kit, featuring a titanium dioxide photocatalyst for whitening teeth with a lower concentration of hydrogen peroxide. Light activates the photocatalyst in order to maximize the whitening effect of the hydrogen peroxide. TiOn also comes in a Whitening System Take Home Kit developed to maintain natural tooth translucency. (800) 323-7063; www.gcamerica.com.

Infection control and Prevention Face Mask Crosstex International, Hauppauge, NY, provides three lines of masks that exceed ASTM standards: Crosstex Ultra Masks, Crosstex Procedural Masks, and Crosstex Isofluid. The ASTM standards are based on the fluid resistance, filtration value, breathability, and flammability of mask materials. Masks are rated on their fluid resistancy according to three performance class specifications: low, moderate, and high barrier protection. Ultra Masks exceed the high barrier protection, Procedural Masks exceed moderate barrier protection, and Isofluid exceed low barrier protection. All Crosstex masks are latex-free, odorless, glass-free, soft, and have a white inner layer and will not lint, tear, or shred. (888) CROSSTEX; www.crosstex.com.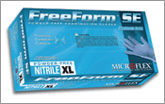 Powder-free Nitrile Gloves Microflex Corp, Reno, Nev, offers FreeForm® SE Examination Gloves with a latex-like fit but in a soft nitrile formulation. FreeForm gloves are designed for extra softness to overcome the tendency of nitrile gloves to constrict use. (800) 876-6866; www.microflex.com.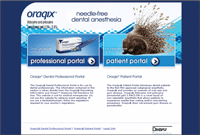 Website Section for Patients DENTSPLY Pharmaceutical, York, Pa, has launched www.oraqix.com Patient Portal, a new informative addition to the existing site. The new Patient Portal section introduces dental patients to Oraqix (lidocaine and prilocaine periodontal gel), provides information on common dental procedures, and explains the effects that gum disease and periodontitis have on oral health. Oraqix is a needle-free dental local anesthetic indicated for use in adults who require localized anesthesia in periodontal pockets during scaling and/or root planing procedures. Oraqix is not for injection but is administered with a unique Oraqix dispenser. (800) 225-2787; www.oraqix.com.

Toothbrush Colgate-Palmolive, Canton, Mass, introduces the new Colgate 360°™ toothbrush, which incorporates a built-in tongue cleaner on the back of the brush head. The 360° has a special bristle configuration designed to reduce gingival bleeding and interproximal plaque. The brush comes in four colors and in full head soft and full head medium. The compact head soft will be available for dental professionals. (800) 2COLGATE; www.colgateprofessional.com.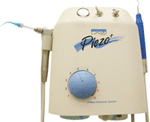 Ultrasonic Reservoir System Vista Dental Products, Racine, Wis, provides the Piezo+™, a two bottle reservoir system, built-in piezo ultrasonic unit and subgingival irrigation handpiece. It features an autoclavable handpiece, an irrigating handpiece with Stropko Irrigator™ adapter, and a choice of four ultrasonic tips. The operator is able to choose between operatory water and the two bottle reservoir system. The Piezo Advantage™ is also available—a powerful ultrasonic scaler with little handpiece vibration that offers wall or pole mounting with removable and autoclavable control covers. (877) 418-4782; www.vista-dental.com.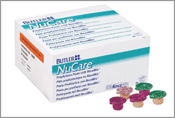 Prophy Paste

Sunstar Butler, Chicago, offers NuCare™ Prophy Paste with NovaMin®, a pumice-free formula with low abrasivity and reduced tooth sensitivity. NovaMin is a tasteless powder composed of calcium, phosphate, silica, and sodium. When the material comes in contact with saliva or water, it reacts and releases calcium and phosphate ions. These ions immediately precipitate onto the surface of the tooth to form hydroxy-carbonate-apatite (HCA) layer. The new HCA layer occludes dentinal tubules and desensitizes the tooth. (800) 528-8537; www.sunstarbutler.com.

Integrated Toothbrush and Paste Philips Oral Healthcare, Stamford, Conn, makes the IntelliClean System, an integrated power toothbrush and liquid toothpaste dispensing system. The system combines the Sonicare brush with Procter and Gamble's Crest liquid toothpaste. The IntelliClean System uses the Sonicare's high speed bristle motion to liquefy the toothpaste, designed to drive the cleaning ingredients interproximally and into the sulcus. Patients can reapply toothpaste in specific areas by pushing the dispensing button while brushing. The professional model is currently available. (800) 676-SONIC; www.sonicare.com.

Radiation Badge

IC Care Inc, Rolling Bay, Wash, provides the IC Care Radiation Monitoring Badge Service, a yearly radiation exposure monitoring service that offers both monthly and quarterly monitoring cycles. For added security, there is also a Fetal Radiation Monitoring Badge for employees who are pregnant. (877) 477-5486; www.iccare.net.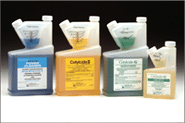 Disinfectant Cetylite Industries Inc, Pennsauken, NJ, offers Cetylcide II Concentrate, a broad spectrum EPA-registered disinfectant. It contains no alcohol, bleach, iodophor, phenol, or glutaraldehyde and will not damage water safe surfaces. Cetylcide II is designed to clean as it disinfects and contains a biodegradable detergent. Cetylcide-G Concentrate, which is a specially denatured glutaraldehyde-based formula, and Power Cleaner Concentrate, a general purpose ultrasonic cleaner and holding solution, are also available. (800) 257-7740; www.cetylite.com.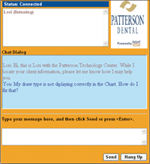 Online Support Tool

Patterson Dental Supply Inc, Effingham, Ill, introduces Live Help, an online support tool for Patterson EagleSoft, enabling Patterson EagleSoft customers to interact in real time with support specialists at the Patterson Technology Center. Live Help provides customers with a quick and easy way to have their questions answered without picking up the phone. (800) 294-8504; www.eaglesoft.net.
3
|
►
---
From Dimensions of Dental Hygiene. December 2005;3(12):24, 26.