Product Profile: DisCide ULTRA by Palmero Health Care
Infection Control Lineup Offers Fast Acting Asepsis Solutions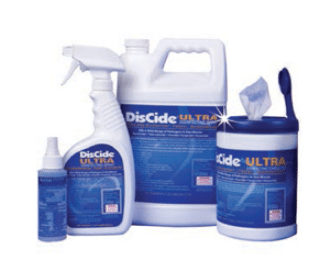 The importance of infection control in the dental setting cannot be overstated, but the ability to maintain cleanliness in the operatory is made easy with Palmero Health Care's DisCide ULTRA series—a complete line of highly effective, fast-acting, hospital-level disinfectants. Ideal for operatories, central sterilization rooms, and general office use, DisCide ULTRA is designed to help clinicians expedite operatory turnover without compromising infection control protocols and standards.
UNIQUE FEATURES
DisCide ULTRA is a one-step, quaternary ammonium, high-level, alcohol-based disinfectant that is designed to kill pathogens—including tuberculosis, methicillin-resistant Staphylococcus aureus

, human 

immunodeficiency virus, hepatitis B and C viruses, influenza A virus, Escherichia coli

, and more—in 1 minute 

or less.
Offered in a spray, foam, aerosol, or towelette—as well as in economical bulk-refill packaging—DisCideULTRA is noncorrosive and nonstaining, and leaves behind a pleasant herbal scent with no unsightly residue.
This product is registered with the United States Food and Drug Administration andEnvironmental Protection Agency and meets the disinfection requirements of the federalOccupational Safety and Health Administration's Bloodborne Pathogens Standard.

From Dimensions of Dental Hygiene. May 2016;14(05):70.