New Edition of Highly Regarded Oral Pathology Textbook is Released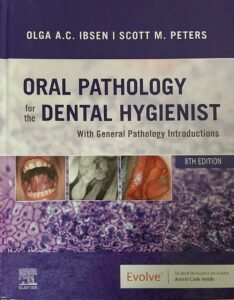 Elsevier recently published the 8th edition of the highly regarded oral pathology textbook, Oral Pathology for the Dental Hygienist. The textbook has been used by more than 300,000 dental hygiene students and practitioners, and has been translated into several languages including Korean, Spanish, and Italian. 
Tailored to the role of the dental hygienist, the book provides a wide array of resources to ensure clinicians obtain a broad-based understanding of oral pathology, including pathology synopsis tables offering at-a-glance summaries with the most critical information for each lesion, disease, or condition. The 8th edition offers high-quality radiographs and color clinical photographs in addition to 140 newly written chapter review questions 
First published in 1991, Oral Pathology for the Dental Hygienist was initially written by Olga A.C. Ibsen, RDH, MS, FAADH, and the late Joan Phelan, DDS. The 8th edition is dedicated to Phelan who passed away in 2018. Ibsen recruited co-author Scott M. Peters, DDS, assistant professor of oral and maxillofacial pathology at Columbia University College of Dental Medicine in New York, for the new edition. 
A world-renowned authority on oral pathology, Ibsen was an adjunct professor in the Department of Oral and Maxillofacial Pathology, Radiology, and Medicine at New York University, College of Dentistry in New York City and an adjunct professor in the Department of Dental Hygiene at the University of Bridgeport in Bridgeport, Connecticut. She is a longtime member of Dimensions of Dental Hygiene's Editorial Advisory Board. She received the prestigious Esther Wilkins Lifetime Achievement Award in 2017.
From Dimensions of Dental Hygiene. April 2022; 20(4)13.