MI Paste® ONE by GC America Inc
New two-in-one product protects and cleans.
The newest member of the MI Paste® family, MI Paste® ONE, is a two-in-one application (toothpaste and MI Paste Plus®) containing RECALDENT™ (CPP-ACP)* and fluoride in a cool mint flavor. This product presents another way to treat sensitivity, remineralize tooth enamel, and prevent white spot lesions. Imagine a simple, single step for treatment and cleaning. As a replacement for toothpaste, it gives the same power of MI Paste Plus®, but in a single application. Now, rather than brushing first then applying MI Paste® or MI Paste Plus®, the patient simply brushes with MI Paste® ONE.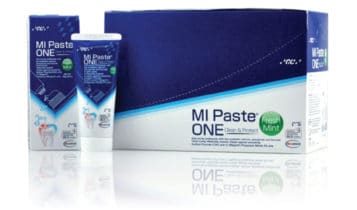 INDICATIONS
Use MI Paste® ONE for:
Hypersensitivity
Remineralization
Tooth erosion and wear
Sensitivity from whitening
Preventing caries and white spot lesions
INGREDIENTS
MI Paste® products release RECALDENT™ (CPP-ACP)*—a natural protein peptide that adheres to soft tissue, plaque, pellicle, and enamel's hydroxyapatite, delivering amorphous calcium and phosphate (ACP) into the saliva. The mechanism of action is like that of the salivary protein statherin and the supply of bio-available calcium and phosphate can drive remineralization by fluoride (MI Paste Plus® and MI Paste® ONE), buffer acid, and reduce the plaque acid effect on tooth structure.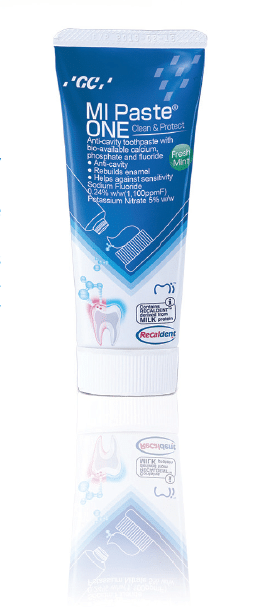 FEATURES AND BENEFITS
Releases bioavailable calcium, phosphate, and fluoride as much as MI Paste Plus®.
Sodium lauryl sulfate free! Instead, it contains a milder surfactant. The mild foaming also helps to reduce any discomfort caused by brushing.
Designed to be gentle to the dentition but provide high cleaning efficacy. MI Paste®

ONE has a low relative dentin abrasivity of 64.
MI Paste® ONE is an essential solution to deliver calcium, phosphate, and fluoride to patients' teeth, which provides powerful pain relief within 3 minutes to 5 minutes. It's a quick and easy conversation that could have significant benefits for patients' overall oral health and sensitivity management.
*CAUTION: RECALDENT™ (CPP-ACP) is derived from milk casein. Do not use on patients with a milk protein or hydroxybenzoates allergy.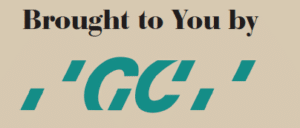 From Dimensions of Dental Hygiene. September 2018;16(9):43.