Marketplace
A listing of featured products.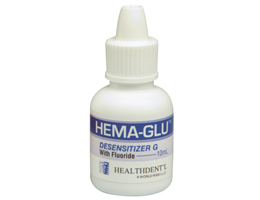 FLUORIDE-INFUSED DESENSITIZER
Healthdent'l, Naperville, Illinois, recently launched its Hema-GLU Tooth Desensitizer with fluoride. This formulation is designed to stop tooth sensitivity upon application. Just apply and let dry—no mixing or curing required. Hema-GLU is indicated for many uses, including pre- and post-operative tooth-whitening procedures and following scaling and root planing. The desensitizer is available in 10-ml bottles, as well as unit-dose applicators. 800-845-5172; healthdentl.com.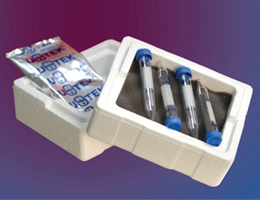 CLICK-AND-PRINT SHIPPING AVAILABLE
ProEdge Dental Products, Centennial, Colorado, has announced its ProEdge Water Test customers are now able to print their Water Test shipping labels in the comfort of their office. This click-and-print shipping option eliminates long waits at the post office, with labeled water samples picked up by UPS and sent overnight to ProEdge for testing. This new option exemplifies the company's commitment to making it easy for dental practices to stay compliant with Centers for Disease Control and Prevention guidelines for safe dental water. 888-843-3343; proedgedental.com/waterline-testing/.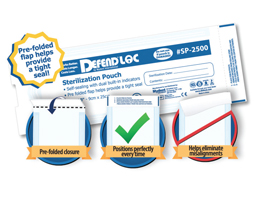 PRE-FOLDED STERILIZATION POUCHES
Mydent International, Hauppauge, New York, introduces its DEFENDLOC Pre-Folded Sterilization Pouches. Designed to ensure a quick and uniform seal every time, these prefolded pouches take the company's long-trusted Defend+Plus Sterilization Pouches and boost their efficiency, consistency, and ease of use. The newly designed sterilization pouches feature a patent-pending technology that improves the safety of sterilization processes, thanks to a complete and uniform pouch seal. 800-275-0020; defend.com.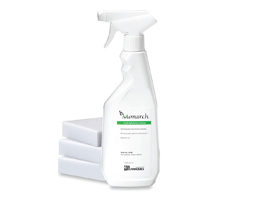 VINYL UPHOLSTERY CLEANER
Air Techniques Inc, Melville, New York, has unveiled its Monarch Vinyl Upholstery Cleaner. The latest addition to the Monarch Surfaces line of cleaners and disinfectants specifically formulated for surfaces, instruments, skin/hands, and equipment, this cleaner is formulated with a proprietary blend of special surfactants, silicone compounds,and avocado oil to maintain the integrity of the materials it touches. The product, available in a 16.9 oz spray, is safe for use on vinyl and artificial leather. A free product sample is available by request. 800-247-8324; airtechniques.com.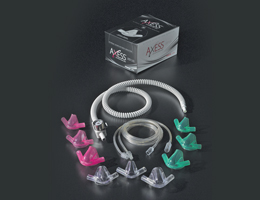 SINGLE-USE SEDATION MASK
Crosstex International, Hauppauge, New York, and its subsidiary Accutron Inc, Phoenix, have introduced the Axess Mask. This single-use nitrous oxide/oxygen sedation nasal mask fits comfortably over the patient's nose, providing a seal that minimizes ambient gas flow into the operatory and the patient's eyes. The mask and scavenging circuit are designed to provide unobstructed access to the oral cavity. The tubing is lightweight in order to reduce drag that can displace the mask. Masks come in three sizes and two scents—mint and bubble gum. A clear, unscented version also is available. Crosstex International: 631-582-6777; crosstex.com. Accutron Inc: 800-531-2221; accutron-inc.com.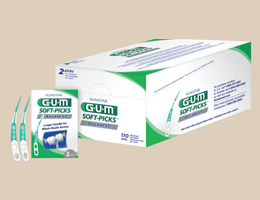 GENTLE YET EFFECTIVE INTERDENTAL CLEANING TOOL
Sunstar Americas Inc, Schaumburg, Illinois, makes GUM Soft-Picks Advanced, which offer patients an easy, effective, and complete interdental cleaning solution. Thanks to its cutting-edge design, patients can use this interdental cleaner to reach any area of the mouth. The tapered design enhances adaptability to both small and wide spaces, making it ideal for patients with orthodontics, implants, and bridges. Soft bristles are gentle on the gums, boosting patient compliance. A box includes 110 packets featuring two interdental cleaners. 800-528-8537; gumbrand.com.
---
From Dimensions of Dental Hygiene. April 2017;15(4):52.