December 2017 Marketplace
A listing of featured products.
X-RAY APRON RECYCLING PROGRAM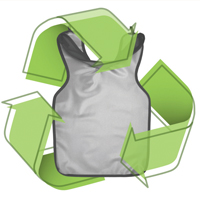 Palmero Healthcare, Stratford, Connecticut, a Hu-Friedy subsidiary, has launched its latest green initiative, Palmero's X-Ray Apron Recycle/Trade-In Program. This ecofriendly and environmentally responsible program rewards clinicians for supporting green dental practices. Palmero's Trade- In Program enables clinicians who purchase a new Palmero X-ray apron and recycle an old one to receive a complimentary X-ray apron hanger. For those only interested in ensuring the apron material is responsibly disposed of, Palmero will recycle used X-ray aprons via mail at the company's Connecticut office (Palmero Healthcare LLC, Attn: X-Ray Recycle/Trade-In Program, 120 Goodwin Place, Stratford, CT 06615). 800-344-6424; palmerohealth.com.
EBOOK SERVES AS PRACTICAL GUIDE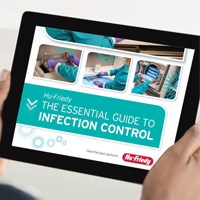 Hu-Friedy, Chicago, has created a two-part eBook that can serve as a practical guide for every office, The Essential Guide to Infection Control. This eBook covers the latest in infection control standards, and explains how to comply with best practice and industry standards in infection prevention, how to ensure patien t and employee safety, and reduce risk and liability. The two-part eBook—Part 1: Getting Started as an Infection Control Coordinator and Part 2: Instrument Reprocessing—can be downloaded from the Hu-Friedy website. 800-483-7433; hu-friedy.com.
ERGONOMIC PROPHY ANGLE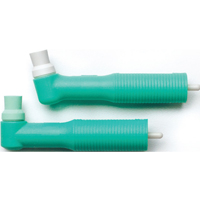 Preventech, Indian Trail, North Carolina, offers the PivotNL Contra Disposable Prophy Angle. This prophy angle combines the ergonomic and cleaning benefits of a 15° contra bend with high performance. Due to its ergonomic design, PivotNL Contras offer improved reach, access, visibility, and comfort. PivotNL Contra Disposable Prophy Angles run smooth and operate free of chatter. 800-474-8681; preventech.com.
DRY MOUTH RINSE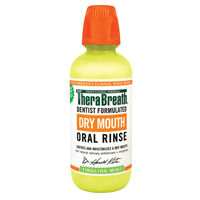 Dr. Harold Katz, Los Angeles, offers TheraBreath Dry Mouth Oral Rinse. Free of alcohol, artificial flavors, and colors, this oral rinse is also gluten free, vegan, and kosher. TheraBreath Dry Mouth Oral Rinse combines enzymes to soothe and moisturize with a proprietary natural ingredient to help with the flow of saliva. 800-973-7374; therabreath.com.
FULL COVERAGE FACE MASKS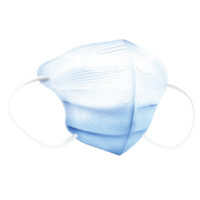 Cranberry USA, Pinole, California, introduces its 360 Face Masks. The revolutionary curved-edge design provides 360° of complete full coverage protection, and conforms with different face shapes. An anti-fog cushion aids in adsorbing fog and sweat. The 360 Face Masks are available in ASTM level 2 and 3, and in small and regular sizes. 888-811-6839; cranberryusa.com.
FACE MASK OFFERS CUSTOMIZED FITS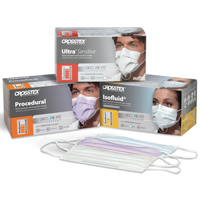 Crosstex International, Hauppauge, New York, offers clinicians face masks with Secure Fit Face Mask Technology. These face masks offer a customized fit—providing clinicians with protection, no matter what the task. The masks' firm, adjustable aluminum strips in the nose and chin allow Secure Fit masks to conform snugly to clinician's unique face shape, minimizing dangerous gaps, reducing fogging, and providing superior protection. 888-276-7783; crosstex.com.
WHITENING DENTIFRICE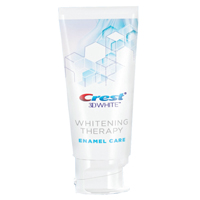 Procter & Gamble, Cincinnati, offers Crest 3D White Whitening Therapy Enamel Care Toothpaste. The dentifrice nourishes teeth to repair weakened enamel and whitens by removing surface stains. It is formulated with an active mineral complex. The Enamel Care formula helps to remineralize enamel, gently lifts impurities, and is specifically formulated to envelop each tooth to whiten and strengthen teeth. 513-983-1100; proshop.dentalcare.com.
CLEAR FLUORIDE VARNISH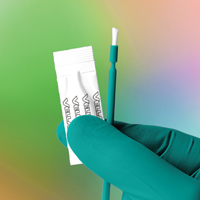 Preventech, Indian Trail, North Carolina, introduces VellaMini 5% Fluoride Varnish with NuFluor, designed to be used with the back-of-theglove technique. Featuring a patented combination chemistry containing calcium, phosphate, and fluoride, VellaMini contains xylitol and is free of gluten and n-hexane. This clear varnish comes in caramel, spearmint, bubble gum, melon, and strawberry flavors. Free samples are available. 800-474-8681; preventech.com.
LATEX-FREE CONTRA PROPHY ANGLES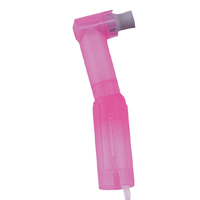 SmartPractice, Phoenix, offers an adjustable, disposable latex-free contra prophy angle—the SplatrFree Swangle 360° Contra Prophy Angle. Ergonomically designed, Swangle 360° improves the comfort of both the clinician and the patient. Control shield reduces spray for better infection control. Its contra-angle design improves access to all areas of the mouth. 800-522-0800;smartpractice.com/dental,
TOOTHPASTE FOR HEALTHY GUMS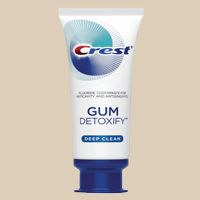 Procter & Gamble, Cincinnati, presents Crest Gum Detoxify. This toothpaste improves gum health with stannous fluoride, aids in the prevention of caries, and helps prevent gingivitis. 513-983-1100; dentalcare.com/gumdetoxify.
TITANIUM IMPLANT SCALERS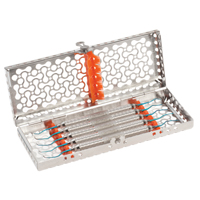 Hu-Friedy, Chicago, offers its line of Titanium Implant Scalers in five variants to allow clinicians to thoroughly and safely debride biofilm and calculus from the supraand subgingival surfaces of dental implants. Available in the most common scaler variants, the scalers include working ends constructed of the same titanium alloy as implants and abutments, and they are gentle on delicate surfaces. Signature teal-colored anodized titanium working ends provide an enhanced contrast to the abutment surfaces, while serving to differentiate the specialized instruments from the rest of the armamentarium. These scalers can also be re-sharpened. 800-483-7433; hu-friedy.com.
PROPHY PASTE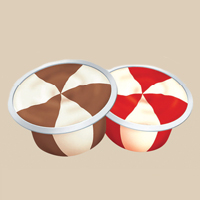 Premier Dental Products Co, Plymouth Meeting, Pennsylvania, offers Enamel Pro, an innovative remineralization prophy paste uniquely formulated to deliver amorphous calcium phosphate, in addition to fluoride. Patients will love their whiter, brighter teeth, and greater luster. 888-773-6872; premusa.com.
PINK SAFETY EYEWEAR SUPPORTS BREAST CANCER FOUNDATION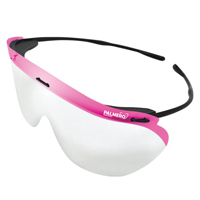 Palmero Healthcare, Stratford, Connecticut, a Hu-Friedy subsidiary, has added new pink safety eyewear to its line of Dynamic Disposables as part of its commitment to breast cancer awareness. Palmero Healthcare will donate 5% of the proceeds for every purchase of pink safety eyewear to the National Breast Cancer Foundation. Dynamic Disposables are a lightweight, cost-effective alternative to traditional protective glasses that reduce eye splash contamination incidents. These glasses can be worn comfortably with a clinician's own prescription glasses. The lenses feature self-closing holes to prevent gaps and meet the Occupational Safety and Health Administration and Centers for Disease Control and Prevention's Guidelines for protective eyewear. 800-344-6424; palmerohealth.com.
NEEDLE-FREE TOPICAL ANESTHETIC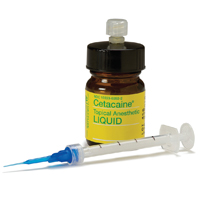 Cetylite Inc, Pennsauken, New Jersey, offers clinicians a needle-free topical anesthetic, Cetacaine Liquid (Rx, 14% benzocaine, 2% butamben, 2% tetracaine HCl). Cetacaine Liquid features rapid, 30-second onset and long duration up to 60 minutes and allows oral health professionals to measure and use only what they need. Indicated for use on all accessible mucosa, except eyes, Cetacaine Liquid is said to be comfortably dispensed into periodontal pockets with pliable latex-free syringe tips for dental procedures such as scaling and root planing. The product is also available in spray and gel forms. 800-257-7740; cetacaine.com.
DENTAL SEALANT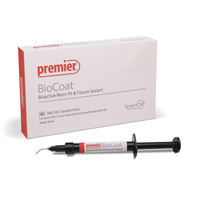 Premier Dental Products Co, Plymouth Meeting, Pennsylvania, now manufactures a pit and fissure sealant that provides long-term bioactive protection. BioCoat with SmartCap Technology is a bioactive resin sealant that delivers continuous remineralization. Its extended fluoride release with calcium and phosphate ions strengthens tooth enamel and protects against acid attacks and helps reduce the risk of caries. 888-773-6872; premusa.com.
PEDIATRIC PRODUCTS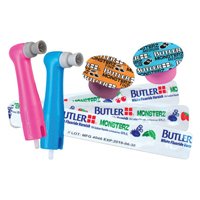 Sunstar Americas Inc, Schaumburg, Illinois, has introduced Butler Monsterz products—Prophy Angle, Prophy Paste, and Fluoride Varnish—making pediatric patients' visits more fun. Sunstar introduced GUM Kids toothbrushes in the spring of 2017 and has expanded the Monsterz product line to the operatory. The introduction creates a strong continuity to help establish pediatric patients' proper oral hygiene at an early age from office visit to at-home preventive care all under Monsterz fun. 800-528-8537; sunstar.com.
ALL-IN-ONE DENTAL MICROBIOLOGICAL CARTRIDGE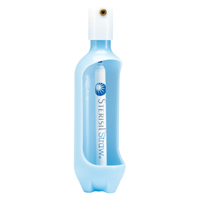 Sterisil, Palmer Lake, Colorado, recently launched its latest technology in the fight against waterborne pathogens in the dental waterline, the Sterisil Straw V2. This microbiological cartridge features a built-in shock treatment, and continual disinfection for 365 days. Free of oxidizers, such as iodine and chlorine, this solution features a luer-lock fitting, which offers a reliable connection and reduced installation and replacement time. The included shock treatment is simple to administer and paired with the maintenance protocol, delivers disinfection down to ? 10 CFU/ml. 719-622-7200; sterisil.com.
HEALTHY GUMS RINSE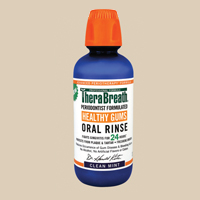 Dr. Harold Katz, Los Angeles, provides TheraBreath Healthy Gums Oral Rinse. Formulated with a United States Food and Drug Administration monographed active ingredient to fight periodontal disease in two ways, TheraBreath Healthy Gums Oral Rinse, attacks the bacteria responsible for periodontal disease and reduces formation of biofilm that leads to plaque and tartar. Used twice a day, this oral rinse is designed to rapidly improve healthy gum appearance and provide relief from the bleeding and sensitivity caused by gingivitis without the use of alcohol, artificial flavors, or colors. 800-973-7374 therabreath.com.
POWDER-FREE NITRILE EXAM GLOVES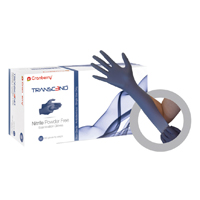 Cranberry USA, Pinole, California, debuts Cranberry Transcend Nitrile. These gloves feature patented Low Derma technology that reduces the risk of skin hypersensitivity. Transcend is available with 300-gloves per box to help reduce packaging waste and storage space. 888-811-6839; cranberryusa.com.
DENTAL UNIT WATERLINE CARTRIDGES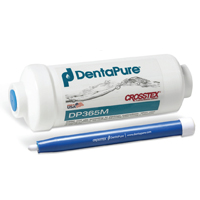 Crosstex International, Hauppauge, New York, offers its DentaPure Cartridges, to help reduce dental unit waterline treatment protocol to a simple annual routine. Available for both bottle-based and tap water systems, one nontoxic, noncorrosive Crosstex DentaPure cartridge installs easily into dental units and provides safe, compliant water for a full 365 days, or 240 L of water. 888-276-7783; crosstex.com.
ORAL CARE SOLUTION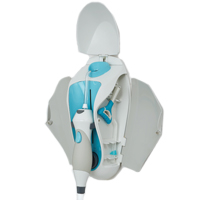 ToothShower, Collegeville, Pennsylvania, has launched a product by the same name, offering patients an innovative complete oral care solution for the shower. Created by a dental hygienist, ToothShower's dual-headed toothbrush hits the front, back, and sides of teeth, while the irrigating tip flushes water between teeth like a water flosser but without the mess. Also, the gum massager works with seven jets of water to stimulate blood flow in the gums. Users attach the wall plate with the waterproof adhesive, lock the console onto the plate, attach the valve to the showerhead, and then connect ToothShower to the valve. The user can control both the water pressure and the temperature. toothshower.com.
DISPOSABLE PROPHY ANGLE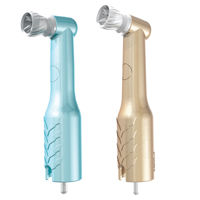 Pac-Dent International, Brea, California makes Mighty Mini 90 disposable prophy angles, small and powerful compact angles. With a small head and slim profile, these disposable prophy angles not only provide the feeling of increased visibility with slightly less vibration but also better access to posterior areas. The ribbing on the external surface and the excellent flare of the cup make subgingival, lingual, and interproximal access much easier and more efficient. 909-839-0888; pac-dent.com/products/preventive.
ORAL ANESTHETIC GEL IN SYRINGE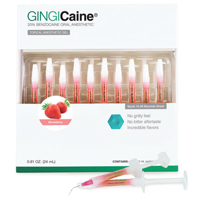 Gingi-Pak, Camarillo, California, introduces GINGICaine Oral Anesthetic Gel in syringe form. Each syringe contains 1.2 ml of 20% benzocaine gel that allows the clinician to deliver GINGICaine directly into sulcus to induce anesthesia right where it is needed, and without having to numb the patient's whole mouth. The proprietary micro needle tip features a 7 mm gauge mark and rounded end to eliminate poking or tearing the sulcus during delivery, making it ideal for a variety of procedures such as injections, scaling, root planing, gingival retractions, and more. 800-437-1514; gingi-pak.com.
ANTIMICROBIAL TABLET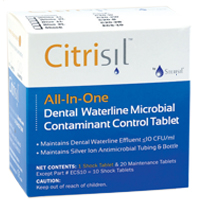 Sterisil, Palmer Lake, Colorado, offers its all-in-one shock and daily maintenance dental waterline tablets with a quantified Environmental Protection Agency claim: Citrisil and Citrisil Shock. These tablets continuously disinfect and maintain dental waterlines. Simply start with one Citrisil Shock tablet and follow with one Citrisil tablet per refill of each self-contained water bottle. Citrisil maintains effluent dental water to ?10 CFU/ml, while killing odor-causing bacteria and maintaining silver-based antimicrobial tubing. Citrisil is safe for patients and staff, will not harm dental equipment and contains no iodine or chlorine. 719-622-7200; sterisil.com.
STANDARD DENTAL WATERLINE TESTING KIT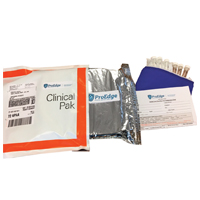 ProEdge Dental Products, Centennial, Colorado, has announced several new features included with every standard Waterline Testing Kit purchase. Clinicians will receive free FedEx overnight return shipping as of January 1, 2018, and free expert phone consultation for better results. Additional vials are now sold separately (order one for every air/water syringe and handpiece). 888-843-3343; proedgedental.com.
SENSITIVITY TREATMENT GEL
Premier Dental Products Co, Plymouth Meeting, Pennsylvania, provides patients experiencing sensitivity or dry mouth with Enamelon Gel. This gel is designed to stop sensitivity through its unique combination of stannous fluoride and amorphous calcium phosphate. It also reduces the symptoms of dry mouth tissues through its proprietary, long-lasting coating that sooths and lubricates. 888-773-6872; premusa.com.
ENAMEL PROTECTING TOOTHPASTE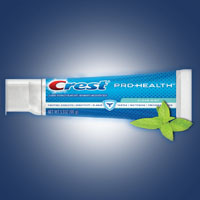 Procter & Gamble, Cincinnati, introduces Crest PRO-HEALTH Clean Mint toothpaste, which helps to restore gum health and protect enamel with a brushing experience patients will love. Crest PRO-HEALTH Clean Mint toothpaste is described as smooth, gentle, and foaming, and provides an invigorating clean. This toothpaste protects enamel against acid erosion. 513-983-1100; dentalcare.com/prohealthcleanmint,
DENTAL BLOG LAUNCHES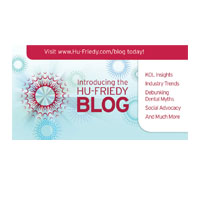 Hu-Friedy, Chicago, has launched the Hu-Friedy Blog to serve as a trusted source on various topics of interest. Blog posts run the gamut from trends and best practices in infection control, to exploring areas like dental myths and topics such as implantology. As part of its promise to providing readers an unbiased view of critical issues and questions, the blog enlists the help of leaders in the dental community. 800-483-7433; hu-friedy.com.
NITROUS OXIDE/OXYGEN SEDATION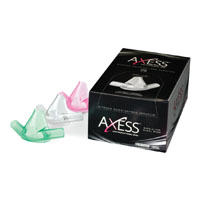 Crosstex International's, Hauppauge, New York, new Axess Low-Profile Nasal Masks deliver the ultimate in comfort-conscious dentistry at a lower cost. Featuring a sleek, low-profile design, Axess masks provide unencumbered access to the patient's mouth. The small, lightweight-scavenging system is easy to work around—enabling clinicians to deliver excellent, efficient care to more patients. The masks are available in three sizes and three patient-pleasing scents. 888-276-7783; crosstex.com.
SPLATTER-FREE PROPHY PASTE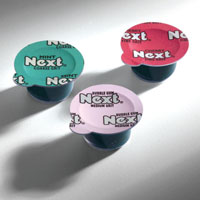 Preventech, Indian Trail, North Carolina, makes Next Prophy Paste, which provides clinicians with a nonsplatter, smoothhandling formula combined with flash rinsing and excellent stain removal characteristics. This gluten-free, xylitolsweetened prophy paste comes in a variety of patient-pleasing flavors and appropriate grits. Free samples are available. 800-474-8681; preventech.com.
POWDER-FREE EXAM GLOVES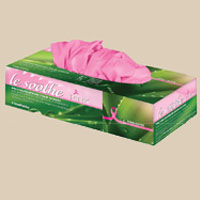 SmartPractice, Phoenix, provides Le Soothe Pink Polychloroprene Powder Free Exam Gloves. Available exclusively from SmartPractice, Le Soothe Pink provides a stretch and fit comparable to latex, without natural rubber latex proteins. The gloves feature aloe vera and vitamin E in the emulsion. A portion of the proceeds funds breast cancer awareness and outreach programs. 800-522-0800; smartpractice.com/dental.
---
From Dimensions of Dental Hygiene. December 2017;15(12):60-63,65.