Guest Editorial: Remembering Trailblazer Esther M. Wilkins, BS, RDH, DMD
One year after the passing of this dental hygiene icon, we remember her life contributions, and her enduring impact upon the profession.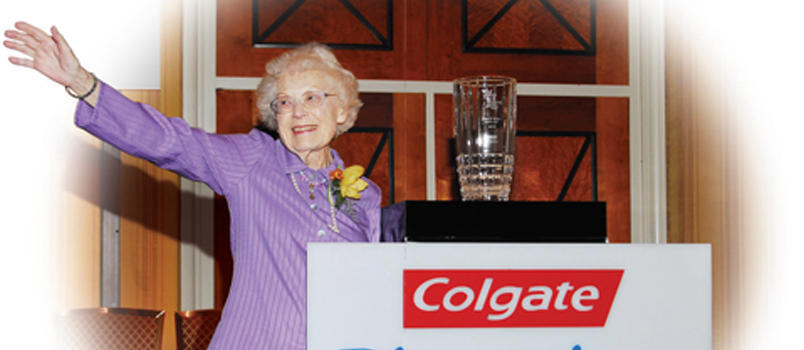 One year after the passing of this dental hygiene icon, we remember her life contributions, and her enduring impact upon the profession.
By Pamela J. Bretschneider, PhD
Esther M. Wilkins, BS, RDH, DMD—the matriarch of dental hygiene—passed away December 12, 2016, three days after her 100th birthday. As a dental hygienist, dentist, and periodontist, she dedicated her professional life to the prevention of oral disease and the advancement of the dental hygiene profession. Wilkins' legacy lives on through her textbook, her passion for dental hygiene, and the mentoring she provided to both friends and colleagues.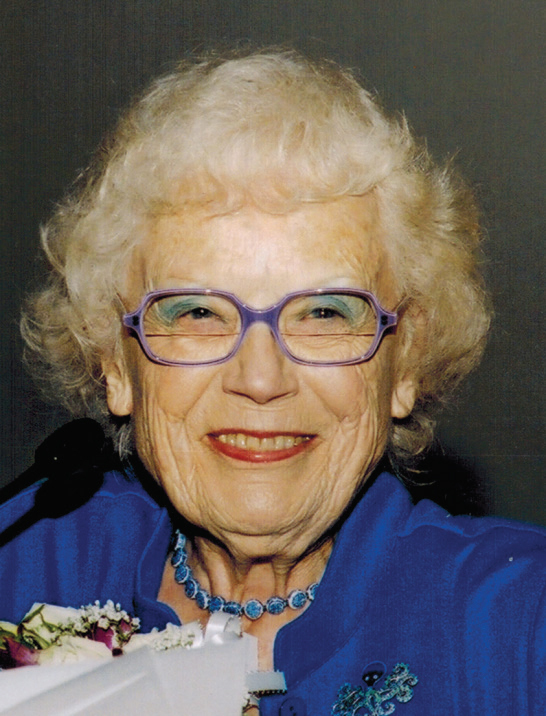 Esther M. Wilkins, BS, RDH, DMD
Wilkins touched several generations of dental hygiene students with her seminal textbook, Clinical Practice of the Dental Hygienist, which has been translated into five languages. The 12th edition was released in March 2016, and the book will continue publication under the editorship of Linda Boyd, RDH, RD, EdD, of the Forsyth School of Dental Hygiene at MCPHS University in Boston.
Her dedication to dental hygiene education and commitment to improving oral health provide a lasting legacy, and her inspiration to the profession is clearly illustrated by the dental hygienists who continue to follow in her footsteps. In honor of the anniversary of her death, Dimensions of Dental Hygiene would like to share the speech given by Pamela J. Bretschneider, PhD—Wilkins' longtime friend and biographer—at the 2017 Esther Wilkins Lifetime Achievement Award ceremony held in Jacksonville, Florida during the American Dental Hygienists' Association (ADHA) Annual Meeting in June.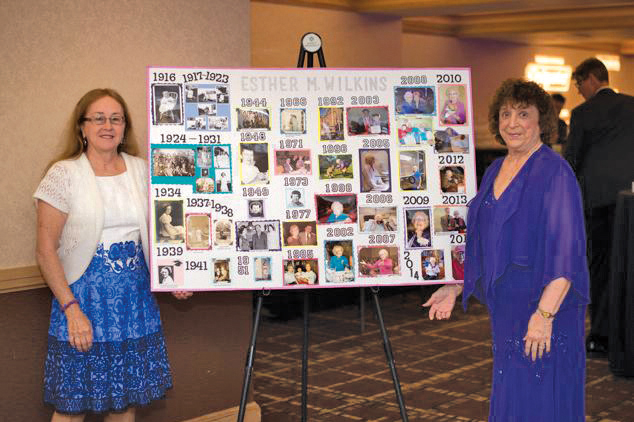 There is not one person in this room who did not know Esther M. Wilkins, BS, RDH, DMD. As Beverly Whitford, RDH, BS, once said, "She has more friends than anyone I know!" Several of you might have received a card or poem from her on your birthday. Wilkins has been described as author, educator, mentor, poet, lifelong learner, force of nature, rock star, trailblazer, pioneer, and friend. She was all of these and more, the "Babe Ruth" of the dental hygiene profession.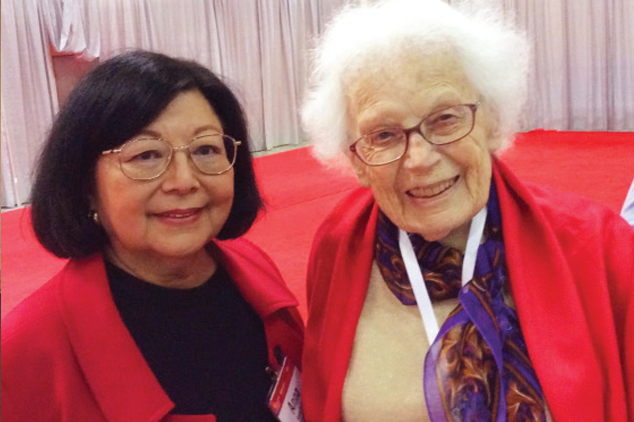 Yet, when she reflected on her long and productive career, she didn't realize she was a trailblazer. "I never had a feeling of that," she said looking thoughtfully through her purple-rimmed glasses. "People use that word or 'pioneer,' but I didn't really feel it. I was just there to do it—get it done and work hard."
LONG LIST OF ACCOMPLISHMENTS
Yet, pioneer is a fitting word for a woman with a sense of adventure, who reached for the top, worked hard, sought the best for others, advanced her profession, and who was the first to achieve so much.
At age 8, she wrote and illustrated her first book in 1924, writing in cursive and binding it in twine.
Her first speech was given in 1927 at age 11. Wilkins delivered the Gettysburg Address at the Tyngsboro Memorial Day Program at the Town Hall in Tyngsboro, Massachusetts, her hometown. She was terrified on the big stage.
She published her first journal article in 1930 in The Magpie, a publication written by Wilkins, her sister, Ruth, and two cousins in Tyngsboro. Wilkins was in charge. For those who have contributed to her textbook, Wilkins' approach of communicating using all caps, underlining for emphasis, and notes instructing all contributors to "get your materials in on time!" may seem quite familiar.
Wilkins landed her first job as a switchboard operator, as her mother worked for the telephone company. In those days, the switchboards were located in homes.
Wilkins was a member of the Forsyth School of Dental Hygiene class of 1939, which was the first to become junior members of the ADHA.
Thirteen years after Irene Newman became the world's first licensed dental hygienist, Wilkins began her first dental hygiene position in 1939 in Manchester-by-the-Sea, Massachusetts.
In the same year Franklin D. Roosevelt was sworn in for an unprecedented fourth term as president of the United States, Wilkins enrolled in dental school in 1945 when fewer than 2% of practicing dentists were women.
Her first professional journal article "The 1945 Survey of Dental Hygienists in Massachusetts" was published in the Journal of the ADHA in 1946.
She was the only woman to take the National Boards at Tufts Dental College in 1949, the first year it was administered. She passed on the first attempt.
She took her first flight in 1950 at age 34 to Washington state to direct a new dental hygiene program and write a curriculum from scratch.
Nominated in 1954 as a faculty electee in the Sigma Sigma Chapter at the University of Washington in Seattle, Wilkins was the first woman Fellow and was immediately elected secretary.
Wilkins co-founded the first National Dental Hygiene Honor Society, Sigma Phi Alpha, in 1958, with Margaret Bailey, Jane Burnham, and Evelyn Maas.
She wrote the first edition of her landmark dental hygiene textbook in 1959.
Wilkins was the first woman to become a member of the Academy of Dental Science on April 4, 1979. When the 2000 Millennium Edition of the Constitution and Bylaws were written, the copies were brought to the academy meeting. Wilkins received the first copy because they said she did the most work!
Wilkins offered her first continuing education course in May 1967 at the New York State Dental Hygienists' Association on the topic of instrumentation.
When Warner Lambert first partnered with the ADHA in 1988 to present the Excellence in Dental Hygiene Awards, Wilkins was in the first group of recipients.
In 1990, she wrote the first book on infection control at Tufts University School of Dental Medicine.
In 1991, Wilkins won the first MCPHS University Distinguished Alumni Award, now named after her.
The Esther M. Wilkins Forsyth Dental Hygiene Clinic was dedicated at MCPHS Boston in 2005 and in Worcester in 2013.
The first Esther Wilkins Symposium was held at MCPHS in 2007.
Wilkins was the first recipient of Dimensions of Dental Hygiene's The Esther M. Wilkins Lifetime Achievement Award, in Las Vegas on June 25, 2010. The award's purpose is to "honor the pioneering vision and enduring legacy of a distinguished career dedicated to the profession of dental hygiene."
In 2011, she was named one of the Top 25 Women in Dentistry.
Wilkins earned myriad awards for her achievements, including the prestigious Gies Award in 2012 for Dental Educator and the Industry Icon Award in 2015 from the Lucy Hobbs Project.
In 2016, Wilkins reached 100 years young.
INDELIBLE IMPACT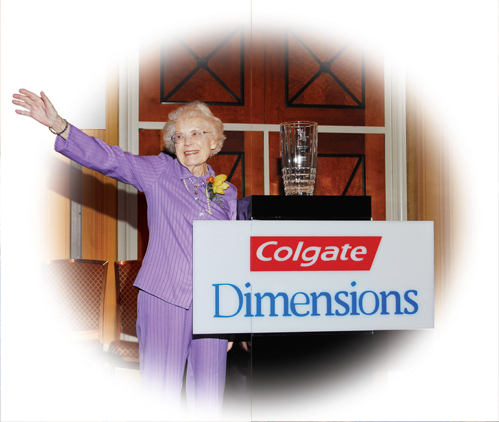 During her incredible career, which spanned 77 years, she sacrificed much and met the challenges she faced. She enjoyed a poem by Johnny Ray Ryder, which was read at her interment:
"But I have roots stretched in the earth, growing stronger since my birth. They are the deepest part of me. I'm stronger than I ever knew."
Wilkins significantly influenced the lives of current and future dental hygienists. In 1996, she commented,
"The dental hygienists are real pioneers: As their numbers increase, they will be able to self-regulate and own the world!"
Thank you, Esther M. Wilkins, BS, RDH, DMD. You were the ultimate dental hygienist—often away from home and family—impacting the world of dental hygiene. You will always be remembered as a role model for innovation, paving the way for the advancement of the field.
---
From Dimensions of Dental Hygiene. December 2017;15(12):10,13.