January 2020 Marketplace For Dental Hygienists
A listing of featured products.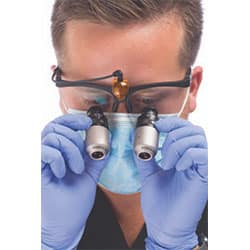 LOUPES
Featuring variable magnification, EyeZoom from Orascoptic, Madison, Wisconsin, lets clinicians easily switch between 3x, 4x, or 5x magnification, making this loupe ideal for procedures that demand varying levels of visual acuity. In addition to offering multiple perspectives, the loupes support effective care by providing edge-to-edge clarity and a high-definition view of the clinical field. Featuring a lightweight magnesium bezel, EyeZoom checks in at 3.4 ounces when mounted to the Orascoptic Legend frame. 800-369-3698; orascoptic.com.
AUTOMATION TOOL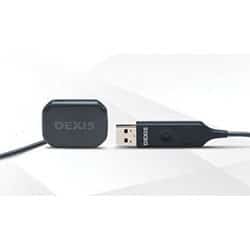 Henry Schein One has announced the availability of Dentrix® Smart Image connector for DEXIS™ by KaVo Kerr, Brea, California. Because KaVo Kerr is a premier-level Dentrix Smart Image partner, DEXIS users can help eliminate human errors in billing and reimbursements, timing of continuing care images, and record-keeping with automation through Dentrix Smart Image. The integration allows oral health professionals to easily access images from DEXIS, and other Smart Image partners, from the Dentrix patient chart with the ability to compare up to four images side-by-side for a fast and accurate diagnosis. Dentrix Smart Image automatically posts each imaging procedure to the ledger for payment, to the patient's continuing care dates for future eligibility, and to progress notes for audit assurance. 714-516-7400; kavokerr.com.
STERILIZER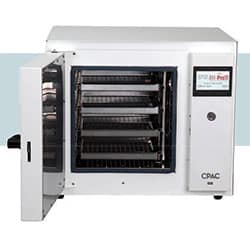 The RapidHeat™ Pro11 High-Capacity Tabletop Sterilizer from CPAC Equipment, Leicester, New York, offers fast and easy sterilization for dental practices. RapidHeat Pro11 provides a complete 12 log kill cycle from start to finish in 12 minutes for unwrapped instruments and less than 20 minutes for wrapped instruments. The system's time/temperature profile established for each cycle has been documented to exceed a 12 log10 bacterial spore kill, according to the company. Additionally, RapidHeat sterilization does not require a drying cycle. 800-828-6011; cpacequipment.com.
EAR PROTECTORS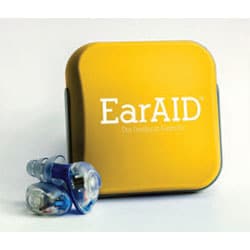 Forward Science, Stafford, Texas, has acquired exclusive rights to Intelligent Earpiece from Dental Innovations. Now rebranded as EarAID, these earpieces allow oral health professionals to communicate at normal office audio levels, while protecting clinicians' ears from decibels that could cause permanent hearing damage, such as high-speed handpieces, high-volume suction, ultrasonic instruments, model trimmers, and other devices. 855-696-7254; forwardscience.com.
ULTRASONIC INSERTS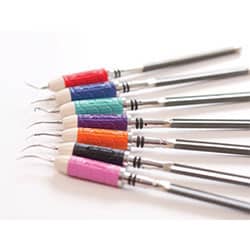 Streamline PLUS ultrasonic inserts by Hu-Friedy, Chicago, are the newest addition to the Streamline product line. These inserts feature the same ergonomic handle design as Swivel inserts to ensure clinician comfort. A textured silicone grip allows for a secure grasp, and a uniform, wide-diameter handle helps to reduce finger pinching and hand fatigue while allowing ease of movement when shifting grip location. Streamline PLUS inserts are color-coded for easy tip identification. Clinicians can select from seven tip designs for thorough cleaning during prophylaxis, periodontal therapy, and other nonsurgical periodontal procedures. 800-483-7433;  hu-friedy.com.
ELECTRIC TOOTHBRUSH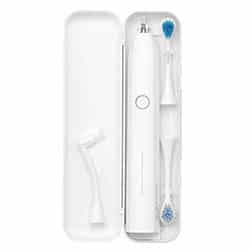 Curaprox USA, Mesa, Arizona, offers the Hydrosonic Pro. The Hydrosonic Pro comes with three brush heads: single, power, and sensitive.  This electric single-head toothbrush gently cleans around fixed appliances and brackets and is gentle enough for patients with peri-implantitis. The device's hydrosonic effect, along with the teardrop shape of the brush heads, helps to clean those hard-to-reach areas. 800-919-0120; curaproxusaprofessional.com.
HYGIENE TOOL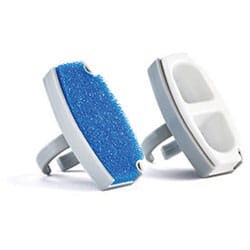 Pura Dental Products, Scottsdale, Arizona, now offers Freehand Ring. Described as a product that can help increase efficiency while providing dental hygiene care, Freehand Ring was developed by Jeremy and Alisha Luman, RDH, after realizing a need for a more efficient, safe, and time-saving alternative to the traditional way of cleaning debris from instrument tips during instrumentation. The autoclavable, multi-use ring contains two disposable inserts. The foam insert provides a safe and reliable surface to wipe excess debris that accumulates during instrumentation and a dual well insert features two compartments and conveniently holds pastes, liquids, or gels applied into the oral cavity. 480-231-0774; freehandring.com.
ECO-FRIENDLY HYGIENE PRODUCTS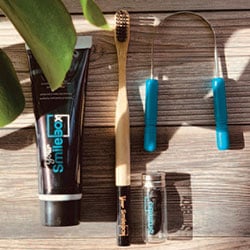 YourSmileBox, San Diego, California, delivers environmentally friendly hygiene products directly to your door. Led by Shiva Abadi, MS, RDH, YourSmileBox is a subscription service for clinicians interested in using eco-friendly products that deliver maximum oral health benefits. YourSmileBox subscription comes with a bamboo toothbrush, nontoxic stain removal toothpaste, biodegradable floss, and stainless steel tongue scraper. The vegan silk floss waxed with candelilla, activated charcoal, and peppermint is said to glide easily between teeth even in the tightest spaces; yoursmilebox.com.
STERILIZATION TRAYS

Practicon, Greenville, North Carolina, now offers Cool Cassette 2 instrument  sterilization trays in a new size and color. These silicone trays come in five sizes with the addition of a seven-instrument version that is ideal for examination kits, periodontal hygiene sets, or endodontic instrument kits. The Cool Cassette 2 is designed to hold instruments measuring up to 73⁄8-inches long, are fully sterilizable to 375°F, contain no metal, have no sharp edges, and dissipate heat quickly. The trays are available in five colors (green, coral, purple, blue, and new gray) to provide dental offices with more color-coding flexibility. 800-959-9505; practicon.com.
MAGNIFYING EYEPIECE
AdDent, Danbury, Connecticut, offers a magnifying eyepiece for the Bio/Screen Oral Exam Light. This magnifying eyepiece gives the clinician a closer view of oral cavity tissue when screening for abnormalities. The Bio/Screen Light device uses five violet LEDs to show biofluorescence in the oral cavity without the use of operatory lights, and has an optical filter to improve contrast between healthy and abnormal tissue. The device does not require a special rinse. 855-211-3413; addent.com.
COMPOSITE INSTRUMENT
Hu-Friedy, Chicago, now offers Akro-Flex™. This flexible, ultra-thin composite instrument features thin working ends made from nickel-titanium. Its slender profile and flexibility allow the instrument to fit easily into narrow interproximal spaces, and rebound back to its original shape after use. Akro-Flex's ergonomic design allows for an enhanced grip with less hand fatigue. The sleek, smooth finish is said to prevent buildup of excess composite material. 800-483-7433;  hu-friedy.com.
AMALGAM SEPARATOR SYSTEM
Solmetex, Northborough, Massachusetts, has acquired the Syclone Amalgam Separator System from Crosstex. The Solmetex NXT Hg5® Amalgam Separator Systems will replace the Crosstex Syclone system. The NXT Hg5 series is ISO 11143 certified by National Sanitation Foundation International, and comes in several sizes to meet the needs of every dental practice. Syclone users can call their local dealer or Solmetex to learn more on how to receive a NXT Hg5 Amalgam Separator replacement free of charge. 855-905-7800; solmetex.com.
MOUTH MIRROR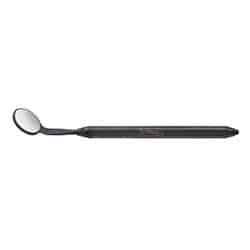 Hu-Friedy, Chicago, has launched its new HD Black Line Mirrors. Delivering superior visibility throughout any dental procedure, HD Black Line Mirrors feature diamond-like carbon coating on the handle and mirror frame to reduce glare by up to 80% for increased visibility. The black color of the finish provides enhanced contrast and visual acuity within the oral cavity, creating a distinct contrast between the instrument, the tooth, and/or the surrounding tissue. Designed to optimize clinical outcomes, HD Black Line Mirrors feature a durable black matte finish to help decrease strain and fatigue by reducing the need for clinicians to adapt their viewing position due to unwanted shine produced by a traditional metal mirror. The mirror features a large diameter handle for increased user control and comfort. HD Black Line Mirrors can be used for hygiene exams, periodontics, endodontic, restorative, and surgical procedures. 800-483-7433; hu-friedy.com.
From Dimensions of Dental Hygiene. January 2020;18(1):44–45.