Improving Smiles With Sealants
The benefits of sealants are well-documented, yet they are still underutilized.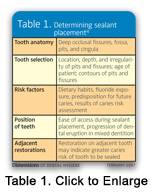 Dental caries is the most common chronic disease in children1 and if left untreated, it eventually leads to pain, mouth infections, tooth mobility, and tooth loss.2 Sealants are an effective means to reducing caries, yet they are still underused in the United States.
The National Health and Nutrition Examination Survey (NHANES) data on preventive efforts in the United States show that the use of dental sealants to prevent dental caries has grown. Between 1988-1994 and 1999-2002, the proportion of children and adolescents with one or more sealed permanent tooth surfaces increased from 19.6% to 32.2%. However, sealant usage is still 50% below the health objective designated by Healthy People 2010, a national health promotion and disease prevention initiative.2
THE BASICS
Sealants are best applied after the teeth have fully erupted, which is typically around age 6, with the second molar erupting around age 12. Children should have sealants initially applied between the ages of 5 and 6, continuing through the age of 15. If fully retained, sealants can be 100% effective in preventing dental caries on pits and fissures of teeth.2 After the sealant material is placed, it should be checked during recall visits for retention. If any part of the sealant is chipped or worn, it can be repaired or redone during the recare appointment. Some concerns exist regarding placing a sealant over a small lesion or incipient decay, which has not reached the dentin. Studies show that if a sealant covers a small lesion, the decay does not spread as long as the sealant remains intact. Recent data show this procedure is advantageous because the incipient decay is sealed from bacteria that could otherwise cause the decay to advance.3
DISPARITIES IN SEALANT USE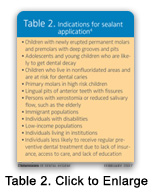 Significant disparities exist in the delivery of dental sealants to certain populations in the United States.2 Disparities are found mostly among young children and the elderly but are also linked with race/ethnicity, income levels, and education.1 One study found that caucasian children and children from higher income family backgrounds had lower levels of decay because 60% were more likely to have a sealant than other racial/ethnic minorities or those from lower income levels.2 Adults and elderly people with xerostomia may also benefit from dental sealants as a preventive tool.3
Many barriers exist in meeting the goals of Healthy People 2010 for dental sealants. Economics and education of the profession and the public are prime requisites for expanded sealant acceptance. Difficulties in accessing dental treatment and the short supply of dentists willing to accept Medicaid because of low reimbursement rates are also factors in the underuse of sealants.3 Greater acceptance among dental professionals and more education for parents about the benefits of sealants are needed. Other reasons include the concern of sealing over carious lesions, lack of manpower and skill to apply the sealants, and lack of adequate insurance coverage for sealants.3
CLINICAL CONSIDERATIONS
The prevalence of caries on smooth surfaces in children and adolescents has steadily declined in recent years due to greater preventive methods such as water fluoridation and topical fluoride application. However, systemic and topical fluoride delivery is not as effective for preventing dental caries on the grooves of molars and premolars. Caries is more prevalent on occlusal surfaces with pits and fissures than on smooth surfaces because fluoride provides more protection on smooth enamel surfaces.5 The smoother surface created by the sealant resin makes the occlusal area less retentive to plaque and bacteria and, therefore, easier to clean.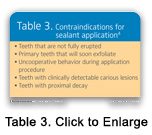 Sealant materials have minimal risks when properly applied by the clinician. Human exposure to bisphenol-A, a plastic material used in dental sealant resins, is minimal and poses no known health risks because exposure occurs immediately after the sealant is applied and subsides within 3 hours following application.6 Although a small amount of bisphenol-A can leach into saliva, it is not found in human blood. Therefore, no known systemic toxicity from clinical use has been found.7 Sealants are also approved by the Food and Drug Administration and the American Dental Association.7 The chemical composition of sealants is similar to other monomeric resins used for other dental procedures. In addition, there are no substantial reports of harmful risks to dental professionals who place sealants on a regular basis.7 However, care should be taken to minimize contact with the phosphoric acid solution used for bonding on the surrounding tissue to avoid possible sloughing of the mucosa.7 Protective eyewear should also be worn by operators when using the ultraviolet or visible light-cured materials. See Tables 1-3 for information on sealant placement and indications and contraindications for sealant usage.
Currently the most commonly used sealants are filled, unfilled, and fluoride-releasing filled. Fillers are used to increase the viscosity of the sealant and enhance resistance to abrasion and wear. Sealants with amorphous calcium phosphate as a filler contain anticariogenic and antidemineralizing properties that have the potential to prevent further tooth decay.8 Fluoride-releasing sealants help remineralize and increase resistance to caries.3 Sealant resins are highly retentive and vary in shades of clear, tinted, or opaque color.3 Sealants that do not require a dry surface and do not need etching are also available. Besides traditional sealant resins, other preventive agents are also available. For example, glass ionomer sealants provide protection against dental caries on teeth that are at risk for decay.9
One of the goals of Healthy People 2010 is to place dental sealants in 50% of children and reduce dental disparities by improving oral health in underserved populations. School-based programs may be the best method for increasing the prevalence of dental sealants among children from low-income families. Seal a Smile was established in the state of Wisconsin in 2003 as a school-based program to provide preventive care and sealants to children. The program has grown and is used by several communities and state organizations.10 Oral Health America supports the National Sealant Alliance, which pledges to provide 1 million dental sealants to approximately 225,000 children by 2010. A greater effort must be undertaken by dental professionals to empower parents and educate insurance companies, schools, and community-based programs about the benefits of sealants.
REFERENCES
Oral Health in America: A Report of the Surgeon General—Executive Summary. Rockville, Md: United States Department of Health and Human Services, National Institute of Dental and Craniofacial Research, National Institutes of Health; 2000.
Beltran-Aguilar ED, Barker LK, Canto MT, et al. Surveillance for dental caries, dental sealants, tooth retention, edentulism, and enamel fluorosis—United States, 1988-1994 and 1999-2002. MMWR Surveill Summ. 2005;54:1-43.
Garcia-Godoy F, Harris NO, Helm DM. Pit and fissure sealants. In: Primary Preventive Dentistry

. 6th ed. Upper Saddle River, NJ: Pearson Education Inc; 2004:300-307.

Schmidt CR. Sealants. In: Daniel SJ, Harfst SA, eds. Mosby's Dental Hygiene: Concepts, Cases and Competencies

. St Louis: Mosby; 2004:440-446.

Jackson R, Fontana M. Preventing the progression. Dimensions of Dental Hygiene

. 2006;4(7):28.

Dental sealants. Available at: www.bisphenol-a.org/human/dental.html#references. Accessed January 11, 2007.
National Institutes of Health. Dental sealants in the prevention of tooth decay. Consensus Development Conference Statement

. 1983;4:11.

Ethoxylated Bisphenol Dimethacrylate-based Amorphous Calcium Phosphate Composites. Available at: http://polymers.nist.gov/uploads/G2005-1157.pdf

. Accessed January 30, 2007.

Powers JM, Sakaguchi RL. Craig's Restorative Dental Materials

. New York: Elsevier; 2006:72.

Seal a Smile. Available at: www.hanys.org/communications/pr/2006/upload/07-06-06community%20health%20award.pdf

. Accessed January 11, 2007.
From Dimensions of Dental Hygiene. February 2007;5(2): 20, 22.