Focus on Toothpaste
This helpful guide offers information about the prescription and over-the-counter dentifrices available today.
Toothpaste offers myriad benefits to oral health. From promoting tooth remineralization and alleviating the pain associated with dentinal hypersensitivity to addressing stains and
improving oral malodor, toothpaste remains one of the most important components of an effective oral self-care regimen.
Dimensions of Dental Hygiene's annual toothpaste table provides a reference guide that details the dentifrices offered by companies in this market segment. Comprising brands and products from more than 30 companies worldwide, this table is designed to inform oral health professionals about each product's unique benefits, active ingredients, formulation, and flavors.
A toothpaste formulation exists for every patient. Though composition varies, the goal of these products is the same: to remove plaque from the dentition and to deliver agents to support oral health and prevent oral diseases. It is up to oral health professionals to use their knowledge to help patients choose the best product for their oral health status.
Editor's Note: The information that appears on the following pages includes most of the tooth pastes on the market in the United States. While every attempt has been made to be as comprehensive as possible, there may be inadvertent product omissions.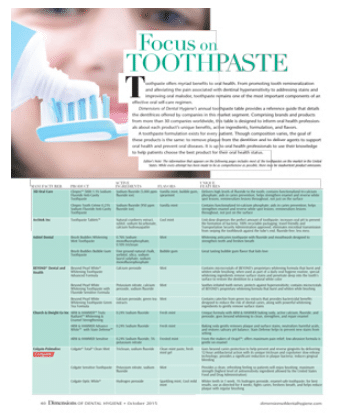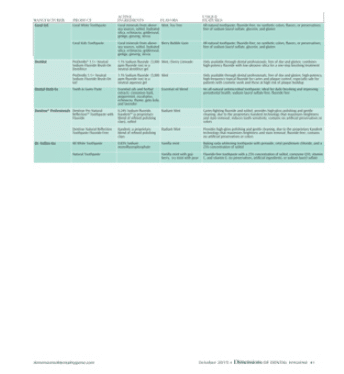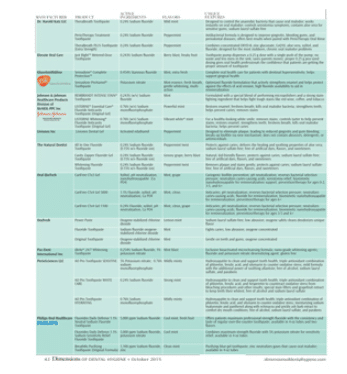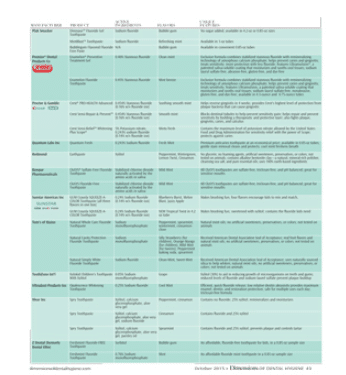 ---
From Dimensions of Dental Hygiene. October 2015;13(9):40–43.