February 2020 Marketplace For Dental Hygienists
A listing of featured products.
INSTRUMENT TRAYS
Practicon, Greenville, North Carolina, has upgraded its Cool Cassette 2 instrument trays to incorporate several improvements based on user feedback. These silicone cassettes now feature larger vent holes for increased flow-through and wraparound perforations for complete drainage at any angle. The cassettes are longer to better accommodate ultrasonic scaler inserts. Additionally, the Cool Cassette 2 features built-in lock buttons to prevent accidental opening. Cool Cassette 2 is available in five colors (clean green, cool coral, pure purple, steel gray, and true blue) and five sizes, including the 10 XL with an extra compartment for syringes, handpieces, or other accessories. 800-959-9505; practicon.com.
ETCHING GEL
Icon-Etch Refill etching gel, by DMG America, Ridgefield, New Jersey, is now available in the United States as an extension of the Icon Smooth Surface caries infiltrant, which effectively treats smooth surface white spot lesions. Icon Caries Infiltration features and benefits include: esthetic results on smooth surface white spots; arrests incipient caries upon discovery; preserves healthy tooth structure; and provides microinvasive technology. Icon-Etch Refill etching gel is sold in three 0.45 ml syringes and comes with 15 smooth surface tips. 800-662-6383; dmg-america.com.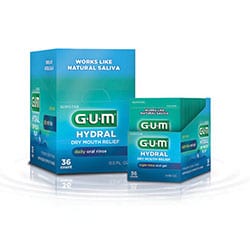 DRY MOUTH RELIEF
Sunstar Americas, Schaumburg, Illinois, has launched four new GUM® Hydral™ Dry Mouth Relief products. GUM Hydral features advanced moisturizing and hydrating ingredients that work like natural saliva for multisymptom relief, and the low-irritation formula is designed specifically for sensitive mucosa and uses a blend of three sugar-free sweeteners for an improved taste experience. The new GUM Hydral line is available without prescription, provides a complete solution for all-day/all-night dry mouth relief, and offers a range of products providing deep moisturizing relief and comfort for up to 4 hours, including: GUM Hydral Oral rinse for all-day use and as part of a daily oral hygiene routine; GUM Hydral Oral Spray for on-the-go relief; GUM Hydral Oral Gel, ideal for nighttime relief; and GUM Hydral Anti-Cavity Toothpaste with soothing natural ingredients such as aloe vera and bisabolol. GUM Hydral does not contain irritants, or milk or egg derivatives. GUM Hydral products will be available nationally through major retailers, pharmacies, and online in early March 2020. 888-777-3101;gumbrand.com.
TOPICAL VITAMINE E
Centrix, Shelton, Connecticut, now offers E-Lieve. Designed to provide instant relief to soft tissue irritation, E-Lieve is a topical vitamin E treatment that can also be used to treat damaged gingiva during and after dental procedures. Clinicians can apply E-Lieve before, during, and after hygiene and dental procedures to soothe chapped lips. It can also be used prior to rubber dam placement to help lubricate and prevent irritation and damage to soft tissues. E-Lieve protects lips and gingiva from carbamide and hydrogen peroxide during teeth whitening procedures, and relieves irritation and patient discomfort during scaling and root planing and scaling around orthodontic brackets. Each E-Lieve tube contains one single unit-dose (0.5 ml) of vitamin E. The convenient unit-dose packaging allows for easy application and take-home use, eliminates cross contamination, and provides for easy cleanup. 800-235-5862; centrixdental.com.
POWER TOOTHBRUSH
Procter & Gamble, Cincinnati, has unveiled the new Oral-B iOTM, an electric toothbrush powered by a frictionless magnetic drive system that is said to transfer more energy directly to the bristle tips, resulting in a smooth and quieter brushing experience. The redesigned brush heads feature twisted bristles reinforced with high-density tuft-in-tuft configuration, and are engineered to combine oscillating, rotating movements with microvibrations to ensure a deep clean. Users will appreciate the iO's Biomodal Smart Pressure Sensor that identifies and guides them to brush in the optimal pressure range. Using artificial intelligence, Oral-B iO's intuitive interface coaches and motivates the user through the 2-minute oral hygiene process with three-dimensional tracking. Oral-B iO will be available for purchase August 2020. 800-566-7252; io.oralb.com/en-us/ .

TECHNICAL BRUSH
FasTeesH, Lyon, France, has unveiled its new Y-Brush, a highly flexible Y-shaped technical brush that fits the shape of the jaw. Y-Brush is able to brush all teeth simultaneously, ensuring a powerful cleaning in only 10 seconds. This innovative toothbrush uses the Bass method to effectively clean teeth. The Y-Brush features three vibration modes, and is sold in two brush sizes for adults and children. us.y-brush.com.

STEAM STERILIZER
Midmark, Dayton, Ohio, has upgraded its M9 and M11 Steam Sterilizers. Designed to be both safe and dependable, this line of tabletop sterilizers feature stainless-steel construction and third-party ASME certification to help ensure infection control effectiveness and long-lasting reliability. The sterilizers upgraded capabilities help maximize the efficiency of instrument cleaning and sterilization, with updated cycle times to comply with the United States Food and Drug Administration's recommended 4-minute standard cycles. Upgrades to the Midmark M9 and M11 Steam Sterilizers also include improved drying capabilities and an optional printer accessory. They are also available in a new color and include an on-edge pouch rack. 800-MIDMARK; midmark.com.
WHITENING TOOTHPASTE
Novashine, Columbia, Missouri, provides a natural whitening toothpaste that features a blend of calcium minerals formulated to gently whiten teeth and naturally lift stains. Novashine's Teeth Whitening Toothpaste includes peppermint for a pleasant taste; stevia extract to aid in saliva production; and tea tree oil, coconut oil, and calcium carbonate to help whiten teeth. This dentifrice is also described as being safe on enamel and gingiva. novashinesmile.com.

BIOACTIVE RESTORATIVE MATERIAL
Apex Dental Materials, Lake Zurich, Illinois, offers RE-GEN, a collection of bioactive materials that includes a flowable composite, bulk fill composite and resin cement, pit and fissure sealant, and bioactive universal and self-etch adhesives. The company says RE-GEN is the first line of bioactive products to employ bioglass as an active ingredient, which promotes the regeneration of tooth structure. The unique blend of ingredients in the RE-GEN family of products provides oral health professionals a restoration that is osteogenic, antimicrobial, biocompatible, and bisphenol A free. 877-418-4782; apexdentalmaterials.com.
TOPICAL ANESTHESIA
Pac-Dent, Brea, California, has added GINGICaine One to its product line. The topical anesthetic is formulated with 14% benzocaine, 2% butamben, and 2% tetracaine hydrochloride in a convenient single-use unit does package. GINGICaine One has a rapid onset of 15 seconds to 20 seconds and provides up to 30 minutes to 60 minutes of anesthesia. Clinicians simply peel back the cover, dip the swap in GINGICaine topical gel, and apply. Patients will appreciate the product's pleasant banana flavor. GINGICaine One's disposable and vacuum-sealed packaging is designed to avoid cross-contamination and eliminate the need for cleanup. Each unit contains one 0.4 ml of GINGICaine gel and one applicator swab for a single application. 909-839-0888; pac-dent.com.
EARLY CARIES DETECTION TOOL
Quantum Dental Technologies, Toronto, Ontario, Canada, offers the Canary System. This laser-based device can diagnose, measure, and record tooth decay at the earliest stages. The system can be used in dental offices to detect decay between teeth, find decay under fillings, underneath sealants, braces, and crowns, as well as measure, monitor, and record changes in a tooth. Oral health professionals can detect the presence of cracks and caries before they are large enough to appear on X-rays. The Canary System has a camera that allows patients to see the tooth surface, and a voice system that reports on the findings of each examination. The system works by using photothermal and luminescence technology, which involves using low-powered, pulsating light at a frequency of 2Hz. The laser light penetrates below the tooth surface and can detect a carious lesion as small as 50 microns and as deep as 5 mm from the tooth surface. 866-993-9910; thecanarysystem.com.
AUTOMATIC TOOTHBRUSH
RYCA, Los Angeles, introduces Encompass. Developed by a team of dental professionals, Encompass is an innovative toothbrush design that offers users a quicker and more comprehensive way to brush, delivering 100 brush strokes per second. Encompass is described as being an ideal brush for older adults, patients with motor disabilities, and children, as it cleans one half of the mouth at once in 20 seconds. The half-mouth design eliminates user error by ensuring a uniform brushing of all surfaces of the teeth, and a shaped brush head self-adjusts to fit each person's teeth and mouth to ensure the bristles reach even those hard-to-reach places with the right amount of pressure. encompassbrush.com.
From Dimensions of Dental Hygiene. February 2020;18(2):44–45.