Helping All Children Smile
National Children's Dental Health Month (NCDHM) naturally focuses our attention on the oral health of our youngest patients.
National Children's Dental Health Month (NCDHM) naturally focuses our attention on the oral health of our youngest patients. And we all know that so many circumstances can affect the oral hygiene and well-being of children. This month, Dimensions of Dental Hygiene celebrates our pediatric patients by providing important content on how you can improve their health and advocate for them.
WHILE NATIONAL CHILDREN'S DENTAL HEALTH MONTH ONLY COMES ONCE A YEAR, LET'S COMMIT TO HELPING ALL CHILDREN ATTAIN THEIR BEST ORAL HEALTH ALL YEAR LONG.
But first…how about our cover model? She is the daughter of Dimensions' Executive Editor, Kristen Pratt Machado! Piper has graced the cover of our February issue for the past 11 years, and it's been fun to watch her grow up on the pages of our journal. Fortunately, Piper is blessed with good overall and oral health, and her parents are actively involved in helping her maintain that health. Yet many children aren't as lucky. As oral health professionals, we can have a huge impact, especially on children who truly need our care and guidance. Be sure to read the article on behavior management for children in the dental setting, "Behavioral Management for Pediatric Patients," by Beau D. Meyer, DDS, MPH, to understand how to best treat younger patients who may present a challenge in the chair. Two additional articles, "Treating Kids With Trisomy 21" by Kathie Wang, DDS, and "Caring for Children With Sensory Processing Disorders," by Deborah Dotson, RDH, PhD; Michelle Johnson, PhD, RDN, LDN; and Christy Isbell, PhD, OTR/L, explain our role in treating children with specific health challenges. And an additional feature, "Strategies to Ensure Successful Sealant Placement" by Van B. Haywood, DMD; Kim L. Capehart, DDS, PhD, MBA; and Jeril R. Cooper, III, DMD, provides an update on sealant usage—a key caries prevention measure.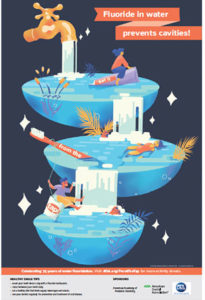 Along with sealants, fluoride has been recognized as a critical component to preventing decay. This year marks the 75th anniversary of community water fluoridation, so the American Dental Association (ADA) has chosen to focus on the important benefits of fluoride for its NCDHM theme. "Fluoride in water prevents cavities. Get it from the tap!" is the 2020 NCDHM slogan, and the ADA has numerous materials to help you share that message. Posters and flyers can be ordered or downloaded in English and Spanish. A Program Planning Guide is also readily available online. It assists teachers, parents, and all interested parties with tips, ideas, and fun activities to promote the good oral health message. Publicity tips are provided in the guide, including ideas on how to write a press release, broadcasting suggestions, and sample newsletter articles. The Program Planning Guide offers ways to engage children of all ages, from coloring and poster contests to essay competitions. Suggested ways to promote these activities are given, along with timelines and ways to reward and publicize the winners. For NCDHM materials, visit the dedicated ADA website at: tinyurl.com/ADA-NCDHM.
Piper's smile says it all—she has a bright future ahead filled with promise and good health. Our goal should be to ensure that as many children as possible can smile as happily as Piper. While NCDHM only comes once a year, let's commit to helping all children attain their best oral health all year long.
Jill Rethman, RDH, BA
Editor in Chief
[email protected]
From Dimensions of Dental Hygiene. February 2020;18(2):6.