A Special Gift for Dental Hygiene
The year was 1916. World War I was raging across Europe.
The year was 1916. World War I was raging across Europe. In the United States, the Boy Scouts of America became incorporated, the Workman's Compensation Act was passed, and the National Park Service was formed. For dental hygiene professionals, another monumental event occurred in 1916: Esther M. Wilkins, BS, RDH, DMD, was born.
Dr. Wilkins has been called the "hygienist's hygienist," the "matriarch of dental hygiene," and the "rock star of dental hygiene." For those of us fortunate enough to know Dr. Wilkins, she is "simply the best." And yes, just like famous celebrities who are known by a single name, you merely say "Esther" in dental hygiene circles and eyes light up. She is that special.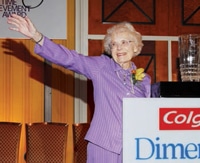 Graduating from the Forsyth School of Dental Hygiene in 1939, Dr. Wilkins worked in private practice for about 6 years before enrolling in dental school at Tufts University. At the time, only three women were enrolled in the dental school program. She later went on to receive her certification in periodontics from the same institution. Dr. Wilkins was working at the Eastman Dental Dispensary in Rochester, New York, when she was asked to establish a dental hygiene program at the University of Washington. She jumped at the chance, and the rest is history. It was there that she decided to turn her stacks of handouts into a textbook, Clinical Practice of the Dental Hygienist—now in its 12th edition. The wisdom and knowledge imparted in this textbook have earned it the nickname of "the dental hygiene bible." Dental hygiene students line up to take selfies with Dr. Wilkins whenever she attends a meeting. Again, she is that special.
I recently asked Anna M. Pattison, RDH, MS, editor in chief emerita of Dimensions of Dental Hygiene, to provide an update on Dr. Wilkins. "Since the latest edition of her book is finished, Esther has more time for other leisure reading and physical therapy," Pattison states. "She loves to read letters from students and dental hygienists who are fans of her book, so please take the time to send Esther a card or letter for her 100th birthday. She reads each one several times and saves them all."
It's a remarkable feat to reach 100 years of age, so I am not surprised that Dr. Wilkins has done so. In everything she has worked toward, she's been extraordinary. And she has encouraged each of us to dream big and strive to be our best. So along with happy birthday, we also say thank you, Dr. Wilkins, for being you! One hundred years from now, your impact on the profession will still be celebrated.
From Dimensions of Dental Hygiene. December 2016;14(12):8.