Dental Hygienist Spearheads Nelson Mandela Event
It's not every day that one is asked to chair an event in honor of a world-renowned leader.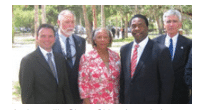 It's not every day that one is asked to chair an event in honor of a world-renowned leader. But this is exactly what happened to Ernestine (Tina) R. Daniels, RDH, BS, a faculty member in the dental hygiene program at Florida State College at Jacksonville and contributor to the 11th edition of Wilkins' Clinical Practice of the Dental Hygienist. Daniels, an active member of the Jacksonville Sister Cities Association, was charged with planning the celebration of life ceremony for South African anti-apartheid activist and statesman Nelson Mandela, which took place in August. Jacksonville is a sister city to Nelson Mandela Bay Municipality in South Africa.
As chair of the event, Daniels relied on her clinical and teaching experience to determine objectives and then work toward attaining the desired outcome. Several committees spent more than 7 months planning the event, which was attended by Nelson Mandela Bay Municipality Mayor Nkosinathi Benson Fihla.
Daniels has been active in community service for more than 25 years, and helped found the board of directors of the dental clinic at the Jacksonville City Rescue Mission. Spearheading this event was daunting, Daniels admits, but she was aware that her involvement was important to Jacksonville and its South African sister city. "The incredible experience of bringing together a group of people who worked so tirelessly to make this happen while bettering the lives of those in South Africa was immensely rewarding," she tells Dimensions. The Jacksonville Sister Cities Association also raised more than $10,000 for the purchase of supplies for Nelson Mandela Bay Municipality's mobile dental clinic—which was purchased through a Gates Foundation grant.
From Dimensions of Dental Hygiene. October 2014;12(10):14,16.