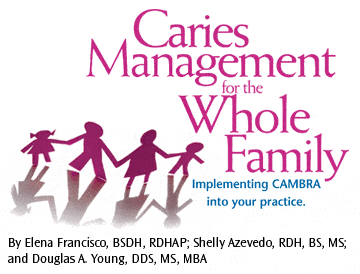 Caries Management for the Whole Family
Implementing CAMBRA into your practice.
PURCHASE COURSE
This course was published in the February 2009 issue and expires February 2012.
The authors have no commercial conflicts of interest to disclose.
This 2 credit hour self-study activity is electronically mediated.
EDUCATIONAL OBJECTIVES
After reading this course, the participant should be able to:
Compare and contrast the treatment for caries as a disease process and a carious lesion.
Understand the rationale for establishing a dental home for every infant and toddler.
Identify parental caries risk factors and protective factors that may affect the oral health of the child.
Discuss strategies for assessing caries in patients 6 years and older.
Identify strategies for reducing risk for patients at low, moderate, high, or extremely high risk for caries.
Understand the relationship between fluoride, antimicrobials, calcium phosphate products, and xylitol in reducing caries risk.
---
The treatment of periodontal diseases is an integral part of the dental hygiene educational process. This training involves the assessment, prevention, and treatment of periodontal diseases and has been the foundation of dental hygiene care for decades. However, dental hygienists also provide other key services such as sealant placement, application of topical fluoride, and preliminary screenings for carious lesions prior to the dental examination.
With advances in caries research over the past 2 decades, today's dental hygienists must consider the same quality of assessment, prevention, and treatment for dental caries as they do for periodontal diseases. Accepting this responsibility means learning new treatment modalities that can be incorporated into a more individualized approach to caries management.1
Caries management by risk assessment (CAMBRA) is an evidence-based methodology to first assess the caries risk factors of each individual patient and then manage those risk factors to promote health.2 CAMBRA addresses many treatment modalities that fall under the purview of the dental hygiene department for preventing, reversing, and treating dental caries. The dental hygienist is in a unique position to assess and educate patients in the prevention of both periodontal diseases and caries.
DEFINING DENTAL CARIES
Caries—the disease—is different from a carious lesion. The term "caries" describes the active infectious disease process.2,3 Carious lesions, ie, white spots, brown spots, cavitations, are changes seen on tooth surfaces in the oral cavity and are manifestations (the end results) of the disease process itself.2,3 Whether or not the disease enters an active state depends on several factors such as the pathogenicity of the biofilm, the chemistry of the oral environment, and daily habits of the patient. This can be compared to any disease process like a cerebrovascular accident (CVA); the cerebrovascular disease process results in the CVA or stroke.4 The paradigm has shifted from treating the result of the caries process (the cavity) to treating the disease itself.
CARIES AFFECTS EVERYONE, ESPECIALLY CHILDREN
Dental caries is the most common disease affecting children.5 Although most clinicians see the effects of caries infection in all age ranges, they are more apparent in children, where the disease process begins very early in life. The 2005 California Oral Health Needs Assessment reported 54% of kindergartners and 71% of third graders have a history of tooth decay, and more than 25% of elementary school children have untreated tooth decay.6 Preventing the progression of caries in the very young requires a major shift in thinking by the entire dental community in how this young population is assessed and treated. Treating toddlers in the dental office is foreign to many dental practitioners. Thus, the developers of CAMBRA created a guide designed to provide clinicians with a framework for a comprehensive assessment beginning at birth.7 Current research suggests that early intervention is vital to preventing oral disease. Caries in primary dentition is a strong predictor that patients will be at risk for caries in their permanent dentition.8 Although the recommended age for an oral examination and risk assessment for children is as early as 6 months after the first tooth erupts or by their first birthday,7, 9-10 many are still unaware of this recommendation.11 The concept of establishing a dental home will provide early dental care, caries risk assessment, and education for parents and caregivers.7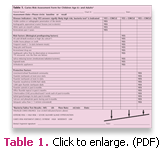 Treating young children in a dental office requires the willingness of the dental community to establish a comprehensive protocol for infant oral care. An individualized caries risk assessment is the first step toward treating the disease rather than the results of the disease.7 Example caries risk assessment forms for ages 0–6 are available at: www.ada.org/prof/resources/topics/topics_caries_under6.doc and www.cdafoundation.org/journal. The important task of performing preventive and therapeutic care for infants and toddlers can be overwhelming for the practitioner with limited exposure to this age group. Each visit should begin with an interview with the parent or primary caregiver. This interview creates a comfortable environment for the parent and the child.
INFANT RISK ASSESSMENT AND EXAMINATION
The examination process begins with an invitation to the parent to accompany the toddler into the operatory. Once the parent is seated in the chair with the toddler comfortably positioned in his or her lap, the interview questions can begin. Dialogue with the parent includes questions regarding oral health issues, oral hygiene routine, bottle and bedtime habits, and snacking habits. Caries risk factors for the infant also include parental oral health care habits and caries history. Protective factors exist that reduce a child's or toddler's risk for caries, including living in an area with fluoridated water, having a mother who has been caries-free for the past 3 years, and having a dental home.7
As the interview with the parent continues, a picture of caries risk evolves. A quick dental exam on very young children is best done using the knee-to-knee position, where the caregiver butts his or her knees up to the clinician's, laying the infant on his or her back facing toward the caregiver into the lap of the clinician. More information on the infant examination can be found at www.first5oralhealth.org.
The infectious nature of the caries pathogens is well documented.12 Very young children with a high caries risk are not able to take full advantage of the protective factors offered by high fluoride dentifrices, chlorhexidine rinses, or home fluoride rinse therapy. A balanced diet and xylitol wipes for cleaning the teeth are simple measures that can be incorporated into an oral hygiene routine for this early age. A more effective measure is the caries assessment of the primary caregiver. Treating the caregiver who is at high risk for caries helps eliminate the vertical transmission12 of the infectious agents (cariogenic bacteria) to the infant.
TREATING THE WHOLE FAMILY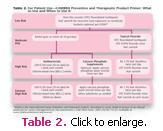 The initial interview with the parent/caregiver will alert the clinician to possible caries risk factors of that parent or caregiver. If the child is considered to be at moderate to high risk, caries risk assessment should be performed including a bacterial culture or some other metric of bacterial load on the mother/ caregiver and child, followed by appropriate treatment. The biofilm must be modified in the entire family unit, including primary caregivers outside the family, if elimination of transmission to the infant/child is to be achieved. Table 1 provides a sample of an adult risk assessment form that can be used.13 The CAMBRA risk reduction recommendations clearly assist the clinician in deciding on the appropriate treatment for caries in low- to high-risk adult caregivers (see Tables 2 and 3). The low-risk patient may be given a saliva test to establish an initial baseline bacterial level and for stimulated saliva flow. Semi-annual recare appointments with topical fluoride or fluoride varnish for root exposure or sensitivity are the treatment of choice for low-risk patients. In addition, the use of fluoride-containing toothpastes used twice daily and bitewing radiographs every 24-36 months are an appropriate strategy for maintaining the balance between patients' current oral health and changes in their protective factors.1
A saliva test that results in the potential for a higher bacterial count identifies the moderaterisk patient. Increasing protective factors by scheduling 4-6 month recare appointments with a fluoride varnish application and bitewing radiographs every 18-24 months is appropriate.1 Interventions that include fluoride rinses, dietary counseling, and dental sealants are the components of a successful treatment plan that will encourage patient cooperation.
A patient presenting with carious lesions at a new or recare appointment is identified as a high-risk patient and must be monitored closely. Patients with two or more high risk factors without the presence of a cavitated lesion may also be considered high risk.1 Assessment for saliva flow, bacterial testing, antibacterial treatment, 1.1% NaF toothpaste, 0.5% NaF varnish, nutritional counseling, calcium phosphate paste, and xylitol are all interventions that can be used to lower the bacterial count and increase remineralization.1 High-risk patients will require 3-4 month recare appointments, bitewing radiographs every 6-18 months, and dental sealants as needed.1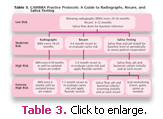 Typically, high-risk patients with special needs or low saliva flow are categorized as extreme high-risk individuals. The effects of xerostomia reduce the pH neutralizing agents of saliva as well as the calcium and phosphate needed to remineralize noncavitated lesions. Even with topical fluoride present, remineralization will not occur until the pH is first neutralized. Buffering rinses help boost the neutralizing properties of saliva in xerostomic patients while the calcium phosphate pastes and fluoride ensure the necessary ions to remineralize the tooth structure following the acid production after food intake.1
SUMMARY
Eliminating what the 2000 Surgeon General's Report referred to as "a silent epidemic" requires a strategy for recognizing and treating caries risk in the entire family unit (parent, grandparents, siblings, and other caregivers). Using the evidence- based protocols for treating and preventing this disease should become a part of every clinician's patient care routine.
REFERENCES
Jenson L, Budenz AW, Featherstone JD, Ramos-Gomez FJ, Spolsky VW, Young DA. Clinical protocols for caries management by risk assessment. J Calif Dent Assoc. 2007;35:714-723.
Young DA, Featherstone JD, Roth JR. Curing the silent epidemic: caries management in the 21st century and beyond. J Calif Dent Assoc. 2007;35:681-685.
Young DA. Managing caries in the 21st century: today's terminology to treat yesterday's disease. J Calif Dent Assoc. 2006;34:367-370.
Little JW, Falace DA, Miller CS, Rhodus NL. Dental Management for the Medically Compromised Patient. 6th ed. St. Louis: Mosby; 2002.
Mouradian WE, Wehr E, Crall JJ. Disparities in children's oral health and access to dental care. J Am Dent Assoc. 2000;284:2625-2631.
Dental Health Foundation. Mommy, It Hurts to Chew. Available at: www.dentalhealthfoundation.org/images/lib_PDF/dhf_2006_report.pdf. Accessed January 16, 2009.
Ramos-Gomez FJ, Crall J, Gansky SA, Slayton RL, Featherstone JD. Caries risk assessment appropriate for the age 1 visit (infants and toddlers). J Calif Dent Assoc. 2007;35:687-702.
Peretz B, Ram D, Azo E, Efrat Y. Preschool caries as an indicator of future caries: a longitudinal study. Pediatr Dent. 2003;25:114-118.
Nowak AJ. Rationale for the timing of the first oral evaluation. Pediatr Dent. 1997;19:8-11.
American Dental Association. ADA statement on early childhood caries 2004. Available at: www.ada.org/prof/resources/positions/statements/caries.asp. Accessed January 15, 2009
Brickhouse TH, Unkel JH, Kancitis I, Best AM, Davis RD. Infant oral health care: a survey of general dentists, pediatric dentists, and pediatricians in Virginia. Pediatr Dent. 2008;30:147-153.
Berkowitz RJ. Mutans streptococci: acquisition and transmission. Pediatr Dent. 2006;28:106-9, discussion 92-8.
Featherstone JD, Domejean-Orliaguet S, Jenson L, Wolff M, Young DA. Caries risk assessment in practice for age 6 through adult. J Calif Dent Assoc. 2007;35:703-707, 10-3.
From Dimensions of Dental Hygiene. February 2009; 7(2):34-37.