Anutra Local Anesthetic Delivery System by Anutra Medical
Revolutionizing local anesthetic delivery.
Most patients do not look forward to receiving injections during their dental appointment, and many oral health professionals do not enjoy administering them. Understanding this unique predicament, Anutra Medical has created the Anutra Local Anesthetic Delivery System—leveraging the science of buffering coupled with innovative technology.
WHAT IS ANESTHETIC BUFFERING?
Buffering is a chemical process that neutralizes acids with bases. Utilizing buffered local anesthetic provides a more comfortable experience for patients, and is more efficient and reliable for the oral health professionals administering the injection. Local anesthetics, such as lidocaine, are very acidic (3.5 pH to 3.9 pH)—making them more acidic than the citric acid found in lemons and limes. This high acidity is the reason anesthetic burns. By adding the buffering agent sodium bicarbonate to lidocaine, Anutra raises the pH of the anesthetic to physiologic pH, thus reducing the burning sensation of the anesthetic.
KEY BENEFITS
Pupal anesthesia is reached in the majority of patients in less than 2 minutes, even on nerve blocks
Most patients are profoundly numb after the first injection, reducing the need for bailout injections
Rapid onset of anesthetics may save as many as 20 minutes per patient
Buffered anesthetic is more effective on difficult-to-numb patients, due to a diminished buffering capacity; this includes patients under high stress and those with diabetes and/or fibromyalgia
UNIQUE DELIVERY SYSTEM
The Anutra Local Anesthetic Delivery System features a dispenser, cassette, and syringe. At the heart of the system is the innovative Anutra Syringe, which was created with both patients and oral health professionals in mind. The ergonomic syringe is made of polypropylene and holds various dosages, ranging from 1 mL to 6 mL—allowing clinicians to administer more precise levels of anesthetic solution. A subtle audible click provides clinician feedback during administration, enhancing control and efficiency and easing the clinician's mind during an often stressful procedure.
ADDITIONAL ADVANTAGES OF BUFFERING
In addition to its use as an anesthetic delivery system, the Anutra Local Anesthetic Delivery System has been used as a topical anesthetic during scaling and root planing. This is possible when lidocaine is buffered with sodium bicarbonate, creating a CO2 microbubble that, when applied to a dried mucosal membrane, delivers a numbing effect. Thanks to this ability, the system allows oral health professionals to apply topical and then immediately inject, without the syringe ever leaving the patient's mouth. A simple twist of the knob and pull of the syringe buffers anesthetic on demand, eliminating the need to premix drugs.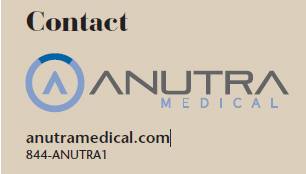 From Dimensions of Dental Hygiene. March 2017;15(3):55.