Marketplace
A listing of featured products.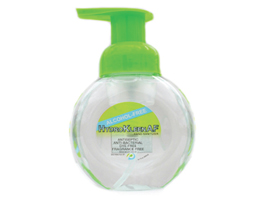 ALCOHOL-FREE HAND SANITIZER
Productive Practices, Bristol, Rhode Island, is helping keep germs at bay with its HydroKleen AF Hand Sanitizer. According to the manufacturer, HydroKleen AF has demonstrated 99.9% effectiveness against the most frequent illness-causing bacteria. This alcohol-free formula contains benzalkonium chloride—an antibacterial antiseptic compound that is safe and effective in reducing bacteria on the skin. HydroKleen AF is rapidly absorbed into the skin with little impact on its natural barrier function. 877-446-8088; productivepractices.net.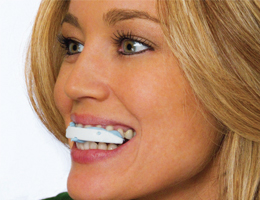 CHAIRSIDE-FABRICATED INTERIM DENTAL SPLINT
Orofacial Therapeutics LP, San Diego, offers QuickSplint—a practical, efficient, and affordable interim bite plane. The product is fabricated chairside in just 5 minutes and has both diagnostic and therapeutic applications, including treatment for acute jaw and orofacial pain; diagnostic aid for parafunction and bruxism; post-operative aid to help jaw muscles relax and recover after dental treatment; temporary protection for anterior provisional veneers, newly placed implants, endodontically treated teeth, and other dental restorations; post-periodontal surgery; anterior bite-plane/deprogrammer; and transitional or emergency appliance. This interim custom-fit bite plane is designed for short-term use—from 4 weeks to 6 weeks—and is reimbursable through insurance. 800-760-0526; quicksplint.com.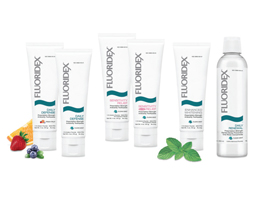 TOOTHPASTE AND MOUTHRINSE BRAND NEWLY ACQUIRED
DenMat, Lompoc, California, recently acquired Fluoridex—a product portfolio comprising toothpastes and a mouthrinse—from Philips Oral Healthcare. DenMat is pleased to offer the line of prescription-strength oral health products that includes Daily Defense Toothpaste, Sensitivity Relief Toothpaste, Sensitivity Relief SLS Free Toothpaste, Enhanced Whitening Toothpaste, and Daily Renewal Rinse. Fluoridex toothpastes contain 1.1% neutral sodium fluoride, concentrated at 5,000 ppm—more than four times the active ingredient of nonprescription brands. The product portfolio is indicated for the treatment and prevention of dental caries and is ideal for patients with current or recent caries, xerostomia, orthodontic appliances, extensive restorations, or those age 65 or older. 800-433-6628; denmat.com.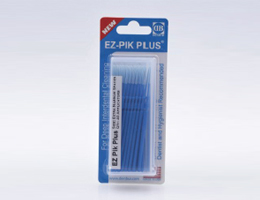 INTERDENTAL PICK AND BRUSH FOR HARD-TO-REACH PLACES
Denbur, Westmont, Illinois, offers both the EZ-Pik Interdental Pick for Normal Spaces and the EZ-Pik Plus Interdental Brush for Extra Narrow Spaces. Patients may prefer the knife-shaped tip of theEZ-Pik Inter dental Pick for Normal Spaces, which is designed to access spaces between teeth. The tip can be bent to the user's preferred angle to remove stubborn food particles in difficult-to-reach areas, and its indented back portion is friendly to the gumline and ideal for pinpoint particle removal. The EZ-Pik Plus Interdental Brush for Extra Narrow Spaces features a flexible, wire-free design—making it ideal to clean between teeth, orthodontics, implants, crowns, or bridges. 800-992-1399; denbur.com.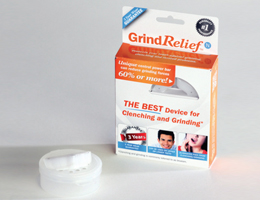 TEETH-GRINDING SOLUTION
GrindReliefN, Lake Orion, Michigan, presents the GrindReliefN mouthguard. This patented, custom-fit mouthguard was developed by a practicing dentist and has received approval from the United States Food and Drug Administration for clenching and bruxing relief. It works by relaxing the jaw muscles during sleep to relieve grinding-associated pain in the face, jaw, and neck. GrindReliefN is small in size, which is designed to increase comfort and promote routine use. 877-401-1224; grindreliefn.com.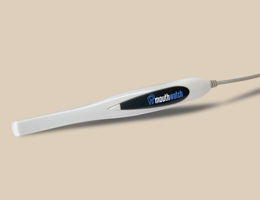 ECONOMICAL INTRAORAL CAMERA
MouthWatch LLC, New York, makes the economically priced MouthWatch Intraoral Camera. Designed as part of a series of high-quality, low-priced digital dental solutions, the MouthWatch Intraoral Camera integrates with virtually all dental imaging software. The intraoral camera, MouthWatch ExamTab, and MouthWatch TeleDent platform are a seamless solution for a full digital chairside experience. 877-544-4342; mymouthwatch.com.
From Dimensions of Dental Hygiene. March 2017;15(3):54.