Advances in All-Ceramic Restorations
Advances in All-Ceramic Restorations With the popularity of nonmetal restorations growing, dental hygienists need to be well versed in available options.
PURCHASE COURSE
This course was published in the May 2012 issue and expires May 2015.
The authors have no commercial conflicts of interest to disclose.
This 2 credit hour self-study activity is electronically mediated.
EDUCATIONAL OBJECTIVES
After reading this course, the participant should be able to:
 Discuss the pros and cons of all-ceramic restorations.

Identify the most common materials used in all-ceramic restorations.
Explain the indications of use for nonmetal restorations.
Detail strategies for the safe maintenance of these restorations.
---
Predictable strength and reasonable esthetics have made metal-ceramic restorations popular for the past 50 years. But due to improvements in materials and the growing demand for esthetic and metal-free restorations, the use of all-ceramic restorations is on the rise.
1,2
Currently, there is a plethora of all-ceramic systems available for many clinical applications such as veneers, partial coverage crowns, crowns, and fixed partial dentures (FPDs).
2,3
Successful clinical application of all-ceramic materials depends on the practitioner's ability to select both the appropriate material and cementation protocol that satisfy the patient's needs and expectations.2 The selection of a particular ceramic system should be based on physical properties such as strength, fracture resistance, wear, and long-term clinical outcomes, as well as esthetic properties.4 Hence, the dentist and dental hygienist must understand these materials and systems so they can educate their patients, treatment plan the most appropriate restoration, and maintain the restoration over time.
CERAMIC MATERIALS USED IN DENTISTRY
The term "ceramic" comes from the Greek word "keramos" which means "potter" or "pottery." Improvements in all-ceramic systems have resulted in restorations that are strong and very esthetic. Although ceramics can be strong, they are very brittle materials and will fail under flexure or bending.3 Leucites, lithium disilicates, alumina-based ceramics, and zirconia-based ceramics are the most widely used all-ceramic systems (Table 1).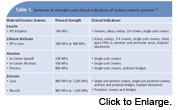 LEUCITE-REINFORCED CERAMICS
The most common leucite material is IPS EmpressTM (Ivoclar Vivadent). Leucite-reinforced ceramics are monolithic restorations, meaning the material is the same throughout the restoration. There is no additional veneering ceramic on top of a coping. The leucites scatter light naturally and have a translucent and lifelike appearance but lack strength when used in certain clinical situations. This material possesses flexural strength of approximately 160 MPa and is used for fabricating veneers, inlays, onlays, 3/4 crowns, and single unit anterior and premolar crowns.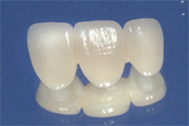 LITHIUM DISILICATE CERAMICS
A recent entry into the marketplace is lithium disilicate ceramics, most notably IPS e.maxTM (Ivoclar Vivadent). These restorations are typically monolithic, but can also be made as restorations layered with veneering porcelain. They are esthetically pleasing and can be stained and colored for increased esthetics. This system allows for computer-aided design and manufacturing (CAD/CAM) by milling the restorations from dense ceramic blocks. The restoration is milled from a purple block, and requires a crystallization process at 840 °C, as well as external staining and glazing at lower temperatures.
The restoration is then called IPS e.max CAD. This procedure can be done in office, as well as in the laboratory. A second way to use lithium disilicate is with press technology in the laboratory only. These restorations are called IPS e.max Press. The flexural strength of this material ranges from 360 MPa to 400 MPa.5 Due to its high strength, lithium disilicate can be used for inlays, onlays, 3/4 crowns, and full coverage crowns and short-span bridges in the anterior and premolar areas.2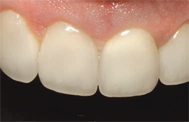 ALUMINA-BASED CERAMICS
Alumina-based ceramics include ProceraTM (Nobel Biocare), In-Ceram AluminaTM (VITA Zahnfabrik), and In-Ceram SpinellTM (VITA Zahnfabrik). These systems have been in use since the late 1980s. Alumina restorations have a high-strength aluminum oxide core that is veneered with the same type of porcelain used with metal ceramic crowns.2 This material can be used for anterior and posterior crowns.6 The fabrication of Procera framework uses CAD/CAM technology.
ZIRCONIA-BASED CERAMICS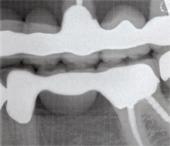 Due to their extremely high strength, zirconia based ceramics such as LavaTM (3M ESPE) and BruxZirTM (Glidewell Laboratories) are widely used.1 These restorations are fabricated using CAD/CAM technology. They can be fabricated as monolithic restorations, used for posterior crowns, as well as high-strength zirconia copings veneered with feldspathic porcelain. Flexural strength for this material ranges from 900 MPa to 1,200 MPa.7 Chipping of the veneering porcelain is an issue that can arise with the veneered restorations.5 Thus, the full contour, monolithic zirconia restorations (BruxZir) are gaining popularity. These restorations require minimal preparation and provide moderately esthetically results.1 While crowns made with solid zirconia are very strong, due to the lack of color selection and blending, they are mainly used in posterior areas. More common is the use of zirconia copings for crowns and substructures for fixed partial dentures with veneering porcelain placed on the outer surface, much like metal ceramic restorations (Figure 1 and Figure 2). These can be used for anterior and posterior crowns and bridges. Implant abutments can also be made with zirconia-based materials.8
PRACTICAL IMPLICATIONS FOR THE DENTAL HYGIENIST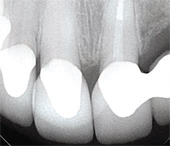 As a member of the dental team, the dental hygienist is often the first practitioner to have contact with recare or new patients. As such, the dental hygienist is asked to identify existing restorations and receives many of the questions that patients may have regarding new materials or esthetic options. Clinically, an existing all-ceramic restoration can look very lifelike. In order to chart existing all ceramic restorations, the dental hygienist will need to use radiographs and tactile senses to feel for margins. To distinguish between different types of all-ceramic restorations on a radiograph, the dental hygienist will need to understand the differences in materials.
Figure 3A shows a metal-ceramic crown radiographically. Note that this restoration is not monolithic, as there are two layers present: a very radiopaque metal coping around the prepared tooth and a less opaque layer of porcelain surrounding it. A radiograph of a veneered zirconia restoration will show a radiopaque core similar to a metal-ceramic crown, as shown in Figure 3B. Note that the copings appear very rounded at the corners, a hallmark of all-ceramic preparations. Clinically, a zirconia crown will not have any indication of metal in the gingival area. Bonded veneers are shown in Figure 3C. They can be identified by a semi-radiopaque halo surrounding a minimally-prepared tooth. Lithium disilicate crowns are monolithic and slightly radiopaque, as shown in Figure 3D. These restorations look somewhat similar to highly-filled composite fillings.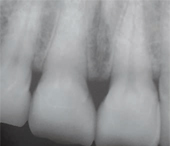 INTEGRATING ALL-CERAMIC OPTIONS INTO TREATMENT
If a patient expresses interest in highly esthetic or "metal-free" restorations, the dental hygienist should critically evaluate the indications and/or limitations of the all-ceramic options. Some considerations are anterior vs posterior teeth, presence of parafunctional habits, color of underlying tooth structure, and translucency of adjacent teeth.4
A restoration with a veneered zirconia coping or a full zirconia crown is the strongest of the all-ceramic options. Although these zirconia options are strong, a metal-ceramic crown still shows less inclination for failures under loading.9 If the patient has evidence of bruxing or grinding, a metal-ceramic crown may still be the best option for a posterior restoration. When the occlusal scheme seems healthy and stable, a veneered zirconia crown would be a viable option. If it is possible to retain a portion of healthy tooth structure, a bonded lithium disilicate inlay or onlay could be appropriate. These restorations may be preferable to a large, multi-surface posterior composite.10
In the anterior region, there are more options for all-ceramic restorations. Most patients are good candidates for veneered lithium disilicate or zirconium crowns or bonded veneers. Again, if the patient shows parafunctional wear or limited restorative space, a metal-ceramic restoration may be the best option. Due to their high translucency, leucite or veneered lithium disilicate crowns may offer the best control of esthetics when matching existing natural teeth.4 Conversely, if the patient's underlying tooth structure is darkly stained (eg, tetracycline staining or previous endodontic treatment) a veneered zirconia, alumina, or metal-ceramic crown should be recommended because their opaque copings mask the dark underlying tooth structure.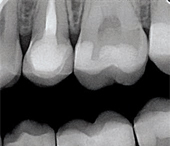 CARE AND MAINTENANCE
All-ceramic restorations should be maintained similarly to metal-ceramic restorations, but there are some special considerations (Table 2). Care should be taken when using abrasive prophylaxis pastes on high-gloss ceramic surfaces, as overuse can abrade the ceramic glaze. Abrasive prophy pastes will cause surface roughness and breakdown of resin-luting cements at the margin of ceramic veneers and onlays.11 Similarly, education regarding use of abrasive home toothpastes containing silica particles is important.12
Care should be taken if acidulated fluoride rinses or pastes are used. Unlike sodium fluoride, acidulated fluoride can cause surface etching and roughness on glazed ceramic surfaces.13 This can result in increased staining and decreased luster. Use only neutral fluorides when ceramic restorations are present.
Although ultrasonic scalers are useful during hygiene procedures, they can damage delicate ceramic margins.14 The utmost care should be taken when using an ultrasonic scaler around the margins of an all-ceramic restoration, especially bonded veneers. Finally, patients should be informed about the relative fragility of their restorations. If possible, hard foods should be avoided and if small fractures on occlusal surfaces or incisal edges develop, the dentist should be informed of the possible need for occlusal adjustments or the fabrication of an occlusal guard.15
CONCLUSION
The use of and demand for all-ceramic restorations has increased in recent years. These restorations provide excellent fit, function and esthetics and, if used appropriately, can be reasonable substitutes for metal-ceramic restorations. With improvements in manufacturing capabilities and esthetic qualities, a continued increase in the use of all-ceramic restorations can be expected. Therefore, it is important for dental hygienists to understand the indications and limitations of these materials.
REFERENCES
Christensen GJ. The all-ceramic restoration dilemma: where are we? J Am Dent Assoc. 2011;142,668–671.
Conrad HJ, Seong WJ, Pesun IJ. Current ceramic materials and systems with clinical recommendations: a systematic review. J Prosthet Dent. 2007;98:389–404.
Giordano R, McLaren EA. Ceramics overview:classification by microstructure and processing methods Compend Contin Educ Dent.2010;31:682–684.
McLaren EA, Whiteman YY. Ceramics: rationale for material selection. CompendContin Educ Dent. 2010;31:666–668.
Culp L, McLaren EA. Lithium disilicate: the restorative material of multiple options.Compend Contin Educ Dent. 2010;31:716–720.
Etman MK, Woolford MJ. Three-year clinical evaluation of two ceramic crown systems: a preliminary study. J Prosthet Dent.2010;103:80–90.
Giordano R, Sabrosa CE. Zirconia: materialbackground and clinical application. CompendContin Educ Dent. 2010;31:710–715.
Nakamura K, Kanno T, Milleding P,Örtengren U. Zirconia as a dental implant abutment material: a systematic review. Int J Prosthodont. 2010;23:299–309
Potiket N, Chiche G, Finger IM. In vitro fracture strength of teeth restored with different all-ceramic crown systems. J ProsthetDent. 2004;92:491–495.
Magne P, Belser UC. Porcelain versus composite inlays/onlays: effects of mechanical loads on stress distribution, adhesion, and crown flexure. Int J Periodontics Restorative Dent. 2003;23:543–555.
Neme AM, Wagner WC, Pink FE, Frazier KB.The effect of prophylactic polishing pastes and toothbrushing on the surface roughness of resin composite materials in vitro. Oper Dent. 2003;28:808–815.
Lussi A, Hellwig, E. Risk Assessment andPreventive Measures. Mongr Oral Sci.2006;20:190–199.
Kula K, Kula TJ. The effect of topical APFfoam and other fluorides on veneer porcelain surfaces. Pediatr Dent. 1995;17:356–361.
Vermilyea SG, Prasanna MK, Agar JR. Effect of ultrasonic cleaning and air polishing on porcelain labial margin restorations. J Prosthet Dent. 1994;71:447–452.
Geissberger M. Esthetic Dentistry in ClinicalPractice.Ames, Iowa: Wiley-Blackwell; 2010.
From Dimensions of Dental Hygiene. May 2012; 10(5): 60-63.