ADHA Names Recipients of Award for Excellence in Dental Hygiene
During the American Dental Hygienists' Association (ADHA) Annual Session in Pittsburgh in June, Olga A.C. Ibsen, RDH, MS, FAADH, was honored with the Johnson & Johnson 2016 Award for Excellence in Dental Hygiene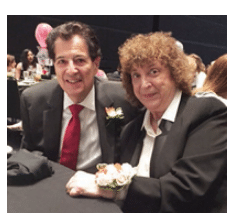 During the American Dental Hygienists' Association (ADHA) Annual Session in Pittsburgh in June, Olga A.C. Ibsen, RDH, MS, FAADH, was honored with the Johnson & Johnson 2016 Award for Excellence in Dental Hygiene during the President's Luncheon on June 12, at the David Lawrence Convention Center. Ibsen, who was nominated by Dimensions of Dental Hygiene's Publisher Lorene Kent, RDH, BA, is a worthy recipient of this prestigious award. Her passion for dental hygiene and oral pathology merged over the years, and in 1991, her book, Oral Pathology for the Dental Hygienist, was first published. Since then, the book—now in its sixth edition—has reached more than 300,000 students and practitioners.
Ibsen began her career at State University of New York Farmingdale, and continued her education at Columbia University, where she earned both bachelor of science and master of science degrees, and also served as an associate professor. She continues to teach and is an adjunct professor at the University of Bridgeport and New York University. Ibsen also serves on Dimensions' Editorial Advisory Board and answers questions regarding oral pathology on the journal's Ask the Expert online forum.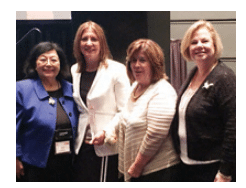 Karen Neiner, RDH, LDH, BSDH, MBA, vice president of corporate development and professional relations for Hu-Friedy, also received the Award for Excellence in Dental Hygiene for her more than 35 years of dedication to the profession. Employed by Hu-Friedy since 1989, she started as an associate product manager for the company's periodontal instrument line and has held various roles within the organization over the past 27 years. Neiner helped initiate Hu-Friedy's instrument recycling program, Environdent®, in addition to launching the company's Web-based social media program, Friends of Hu-Friedy—an online community platform for dental hygienists. She has served on the boards for Oral Health America, the American Dental Assistants' Foundation, Academy of Dentistry International Foundation, and the Chicago Dental Society Foundation, and is an advisor to the ADHA Institute for Oral Health. Neiner is also a Dimensions' Corporate Council member.
From Dimensions of Dental Hygiene. July 2016;14(07):16.