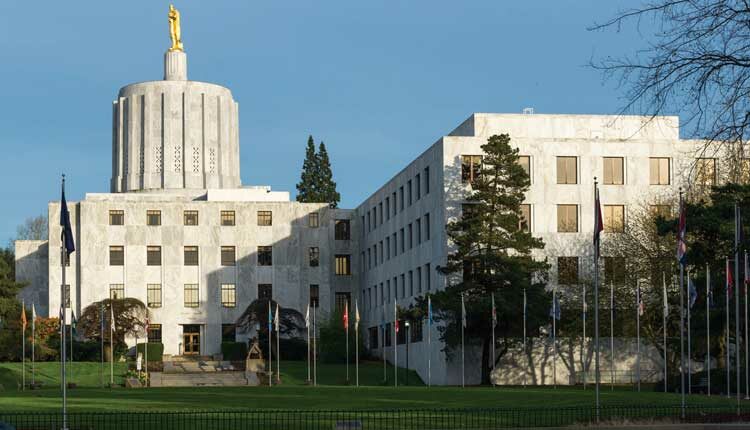 GARYSFRP/ISTOCK/GETTY IMAGES PLUS
Advancing Dental Therapy Legislation in Oregon
Through two dental pilot programs, the state moves closer to full utilization of dental therapists.
In 2011, legislation for dental therapy was introduced in Oregon, but stopped short of fully approving licensure for dental therapists. Instead, the legislature opted to authorize dental pilot projects that do one of the following: teach new skills to existing categories of dental personnel, develop new categories of dental personnel, accelerate the training of existing categories of dental personnel, or teach new oral health care roles to previously untrained individuals.1 Dental pilot projects are approved and monitored by the Oregon Health Authority (OHA). The expectation of this legislation was to assess new workforce models that would increase access to care among populations with the highest disease rates and the least ability to seek dental care, with the ultimate goal of coming back to the Oregon Legislature in the future to propose a permanent workforce model.
The OHA approved three dental pilot projects, but only two are designed to train dental therapists: Pilot #100 and Pilot #300. Pilot #100 (Oregon Tribes Dental Health Aide Therapist [DHAT]), which is based on the DHAT model, was approved in 2016.2 In 2020, Pilot #300 (Dental Hygiene Restorative Function Endorsement Model), which is designed to accelerate the training of existing categories of dental personnel by educating dental hygienists with expanded practice permits as dental therapists, was approved.3 Early findings from Pilot #100 demonstrated that dental therapists provide increased access to safe, high-quality dental care.4
In the fall of 2019, stakeholders across the state were ready to pursue permanent legislation for dental therapy in Oregon and thus formed the Oregon Dental Access Campaign (ODAC). A coalition of consumers, educators, health and dental care organizations, Tribes, and Tribal organizations, ODAC works to establish licensed dental therapists in Oregon to increase oral healthcare access and improve outcomes for Oregonians most in need.5 In 2020, a bill that would authorize licensure for dental therapists was introduced in the Senate, but it died in committee. Under the leadership and direction of Senator Laurie Monnes Andersen and Representative Tawna Sanchez, a workgroup of the senate committee on healthcare was formed to propose revisions to the bill in the summer of 2020. In 2021, House Bill 2528 passed with bipartisan support in both chambers, and was signed into law by Governor Kate Brown on July 19, 2021. By the time the bill passed, there were 19 proposed amendments.
Summary of Approved Legislation
The final legislation specified that applicants for a dental therapy license in Oregon must complete a dental therapy education program accredited by the Commission on Dental Accreditation (CODA) or participate in an approved dental pilot project. The Oregon Board of Dentistry may require applicants to pass written, laboratory, or clinical examinations to test applicants' knowledge and skills. The board will likely accept an objective structured clinical examination-style clinical board test because it allows this type of clinical board examination for dental and dental hygiene licensure.
A dental therapist may only practice under the supervision of a dentist with a collaborative agreement. The collaborative agreement must include what procedures are allowed, what level of supervision is required for each procedure, limitations on practice, guidelines for managing dental records, approved practice settings, patient age-specific and procedure-specific practice protocols, guidelines for handling medical emergencies, a quality assurance plan, protocols for dispensing and administering drugs, and referral protocols. Dental therapists must dedicate at least 51% of their practice to patients who are underserved as defined by the OHA or patients located in dental care health professional shortage areas as determined by OHA.
The majority of procedures within the scope of a dental therapist's practice were included in the original bill, but, through amendments, several procedures were brought under indirect supervision, meaning the supervising dentist must be on-site. These procedures include: placement of temporary restorations, fabrication of soft occlusal guards, tissue reconditioning and soft reline, tooth reimplantation and stabilization, recementing of permanent crowns, pulpotomies on primary teeth, simple extractions of erupted posterior primary teeth and permanent teeth that have horizontal movement of greater than 2 mm or vertical movement with at least 50% periodontal bone loss, brush biopsies, and direct pulp capping on permanent teeth. The supervising dentist may prohibit the dental therapist from performing any of the approved procedures and/or may require a higher level of supervision for any procedures as outlined in their collaborative agreement.
Additional concessions made to help move the bill forward included eliminating the addition of a dental therapist to the Oregon Board of Dentistry and removing a pathway for licensure for dental therapists whose education is from another state unless they were educated at a CODA-approved program. Currently, there is only one CODA-approved dental therapy program at Iḷisaġvik College in Barrow, Alaska. There are no CODA- approved dental therapy programs in Oregon, but Pilot #300 is approved to educate up to three cohorts of dental therapy trainees who will be allowed to gain licensure in Oregon. Currently, the first cohort includes three trainees who have completed their training and four additional trainees in their preceptorship. The second cohort began training in August 2021 with 11 participants. The third cohort is set to begin in August 2023 with up to 12 additional trainees.
Historically, many Oregon dentists have limited the number of patients covered by state-issued dental insurance due to low reimbursement rates. It is hoped that dental offices will be able to increase access to care for this population through the addition of a dental therapist to the dental team. Dental therapists lower the overhead costs associated with providing dental treatment.
The dental pilot project legislation in Oregon will sunset in 2025. For continued growth and utilization of dental therapists in Oregon, a CODA-approved program must be developed in the state. Increasing the number of CODA-approved dental therapy education programs across the country will provide another source of potential licensed dental therapists. Development and CODA approval of a dental therapy program in Oregon is anticipated to take a minimum of 3 years. As with other states, the legislation has created a caveat to the implementation of dental therapy on a significant scale within the next few years. We believe Oregon has taken a positive step in improving access to care, however, the proof based on actual statistics will take time to provide.
References
76th Oregon Legislative Assembly. Senate Bill 738. Available at:

 

npaihb.org/​download/​policy/​statepolicy/​oregon/​SB738.pdf. Accessed October 27, 2021.
Northwest Portland Area Indian Health Board. Oregon Tribes Dental Health Aide Therapist Pilot Project. Available at: public.health.oregon.gov/​PreventionWellness/​oralhealth/​DentalPilotProjects/​Documents/​100-abstract.pdf. Accessed October 27, 2021.
Willamette Dental Group. Dental Therapist Pilot Project: Dental Hygiene Model. Available at: oregon.gov/​oha/​PH/​PREVENTIONWELLNESS/​ORALHEALTH/​DENTALPILOTPROJECTS/​Documents/​300-Abstract.pdf. Accessed October 27, 2021.
Oregon Dental Access Campaign. Brochure. Available at: olis.oregonlegislature.gov/​liz/​2019I1/​Downloads/​CommitteeMeetingDocument/​209178. Accessed October 27, 2021.
Oregon Dental Access Campaign. About. Available at: odac.nationbuilder.com. Accessed October 27, 2021.
From Dimensions of Dental Hygiene. November 2021;19(11)20, 21.