Ultradent Adds New Cordless Prophy Handpiece
Ultradent Products, Inc., introduces the Ultrapro™ Tx Cordless handpiece to its Ultrapro™ Tx prophylaxis family. Building on a legacy of providing innovative dental solutions, the Ultrapro Tx Cordless handpiece combines the power and reliability of corded devices with the convenience and freedom of a cordless one.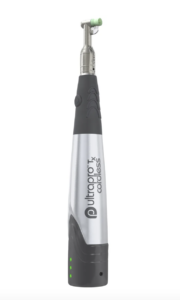 Designed to deliver comfort and efficiency, the Ultrapro Tx Cordless handpiece takes the strain out of prophy treatment with a lightweight and ergonomic structure, improving experience for both the clinician and patient.
The Ultrapro Tx Cordless handpiece combines high performance with extreme mobility and accessibility—featuring a robust output of up to 4,000 RPMs for efficient stain removal, without compromising enamel safety. Its open design is compatible with most disposable prophy angles, including Ultrapro™ Tx disposable prophy angles, like the Ultrapro™ Tx Sweep™ DPA. Further enhancing its operability, the Ultrapro Tx Cordless handpiece comes equipped with a Bluetooth foot pedal, enabling the same control as a corded handpiece with no learning curve. Clinicians can also appreciate the handpiece's endurance—a single wireless charge ensures all-day operation.
800.552.5512