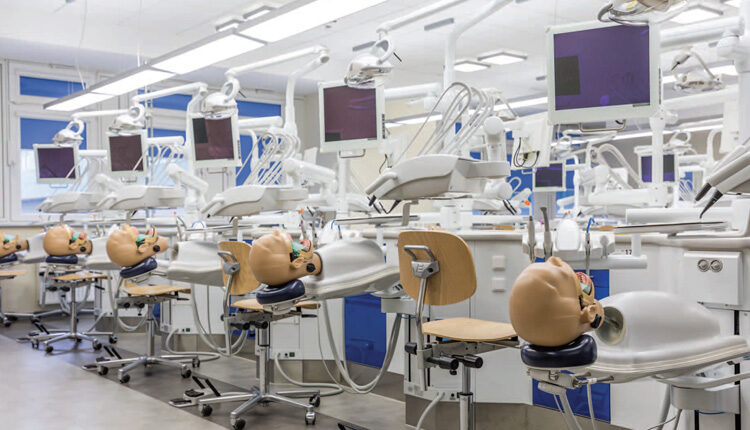 KATARZYNABIALASIEWICZ/ISTOCK/GETTY IMAGES PLUS
Expanding Dental Therapy Education Programs
As interest in dental therapy grows, developing and implementing appropriate education programs are key to success.
Access to oral healthcare remains a significant problem in the United States.1 One solution that has gained momentum over the past decade is the expansion of the oral health workforce through the addition of a new member: the dental therapist (DT).
Globally, more than 50 countries feature a member of the oral health team that reflects the model developed in New Zealand in 1921.2 The first three cohorts of DTs to practice in the US completed training in New Zealand. Today, in 2020, three domestic DT educational programs exist. With the 2015 establishment of national standards for dental therapy education by the Commission on Dental Accreditation (CODA), several more education programs are under development. As of August 2020, dental therapy is authorized in 13 US states under state and/or tribal jurisdiction: Alaska, Oregon, Minnesota, Maine, Vermont, Washington, Arizona, Michigan, New Mexico, Idaho, Montana, Nevada, and Connecticut. This article describes the progress and development of dental therapy training programs in the US through 2020.
Alaska
For Alaska, dental therapy provided a solution to the oral health access issue by adding to an existing program intended to benefit rural and tribal communities: the Community Health Aide Program (CHAP).3 A task force was created by the Alaska Native Tribal Health Consortium in 1998 using a grant from the Indian Health Service to determine possible solutions to increase access. This task force determined during the consensus building process that adding more responsibility to community health aides through CHAP would not achieve the desired goal, thus, the task force looked to create a versatile oral healthcare provider that tribal communities could use to fulfill specific needs. This led to six students being sent to New Zealand's dental therapy education program at the University of Otago for training in December of 2002. In December of 2004, Alaska certified the first cohort of dental health aide therapists (DHATs) that began practicing in 2005.
Creating a domestic educational program to sustain DHATs started with Alaska Native Tribal Health Consortium's attempt to work with the University of Washington in Seattle. Resistance from the Washington Dental Association forced the consortium to find a new home for didactic instruction. The medical school at the University of Washington offered its physician assistant (MEDEX) program for didactic instruction as an alternative and set up a pre-clinical site in Anchorage. Bethel, the largest community in the Yukon–Kuskokwim Delta, serves as the site for first-year clinical training. The education program is now offered through Iḷisaġvik College, Alaska's only tribal college.4 In August 2020, this program received the first accreditation from CODA for a dental therapy program, firmly establishing its place in dental education.5
Minnesota
The next state to authorize dental therapy, Minnesota, had a different approach to creating an education program for dental therapy. It was largely influenced by dental hygiene as a means for building career ladders and creating opportunities for clinical advancement. In 2001, Minnesota passed the Collaborative Dental Hygiene Practice Act that authorized dental hygienists to be employed by a healthcare facility to work in collaboration with dentists, rather than necessarily under direct supervision.6 In 2004, model specifications were created to implement an advanced dental hygiene practitioner (ADHP), and, in 2006, a committee was formed to develop a curriculum. The first attempt at authorizing an ADHP failed, but in 2009, the ADHP efforts were combined with the dental therapy workforce model into one bill: the Omnibus Higher Education Bill.
The remainder of states that have authorized dental therapy since 2017 are still in early stages of implementation and establishment of educational programs.
Minnesota ultimately created two dental therapy providers: a DT and an advanced dental therapist (ADT). The DT pathway requires 3 years of training and direct supervision by a dentist, while the ADT pathway requires a master's degree and results in the ability to practice with direct or indirect supervision.
Two states with similar approaches to solving the oral health access problem ended up with two very different workforce models. The education programs in Minnesota were developed at Normandale Community College in Bloomington and Metropolitan State University in St. Paul, and have a dental hygiene prerequisite. At the University of Minnesota School of Dentistry in Minneapolis, the DT and ADT programs have been consolidated into a combined program, and now all graduates of dental therapy in the state pursue a combined Bachelor of Science in Dental Hygiene and Master in Dental Therapy (BSDH/MDT).
Oregon
Oregon passed legislation in 2011 calling for a 5-year pilot project to test new oral health workforce models, opening the way to two current pilots in dental therapy. Pilot #100, approved in 2016, is training students from tribal areas in the DHAT program at Iḷisaġvik College, with clinical training sites around Oregon. Pilot #300, approved in 2020, is building a dental therapy education model at Pacific University for dental hygienists with a restorative functions endorsement.
Accreditation Is Achieved
In 2013, CODA drafted standards for dental therapy accreditation. After 2 years of circulation and revision, the standards were passed in 2015. CODA's recognition of dental therapy was an important step in laying the institutional framework as evidenced by all states passing subsequent legislation requiring DTs to have education from a CODA-accredited program.
The CODA requirements define 3 years of education, but do not specify prerequisites or degree requirements, allowing each subsequent state to customize solutions to their own access issues. For example, in 2016, Vermont authorized dental therapy legislation requiring a dental hygiene prerequisite for practice and the training program to be CODA-accredited for dental therapy.
Vermont Technical College is developing the program with support from a Health Resources and Services Administration dental education grant. Administrators of the Vermont program have had to address multiple logistical challenges of accreditation as both a dental hygiene and dental therapy program. The college has found a solution that, if enacted as planned, will offer an Associate of Science in Dental Hygiene, a Bachelor of Science in Oral Health Science, and a Graduate Certificate in Dental Therapy. Students with a dental hygiene degree will also have the option of completing an advanced standing pathway leading to a Master of Dental Therapy. Once Vermont Technical College can secure accreditation from CODA after the COVID-19 restrictions are lifted, it is hoped that the flexibility of this approach means it can provide training for students from many different states, including neighboring Maine.
The Commission on Dental Accreditation's recognition of dental therapy was an important step in laying the institutional framework.
At the same time in 2016, the Indian Health Service began the process of expanding CHAP, including DHATs, to states outside of Alaska. In this expansion, states including Oregon, Washington, Idaho, and Montana can authorize tribes to hire DHATs. These states, as well as New Mexico and Arizona, which have tribal carve outs from the dental hygiene prerequisite in their state regulations, can use the educational program in Alaska for training as tribes in Oregon and Washington have done. Skagit Valley College in Mount Vernon, Washington, in partnership with the Swinomish Dental Clinic in Washington, are also developing a DHAT-style training program.
Conclusion
The remainder of states that have authorized dental therapy since 2017, including Arizona, New Mexico, Michigan, Nevada, and Connecticut, are still in early stages of implementation and establishment of educational programs. Iḷisaġvik College's success in becoming the first education program accredited through CODA clears the path forward for the development of education programs in states and by tribes that have authorized dental therapy, and for new states or tribes considering adding dental therapy.
Acknowledgement
This research was generously funded by the W.K. Kellogg Foundation.
References
Institute of Medicine, National Research Council. Improving Access to Oral Health Care for Vulnerable and Underserved Populations. Available at: nap.edu/catalog/13116/improving-access-to-oral-health-care-for-vulnerable-and-underserved-populations. Accessed November 8, 2020.
Nash DA, Friedman JW, Kardos TB, et al. Dental therapists: a global perspective. Int Dent J. 2008;58:61–70.
Williard ME, Fauteux N. Dentists provide effective supervision of Alaska's dental health aide therapists in a variety of settings. J Public Health Dent. 2011;71(Suppl 2):S27–S33.
Alaska Native Tribal Health Consortium. Alaska Dental Therapy Educational Program Curriculum. Available at: anthc.org/alaska-dental-therapy-education-programs/students/. Accessed November 8, 2020.
The National Partnership for Dental Therapy. Alaska Program Accreditation is a Monumental Step Forward for Community-informed, Community-driven Solutions. National Partnership for Dental Therapy. Available at: dentaltherapy.org/news/the-national-partnership-for-dental-therapy-alaska-program-accreditation-is-a-monumental-step-forward-for-community-informed-community-driven-solutions. Accessed November 8, 2020.
Hodges KO, Rogo EJ, Cahoon AC, Neill K. Collaborative Dental Hygiene Practice in New Mexico and Minnesota. J Dent Hyg. 2016;90:148–161.
From Perspectives on the Midlevel Practitioner, a supplement to Dimensions of Dental Hygiene. November 2020(12):16-19.