Caring for Kids
Place-based care in schools is an additional practice setting for dental hygienists.
The Patient Protection and Affordable Care Act (PPACA) provides an opportunity to secure dental insurance for more than 5 million children in the United States.1,2 Whether there will be enough oral health care providers to serve this large patient population is unclear.3 In 2012, the former Surgeon General, David Satcher, MD, PhD, FAAFP, FACPM, FACP, addressed the possibility of a provider shortage and issued a "renewed call for action to expand access to oral health care." He shared his concerns, namely that the expansion of dental insurance will do little to improve access to care if there are not enough providers to serve these patients.2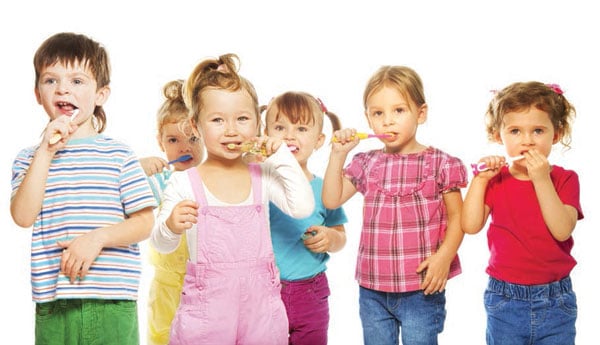 PLACE-BASED CARE IN SCHOOLS
One way to achieve the necessary providers for PPACA initiatives is by offering place-based care in schools. School-based oral health care is not a new phenomenon for dental hygienists. More than a century ago in Cleveland, Ohio, local officials, in cooperation with the National Dental Association, began a comprehensive, publically funded, school-based preventive oral health program administered by dental hygienists. The inauguration of the Cleveland campaign, referred to as "the greatest ever organized for the abolition of disease," had national significance.4
PROS AND CONS
There are many positive aspects of working in a school-based setting. For dental hygienists who enjoy treating children, the environment is fun and rewarding. No two days are the same. Dental hygienists also have more autonomy and flexibility to control their schedules. When a program is run efficiently, there should be no open appointments due to the ready pool of patients.
The potentially negative aspects of working in a school-based setting must also be considered. The delivery process is unlike the traditional private-practice model. A dental hygienist's schedule may require working around field trips, snow days, and testing. Because unused space in schools is hard to come by, the clinical setting may be in a gym, closet, band room, or wherever space is available. Dental hygienists must be able to work with portable equipment and prepared for the possibility that it won't work properly. 
A sponsoring clinic is required to start a school-based program. Opportunities may be available with existing school-based health centers, community health centers, or large corporations. Dental hygienists who are entrepreneurs may want to establish their own program. Finally, dental hygienists must be self-directed and prepared to work independently. This may lead to feeling isolated from mainstream dentistry.
Dental hygienists who are interested in delivering school-based oral health care should carefully consider the pros and cons of this career choice. Clinicians must be organized, flexible, and able to think outside the box. It is also important to understand the scope of practice that is allowed. School-based oral health care models vary widely due to state regulations that delineate dental hygiene scope of practice and the level of supervision required. For dental hygienists who feel the pros outweigh the cons, this may be a rewarding career choice.
REFERENCES
Office of the Legislative Counsel. The Patient Protection and Affordable Care Act. Available at: housedocs.house.gov/energycommerce/ppacacon.pdf. Accessed September 24, 2014.
Worlddental.org. Affordable dental care: former surgeon general David Satcher says oral health epidemic persists. Available at: worldental.org/dental-news/affordable-dental-caresurgeon- general-david-satcher-oral-health-epidemic-persists. Accessed September 24, 2014.
Gehshan S, Mijic M. Getting help for children: the need to expand the dental workforce. J Calif Dent Assoc. 2011;39:481–490.
Pickard A. Making the American Mouth: Dentists and Public Health in the Twentieth Century. Piscataway, New York: Rutgers University Press; 2009:15.
---
From Perspectives on Dental Hygiene, a supplement to Dimensions of Dental Hygiene. November 2014;12(11):40–41.