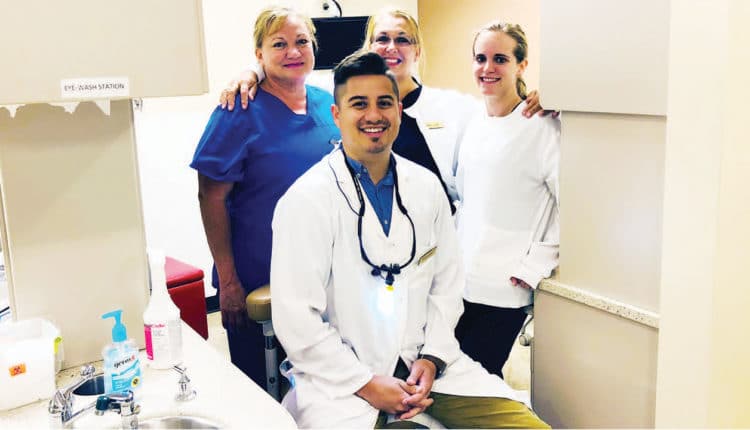 Drew Christianson, MDT, ADT, and his colleagues in private practice.
Career Trajectory of a Dental Therapist
A dental therapist practicing in Minnesota shares an inside look at his professional path.
Eight years ago, I volunteered at the Wisconsin Mission of Mercy in Sheboygan. I joined a group of undergraduate students attempting to gain real life experience prior to entering a career in dentistry. What I thought was going to be a routine volunteer experience turned out to be a career-motivating opportunity. Arriving at Sheboygan North High School for registration the night prior to the event, we witnessed all types of people already in line, laying on the sidewalks in front of the school. My eyes were opened to the dire need for oral health care. Ever since this eye-opening experience, I knew I wanted to work in a profession that cared for underserved populations. That profession turned out to be dental therapy.
My education at the University of Minnesota (UMN) School of Dentistry began in 2011. I joined the third class of dental therapists. At this point, no dental therapists had begun practicing yet. I had 28 months to develop my skills, learn how to talk to patients, and soak in as much dentistry as possible. UMN—which educates dental, dental hygiene, and dental therapy students—prides itself on a team approach to dentistry. All three student groups are educated together. Learning alongside each of these student groups not only helped me understand their role in the office, but also enabled them to understand the new profession of dental therapy.
The curriculum of the dental therapy program focuses on general education, biomedical foundations, dental sciences, and dental therapy science. The focus of dental therapy science—which is described as "oral health and oral health counseling, health promotion, patient management, clinical dental therapy, infection control, provision of services for patients with special needs, community oral health, medical and dental emergencies, and legal and ethical dimensions of dental therapy practice"—is on more than simply filling teeth. The curriculum is devoted to educating well-rounded individuals who can think critically, make accurate decisions, and integrate into the dental team.
Personal Growth
As I was finding my niche in the dental world, I devised three main criteria I wanted to achieve: working with children, helping the underserved, and choosing a profession that allowed for growth and development. The career of dental therapy has allowed me to do all three of these and more. I currently work as an advanced dental therapist in private practice and as a clinical assistant professor for UMN. The opportunities I have been given to educate families, spend time with patients, and see oral health improve are the true reality of what dental therapists do day in and day out.
Table 1 lists the services I can provide. For the licensed dental therapist, there are two levels of supervision. General supervision is given for preventive services, similar to a dental hygienist. Indirect supervision is given for more invasive, irreversible procedures. In Minnesota, dental therapists can earn a certificate in advanced dental therapy. Once certified, advanced dental therapists can work under general supervision for all procedures if agreed upon with their supervising dentists. I achieved my advanced dental therapist certification in April 2016.
Dental therapy is in its 9th year in the state of Minnesota. There are just shy of 100 dental therapists providing care to populations truly in need. Knowing that I work in a career focused on helping the growing demographic of underserved individuals keeps me yearning for more knowledge and motivated to continue educating the next classes of dental therapists. Dentistry is built on the purpose of serving our patients. Dental therapists are not the silver bullet; we cannot solve all the growing needs of the underserved. A team effort is required, and dental therapists will continue to play a key role in providing high-quality and safe patient care.
From Perspectives on the Midlevel Practitioner, a supplement to Dimensions of Dental Hygiene. October 2018;5(10):23–24.