Teledentistry and the Midlevel Practitioner
Teledentistry's wide array of options enable oral health professionals to effectively promote health and prevent disease.
Advances in technology, demand for decreased consumer costs, and lack of access to care for underserved populations have changed the way dental care is delivered. Teledentistry is a system that seeks to improve oral health by permitting two-way, interactive communication between the patient and the practitioner at a distant site.1–4 Teledentistry uses interactive audio, video, or other electronic media to screen, diagnosis, consult, refer, treatment plan, and treat.1–5 Several systematic reviews demonstrate the effectiveness of teledentistry for different modalities such as endodontics, orthodontics, pediatrics, periodontics, urgent care, oral surgery diagnosis, decay detection, and preventive dentistry.1–8 The use of teledentistry in practice can be divided into four categories: synchronous (live video for practitioner viewing in real time); asynchronous (captured into the cloud for practitioner viewing at a later time); remote patient monitoring (practitioner review in a separate location than the patient); and mobile health (information shared to practitioners using cell phones, tablets, and personal digital assistants using software applications) (Figure 1).1–4,9–11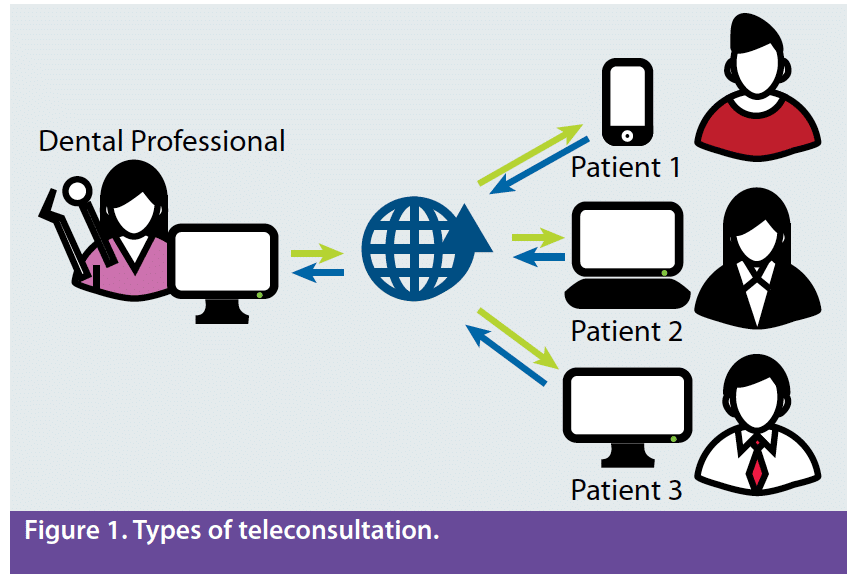 The use of teledentistry enables oral health professionals to initiate treatment based on their assessment of a patient's need without a dentist on site; however, supervision levels vary from state to state and this affects the services performed by midlevel practitioners in rural and remote settings, mobile dental clinics, and retail clinics using teledentistry equipment.2,3,9,10,12,13 Dental hygienists in affiliated practice, public health, collaborative agreement, and alternative practice are a few of the terms used to describe midlevel dental hygienists that (like nurse practitioners or physician assistants) can increase productivity, enhance the delivery of appropriate primary health care, and maximize staffing cost benefits.2,3,12–14 Midlevel practitioners can be used to extend care to the underserved and to expand primary care to those already in the delivery system. A midlevel practitioner's scope of practice varies depending on the provider designation, state credentialing/licensing, and state practice laws. 2,3,12–14 These types of providers must do the following: register with the state; practice under the guidelines governed by the state in which they are licensed; enter into a collaborative agreement with a licensed dentist; have a certain level of education and experience as a dental hygienist; complete certain educational courses; and primarily practice in public health settings to include but necessarily limited to state correctional facilities, community health centers, public health clinics, elementary schools, nursing homes, and mobile dental facilities. All of the aforementioned dental hygiene models allow for direct Medicaid reimbursement.2,3,11–14
COMMUNICATING WITH TELEDENTISTRY
Teledentistry practice utilizes off-site collaborating dentists to diagnose and plan/coordinate treatment using electronic and communication technologies. The technology encourages interactive consultations among professionals, facilitates interaction between patients and their practitioners, enables specialty consultations, and allows real-time diagnostic examinations.2–4,8–13 Dental data collected by an oral health professional is transmitted via a secure network to a dentist at another site.6,9,11,12,13 The dentist can evaluate patient data in real time or later and develop a diagnosis and treatment plan (Figure 2).2–4,8–13 This communication relies on the use of a computer and electronic health records (EHRs) containing radiographs, intraoral photographs, medical/dental histories, and prescriptions for sharing and disseminating information.2–4,10,12,13 Teledentistry can be an effective way to improve access to oral health care by removing some of the barriers to receiving care in a traditional dental office, allowing dentists and dental hygienists working in rural sites to connect with a dental home in private dental offices or public health settings.2–4,8–13 Currently, 42 states allow dental hygienists direct access to patient care.15 With the concept of teledentistry and dental therapy on many legislative ballots across the country, the public will benefit from multiple types of dental hygiene providers equipped with a broad range of skills to improve access.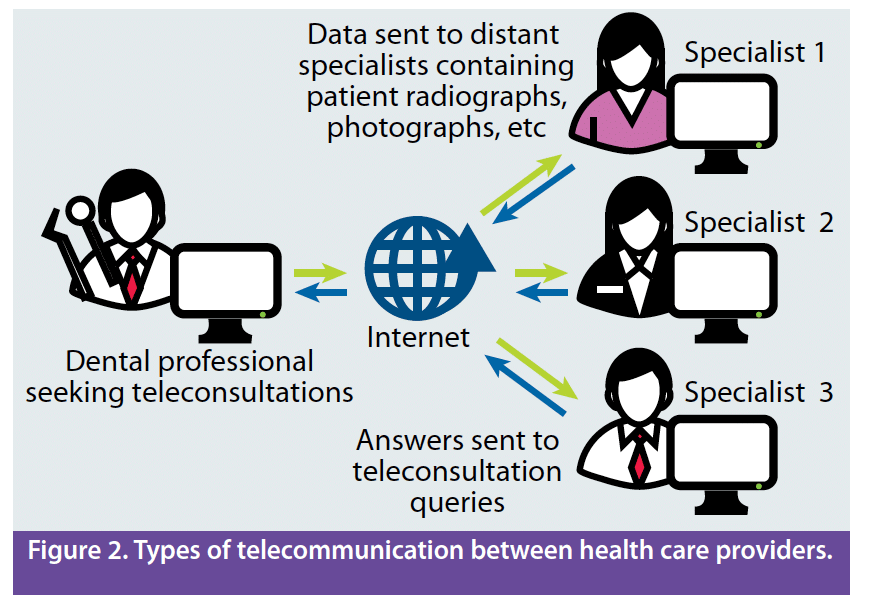 Practicing as an affiliated practice dental hygienist (APDH) allows a highly skilled midlevel practitioner to be utilized as an oral health specialist in prevention while working in underserved areas. The typical interaction between an APDH and a patient in a community health facility consists of collecting and interpreting assessment data, such as medical history, radiographs, plaque scores, nutrition and oral care habits; providing preventive treatment; and, most important, educating patients and parents/caregivers on how to improve oral health. In a direct access state, the APDH can provide preventive services, such as dental prophylaxis, fluoride application, and sealants, without specific authorization of the dentist. The data collected are then forwarded to the affiliated dentist to review and diagnose the patient's dental needs. The patient is then referred to participating dentist/specialist partners who will provide the patient's restorative needs at no or low cost.
In May 2018, the American Teledentistry Association (ATDA) was formed to promote the use of teledentistry as a strategy to increase access to affordable and convenient care for underserved populations.16,17 It is designed to be a source of information and collaboration among individuals and organizations across public and private sectors, academia, and users and recipients of teledentistry to develop guidelines and standards for best practices in teledentistry.16,17 The TeleDentists were founded in July 2018 by ATDA-member dentists and health care business leaders to create a national network of licensed dentists who use secure online video consults to connect with patients via smart phones, laptops, or tablets.18 They diagnose problems, start remediation and, when needed, arrange next business day appointments with a conveniently located dentist. The TeleDentists organization is not a direct-to-consumer service. Instead, services are offered to hospitals, urgent care clinics, senior living centers, corporations, and schools—places where people with urgent dental needs live, work, and go for help when a dental problem emerges.18
CONCLUSION
The advances in technology will facilitate the expansion of evidence-based models that have proven successful in decreasing oral health disparities and increasing access to underserved areas in the United States. The midlevel practitioner is a crucial component to addressing health care professional shortage areas. Many years ago, computers and digital radiographs were introduced, changing the way health care was provided. Now with the varied options available in teledentistry, once again the standard of care is elevated and avenues of interprofessional collaboration are expanded. The new teledentistry Current Dental Terminology code entries D9995 and D9996 that became effective January 1, 2018 will empower midlevel dental practitioners to provide services in settings outside of the traditional dental office. Moreover, organized efforts are ongoing to promote the use of teledentistry universally. The evolution of the dental hygiene profession and development of the midlevel practitioner with the use of teledentistry will benefit the public and contribute to closing gaps in access to oral care through health promotion and disease prevention across the socioeconomic spectrum. Embracing these advancements will propel dentistry toward improving access to care.
REFERENCES
Irving M, Stewart R, Spallek H, Blinkhorn A. Using teledentistry in clinical practice as an enabler to improve access to clinical care: A qualitative systematic review. J Telemed Telecare. 2018;24:129–146.
Moore TA, Rover J. Advantages of teledentistry technologies. Dimensions of Dental Hygiene.

2018;16(2):54–57.

Kumar S. Teledentistry.

New York: Springer International Publishing; Switzerland; 2015.

Avula H. Tele-periodontics—oral health care at a grass roots level. J Indian Soc Periodontol

. 2015;19:589–592.

Queyroux A, Saricassapian B, Herzog D, et al. Accuracy of teledentistry for diagnosing dental pathology using direct examination as a gold standard: results of the tel-e-dent study of older adults living in nursing homes. J Am Med Dir Assoc

. 2017;18:528–532.

Kotantoula G, Haisraeli-Shalish M, Jerrold L. Teleorthodontics. Am J Orthod Dentofacial Orthop

. 2017;151:219–221.

Estai M, Bunt S, Kanagasingam Y, Kruger E, Tennant M. Diagnostic accuracy of teledentistry in the detection of dental caries: a systematic review. J Evid Based Dent Practice

. 2016;16:161–172.

Raths D. Teledentistry making a difference in rural New York, Nov 2015. Available at:

 

healthcare-informatics.com/blogs/david-raths/teledentistry-making-difference-rural-new-york. Accessed September 18, 2018.

Glassman P. Teledentistry improving oral health using telehealth-connected teams. Available at: dental.pacific.edu/departments-and-groups/pacific-center-for-special-care/publications. Accessed September 18, 2018.
Dulieu LK. Preventive dentistry delivery to children in rural communities in the United States. Available at:

 

http://www.dentalhypotheses.com/article.asp?issn=2155-8213;year=2016;volume=7;issue=4;spage=160;epage=161;aulast=Dulieu. Accessed September 18, 2018

American Dental Association. D9995 and D9996—ADA Guide to Understanding and Documenting Teledentistry Events. Available at:

 

ada.org/~/media/ADA/Publications/Files/D9995andD9996_ADAGuidetoUnderstandingandDocumentingTeledentistryEvents_v1_2017Jul17.pdf?la=e. Accessed September 18, 2018.

Moore TA. Teledentistry and dental hygiene. In: Kumar S. Teledentistry.

New York: Springer International Publishing; 2015:53–63.

Summerfelt F. Teledentistry-assisted affiliated practice dental hygiene. In: Kumar S. Teledentistry. New York: Springer International Publishing; 2015:43–52.
Biazar J. Teledentistry in a federally qualified health center; a win-win-win. Access.

2018;32(7):6–8.

American Dental Hygienists' Association. Direct Access States. Available at:

 

adha.org/resources-docs/7524_Current_Direct_Access_Map.pdf. Accessed September 18, 2018.

Teledentistry Organization is Formed. Dimensions of Dental Hygiene

. 2018;16(6):12.

American Teledentistry Association. About the ATDA. Available at:

 

americanteledentistry.org/about/ Updated 2018. Accessed September 18, 2018.

Carabello L. The teledentists launches first-to-market virtual care solution for urgent oral health and dental problems: assures access to care, averts costly ER visits. Business Wire. Available at:

 

businesswire.com/news/home/20180719005017/en/TeleDentists-Launches-First-to-Market-Virtual-Care-Solution-Urgent. Accessed September 18, 2018.
From Perspectives on the Midlevel Practitioner, a supplement to Dimensions of Dental Hygiene. October 2018;5(10):25–27.