New User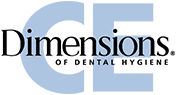 New User
Existing User
Help
Author

Janet Kinney, RDH, MS
0 posts
0 comments
Janet Kinney, RDH, MS, is a clinical professor and director of dental hygiene at U-M. Her clinical experience is in both general dentistry and periodontics, where she has worked both in the United States and abroad. Kinney's clinical research interest is in the area of salivary diagnostics. Specifically, her research has focused on investigating the role of oral fluid biomarkers, alone or in conjunction with pathogens, as predictors of periodontal disease progression. Kinney is a member of Dimensions of Dental Hygiene's Editorial Advisory Board.
Dental hygienists are uniquely positioned to screen patients for systemic and oral diseases using salivary diagnostics.
How to safely and effectively care for dental restorations.
This course was developed in part with an unrestricted educational grant from Colgate Oral Pharmaceuticals.