Your Marketplace
A listing of featured products.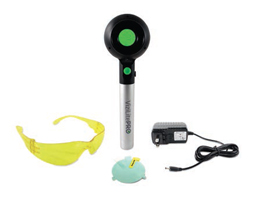 ORAL LESION SCREENING SYSTEM
DenMat, Lompoc, California, recently debuted the ViziLite PRO Oral Lesion Screening System—its latest innovation in light-based fluorescence technology. Designed to be a fast and effective approach to detecting epithelial dysplasia, this system was engineered to operate within the wavelength for optimal discrimination of oral lesions. The ViziLite Pro makes screening easy and painless for patients, requiring just 1 minute for a complete examination. An optical viewing filter enhances visualization and improves contrast between healthy and abnormal tissue. Clinicians will benefit from its cordless, ergonomic handle design and custom battery pack that offers more than 100 minutes of examinations per charge. 800-433-6628; denmat.com.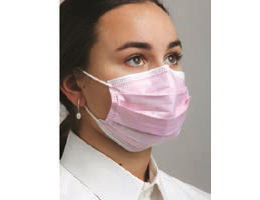 FACE MASKS FEATURE UNIQUE DESIGN
Mydent, Hauppauge, New York, has launched its new and improved DEFEND Level 1 (low barrier), Level 2 (moderate barrier), and Level 3 (high barrier) Face Masks. Designed to comply with guidelines set forth by the American Society for Testing and Materials (ASTM), these masks protect clinicians based on the procedure performed. Level 1 and Level 2 masks are free of fiberglass and latex; feature dual-fit chin contour technology; and come in blue, pink, and white. Level 3 masks are reserved for procedures in which clinicians are exposed to heavy amounts of bodily fluids or aerosol exposure, and feature a four-ply design with fluid resistant outer layer. These masks can be purchased through major dental dealers. 800-275-0020; defend.com.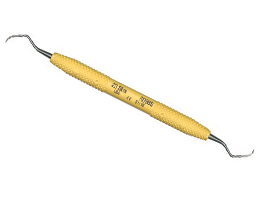 SLIM SCALER IMPROVES ACCESS TO TIGHT SPACES
Paradise Dental Technologies, PDT Inc, Missoula, Montana, has introduced the R098S 23 Slim—a posterior scaler with a pointed toe and two cutting edges. The company likens the R098S 23 Slim as a thin version of its R098 23 scaler with pointed toe. Part of PDT Inc's line of innovative ergonomic dental hygiene instruments, this posterior scaler's slim blade makes accessing and working in tight interproximal areas easy for clinicians. 800-240-9895; pdtdental.com.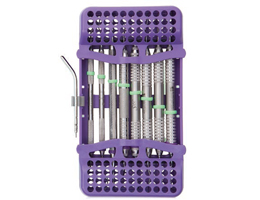 CASSETTE IMPROVES INFECTION CONTROL EFFICIENCIES
Zirc, Buffalo, Minnesota, has introduced the Slim 8-Place E-Z Jett® Cassette—its solution to keeping together and protecting instruments during procedures and the sterilization process. Designed for superior water flow during cleaning, and featuring nonslip feet for stability and safety, the Slim 8-Place E-Z Jett Cassette is compact and fits any size statim. Its slim profile maximizes space of the ultrasonic, instrument washer, and autoclave, and stacks nicely. Zirc's cassette design offers antimicrobial protection. A syringe-tip holder is also included. Available in an array of colors, the E-Z Jett Cassette also helps extend the life of dental instruments. 800-328-3899; zirc.com.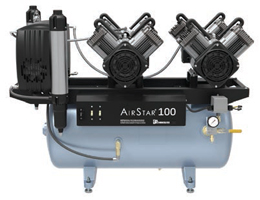 AIR COMPRESSOR
Air Techniques Inc, Melville, New York, now offers the AirStar 100 air compressor. The company manufactures each system at its Melville facility headquarters. Engineered with exclusive Membrane Dryer Technology, air is quadruple filtered to ensure it is clean and dry. Designed to be maintenance free, the model can support up to 14 users and uses a three-phase voltage supply for maximum energy efficiency. AirStar air compressors include a 5-year limited warranty. 800-AIRTECH; airtechniques.com.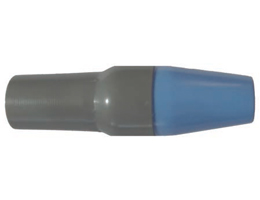 ADAPTER DELIVERS SAFE SUCTION
RJC Products, Oakdale, Minnesota, introduces the Safe-Flo Adapter, which is used to convert a high-volume suction line to a size that accepts a saliva ejector. This is beneficial when an ultrasonic scaler is in use, and allows clinicians to employ an extra high-volume suction line when low-volume suction is being used. Patients can also close their mouths around the suction line without fear of backflow. 651-271-0863; safe-flo.com.
 From
Dimensions of Dental Hygiene
.
January 2017;15(1):52.