twist™plus Prophy Angle by Crosstex
Achieving Highly Efficient and Ergonomic Polishing.
The twistplus prophy angle's unique 120° oscillating movement is a patented design that addresses many of the challenges posed by continuously rotating disposable prophy angles (DPAs). The oscillating, smooth, and continuous counter-rotational motion helps to eliminate splatter and the frictional heat associated with traditional 360° spinning DPAs. This allows for safe and efficient continuous contact polishing, compared to the intermittent touch-and-patting motions currently recommended for use with continuous 360° motion DPAs.
INNOVATIVE DESIGN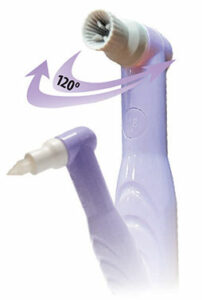 The design of the twistplus prophy angle's cup is noteworthy. The inner webbing of the prophy cup provides better pick-up and retention of paste, while the external fluting helps to improve interproximal biofilm/​stain removal. The pliability of the cup allows it to flair easily and facilitates access to the interproximal and subgingival areas. The snug-fit connection between the back of the rubber cup with the prophy head prevents the inadvertent "catching" of the side corners of the patient's mouth and reduces cross-contamination from oral fluids into the nosecone of the handpiece/​motor.
Many of the design features of the twistplus prophy angle improve patient experience. Due to the oscillating motion, the intermittent tapping typically required to reduce frictional heat with continuous rotation prophy angles is no longer needed and can lead to more efficient procedures and less chairtime for the patient. The smaller, domed head design is also more comfortable when the angle is placed in the back of the mouth. The soft, pliable cup can also provide a better experience for patients with gingival recession.
Available in both a soft (gray) and firm (white) cup, the twistplus prophy angle is available in a variety of options to address all clinical needs. The tapered brush design is ideal for the pits and fissures of occlusal surfaces in addition to use with orthodontic patients, as it enables easy access to areas between brackets, wires, and bands.
The unique design of the twistplus prophy angle polishes teeth while reducing bioaerosols and splatter, provides ease of control and ergonomics for the clinician, and improves patient experiences and outcomes.
CONTINUING EDUCATION
Crosstex not only provides innovative products to the market, but also education for the dental community. Learn more with a self-study program, "Preventive Measures: The Science of Essential Polishing," presented by Leann Keefer, RDH, MSM, Crosstex's Director of Clinical Services and Education. This course offers one CEU and focuses on the benefits and challenges of polishing, including identification of criteria and techniques for essential polishing. The course is available at: crosstexlearning.com.
ADDITIONAL RESOURCES
To learn more about the twistplus prophy angle or for information related to essential polishing, please visit: crosstex.com/​twist-plus.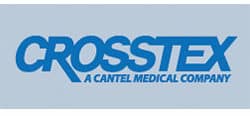 From Dimensions of Dental Hygiene. March 2020;18(3):14.