March 2020 Marketplace For Dental Hygienists
A listing of featured products.
CARIES DETECTION DEVICE
Ortek Therapeutics, Roslyn Heights, New York, has introduced The Ortek-ECD™. This caries detection device is specifically designed to detect early occlusal cavitated lesions. The Ortek-ECD instantly detects if a suspicious occlusal lesion has breached the dentin-enamel junction, progressed further into the dentin, or is confined to the enamel. It measures the electrical conductance of enamel. 888-323-0023; ecddetect.com.
CURING TECHNOLOGY
Apex Dental Materials, St Racine, Wisconsin, offers the PinkWave curing light, which has a curing area capability of 115m2 and a built-in transilluminator for crack and caries detection. Clinicians can customize the curing light to meet their specific needs with standard, ramp, and boost curing mode availability. The device also features cordless charging for ease of use and portability. Equipped with patent-pending quadwave curing technology, PinkWave is said to enhance composite polymerization compared to standard blue or polywave (blue and UV) curing lights. 877-418-4782; apexdentalmaterials.com.
3D PANORAMIC SYSTEM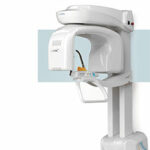 I-Max 3D by Owandy, Middlebury, Connecticut, provides dental offices with high-definition image quality. The wall-mounted panoramic digital radiography unit adjusts to all imaging needs due to its multi multiple fields of view system. Its intuitive, user-friendly human machine interface features automatically-integrated imaging tools and image-enhancing filters. The sleek and lightweight I-Max 3D can be easily wall-mounted by one technician, is computer-aided design and computer-aided manufacturing ready, and features 24 programs that can be used for a full range of examinations. I-Max 3D received United States Food and Drug Administration 501(k) clearance in early 2019. 203-745-0575; owandy.com.
BARRIER SLEEVE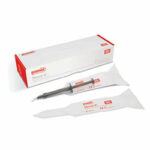 Sleeve-It™ is a new disposable barrier sleeve line from Premier, Plymouth Meeting, Pennsylvania. Sleeve-It is a new convenient barrier sleeve for syringes that provides protection against cross-contamination. Made from high-grade durable material, Sleeve-It slides easily over syringe dispensers and features a pre-cut opening to pass through the dispensing tip. These sleeves are ideal for multiple-use dispensers that cannot be reprocessed using heat-sterilized or high-level disinfectants. 888-670-6100; premierdentalco.com.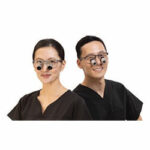 LOUPES FRAME
Orascoptic, Madison, Wisconsin, has added a new frame to its product portfolio, Tempo™ Refined Fit. The frame is designed to maximize comfort for clinicians who have a lower nose bridge or prominent cheekbones. Tempo Refined Fit frame was built with the optimal angle of pantoscopic tilt to alleviate discomfort caused by frames resting on the cheekbone, and a unique nose pad wire prevents frames sliding down the nose bridge to deliver a more comfortable and secure fit. The frame also features ideal B dimension to prevent misalignment of optics caused by the frame resting on the clinician's cheeks. 608-831-2555; orascoptic.com/refined.
ORAL CARE PROBIOTICS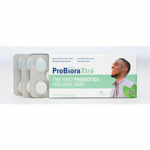 ProBiora Health, Tampa, Florida, offers a line of oral care probiotics, including ProBioraPlus®, ProBioraXtra®, and ProBiora Pro®, a professional-strength formula available only through oral health professionals. These oral care probiotics help in the fight against periodontal diseases, caries, and oral malodor as each formula introduces friendly bacteria to the mouth in the form of a probiotic mint. As the mint melts in the mouth, saliva hydrates the probiotics, which will seek out their natural habitat and travel to mouth tissue, gingiva, periodontal pockets, and tooth surfaces where they compete with the pathogens. 800-983-6908; probiorahealth.com.
From Dimensions of Dental Hygiene. March 2020;18(3):44.