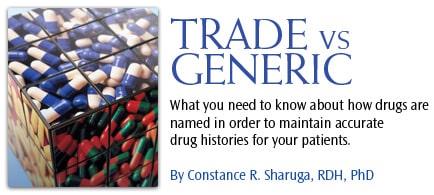 Trade vs. Generic
What you need to know about how drugs are named in order to maintain accurate drug histories for your patients.
Patients may not know the difference between trade and generic names so the dental hygienist needs to understand how drugs are named and the features of and differences between generic (also referred to as official and nonproprietary) and trade (also referred to as brand or proprietary) names.
DRUG NOMENCLATURE
TABLE 1. Generic Name:
Lidocaine Hydrochloride6-8
Trade Name
Manufacturer

Alphacaine

Carlisle Labs

Xylocaine

DENTSPLY Professional

Lignospan

Septodont

Octocaine

Novocal Chemical

Lidocaine HCL 2%

Cooke-Waite

Lidocaine HCL 2%

Hospira
Each drug has at least three names: chemical, generic, and trade. When a new drug is being researched by a pharmaceutical company, it is given a chemical name. The chemical name is long and complicated. It refers to the chemical make-up of the drug, defines its unique molecular structure, and is assigned using the conventions of the International Union of Pure and Applied Chemistry (IUPAC).1 For example, the chemical name for the antibiotic Amoxil (trade name) is (2S,5R,6R)-6-[(R)-(-)-2-amino-2-(p hydroxyphenyl) acetamido]-3,3-dimethyl-7-oxo-4-thia-1-azabicyclo[ 3.2.0]heptane-2-carboxylic acid trihydrate.2
If the new drug shows promise and the manufacturer wants to place it on the market, a United States Adopted Name (USAN) is selected by the USAN Council. This becomes the generic name or the official name of the drug. The generic name is often easier to understand than the chemical name and is hopefully not too similar to other drug names.
Unfortunately, confusion can result when the names of two different drugs are too similar, which may lead to medication errors. An example of this issue is the naming of the generic drugs diphenhydramine (an antihistamine) and dimenhydrinate (an anti-nausea agent). The Institute for Safe Medication Practices (ISMP) has urged generic manufacturers to use a combination of large and small letters as well as bolding (diphenhydrAMINE and dimenhyDRINATE) to help distinguish between drugs with lookalike names.3 Trade names may also be similar.
TRADEMARKS AND PATENTS
The trade name is assigned by the pharmaceutical company manufacturing the drug. This trade name, registered as a trademark under the Federal Trade-Mark Law, is the property of the registering company and is patented for 17 years.4 The patent protects the financial investment in the drug's development by giving the pharmaceutical company the sole right to sell the drug while the patent is in effect. For example, Amoxil is a trademark of GlaxoSmithKline.5
When the 17-year patent expires, other companies may market the generic drug using a trade name of their choosing (see Table 1).6-8 These other drug companies must submit an abbreviated new drug application (ANDA) for approval by the Food and Drug Administration (FDA) in order to market a generic product. The Drug Price Competition and Patent Term Restoration Act of 1984 allowed for this accelerated process for the approval of generic drugs. The ANDA process does not require the drug sponsor to repeat expensive animal and clinical trials on ingredients or dosage forms already approved for safety and effectiveness. To gain approval, the FDA states that a generic drug must:• Contain the same active ingredients as the innovator drug (inactive ingredients may vary).
Be identical in strength, dosage form, and route of administration.
Have the same indications for use.
Be bioequivalent.
Meet the same batch requirements for identity, strength, purity, and quality.
Be manufactured under the same strict standards of the FDA's Good Manufacturing Practice Regulations required for innovator products.9
An example of the ANDA process that dental hygienists may be familiar with is chlorhexidine gluconate, the generic name for Peridex. Peridex was the first trade name for chlorhexidine gluconate and was manufactured by Proctor and Gamble. In 1990, Colgate-Palmolive Co submitted an ANDA for chlorhexidine gluconate to the FDA. In 1994, the FDA determined that Colgate's product, Periogard, was bioequivalent to that of the innovator drug (Peridex).10
In the United States, trademark laws do not allow generic drugs to look exactly like the trade name drug.11 Generic manufacturers can change inactive ingredients like colors and flavors to differentiate their drug from the innovator drug.
Generic drugs are usually less expensive than the original trade name drug. There is a significant financial investment in developing a new drug so the 17-year patent allows the innovator company exclusive rights to market the drug initially. This helps the innovator to defray the cost of development and prevent competition. After the patent has expired, the generic drug is available to other companies. Since generic drug manufacturers do not assume the expense of developing the drug, the cost to consumers is less and may be further reduced by competition from other manufacturers. Table 1 illustrates that lidocaine hydrochloride is available from manufacturers as a specific brand name and as a generic product.
DENTAL HYGIENE CONSIDERATIONS
Patients may not know the differences between the generic and trade names of a drug. A generic drug purchased at a lower cost does not mean that it is inferior. The generic drug must meet the FDA requirements for bioequivalency and be identical in strength, dosage form, and route of administration as the innovator drug.
Drug references have both the generic and trade names listed alphabetically. The drug monographs are provided under the generic name. For example, amoxicillin will have the related fields (such as trade names, mechanism of action, dosage and dose form, clinical considerations, contraindications, etc) listed for the medication. Amoxil would refer the reader back to the generic name—amoxicillin. Other sources of information about the correct generic name or trade name may include the patient's physician, the pharmacist who filled the prescription, or the FDA website (www.fda.gov/cder).
CONCLUSION
The dental hygienist must carefully review the drug portion of the medical history for proper nomenclature and spelling and for the recommended dose and dose form. Because some drug names may look alike or sound alike, careful attention to detail must be observed in order to avoid investigating the wrong drug, which could lead to incorrect treatment planning.
REFERENCES
Weinberg MA, Westphal C, Fine JB. Oral Pharmacology for the Dental Hygienist. Upper Saddle River, NJ: Pearson Education, Inc; 2008:10.
AMOXIL (amoxicillin) Capsules, Tablets, Chewable Tablets, and Powder for Oral Suspension. Available at: www.rxlist.com/amoxicillin-drug.htm. Accessed March 20, 2009.
Wynn RL, Meiller TF, Crossley HL. Drug Information Handbook for Dentistry. Hudson, Ohio: Lexi-Comp; 2007-2008:18.
Haveles EB. Applied Pharmacology for the Dental Hygienist. St. Louis: Mosby Elsevier Inc; 2008:8.
FDA Listing of Authorized Generics as of March 27, 2009. Available at: www.fda.gov/cder/ogd/AG_Listing.htm. Accessed March 20, 2009.
Malamed SF. Handbook of Local Anesthesia. 5th ed. St. Louis: Mosby; 2004:62.
Lidocaine. Available at: www.davisdentalsupplies.com/catalog/anestheticslidocaine-c-3_6.html. Accessed March 20, 2009.
Pharmaceuticals. Available at: www.hospira.com/Products/pharmaceuticals.aspx. Accessed March 20, 2009.
US Food and Drug Administration Center for Drug Evaluation and Research. Office of Generic Drugs. Available at: www.fda.gov/cder/ogd. Accessed March 30, 2009.
Center for Drug Evaluation and Research. Approval Letter. Available at: www.fda.gov/cder/foi/ nda/pre96/73695_PerioGard_Approv.pdf. Accessed March 20, 2009.
US Food and Drug Administration Center for Drug Evaluation and Research. Office of Generic Drugs. Facts About Generic Drugs. Available at: www.fda.gov/cder/consumerinfo/generic_FactsAbout_text.htm. Accessed March 30, 2009.
From Dimensions of Dental Hygiene. April 2009; 7(4): 28, 31.