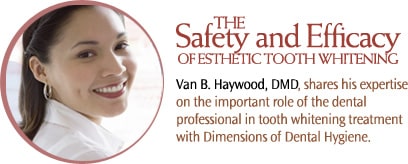 The Safety and Efficacy of Esthetic Tooth Whitening
Van B. Haywood, DMD, shares his expertise on the important role of the dental professional in tooth whitening treatment with Dimensions of Dental Hygiene.
The views expressed in this interview are the author's.
Q. Are there safety concerns surrounding tooth whitening procedures?
A Tooth whitening has become one of the most popular cosmetic procedures in the United States today. The field has moved from the 1800's whitening of discolored, nonvital teeth due to endodontic treatment or trauma to today's whitening of the complete dentition for improved esthetics. Tooth whitening is now seen in television makeovers and is aggressively advertised and available in all types of venues from the dental office to kiosks in malls to on board cruise ships.1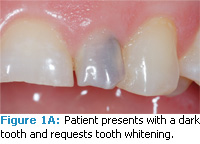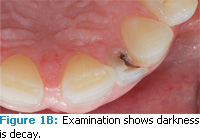 With the growth of over-the-counter whitening and at-home whitening (unsupervised whitening procedures), safety has become a more prominent issue. Although tooth whitening is a low risk procedure, the long-term effects of unsupervised whitening on hard tissue, soft tissue, and restorative materials are not fully understood.2 The American Dental Association Council on Scientific Affairs statement "Tooth Whitening/Bleaching: Treatment Considerations for Dentists and Their Patients," provides more detailed information about the safety and efficacy of tooth whitening procedures. It is available at: www.ada.org/prof/resources/positions/statements/HOD_whitening_rpt.pdf.
The Role of the Dental Professional
Q What is the role of the dental professional in tooth whitening when consumers have so many different options?
A Tooth whitening is best performed in a professionally supervised manner with a proper examination and diagnosis, using appropriate materials for the patient and situation. Patients should have a full oral examination before beginning whitening treatment. Only dental professionals can provide a diagnosis of the correct cause of tooth discoloration. Tooth discoloration may be caused by oral health problems that need treatments other than bleaching, such as caries, internal resorption, and various diseases. Patients may assume that a dark tooth is caused by aging or staining when it's actually decay (see Figures 1A and 1B). Additionally, an examination identifies existing restorations that will not change color with bleaching, avoiding a potentially less-esthetic outcome due to mismatched teeth. When patients are under the care of a dental professional, inappropriate treatment is avoided and necessary treatment is not delayed.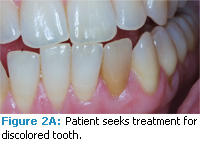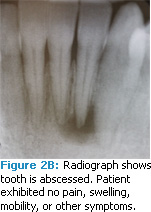 It's important that patients have a baselines status and consider radiographs before beginning whitening treatment, especially for single dark teeth. Patients also need to be educated on the known side effects of the different types of whitening treatment including cost-benefit and risk-benefit ratios. Once a comprehensive oral examination has been performed, the dental professional will be aware of any known restorations and how they may be affected by tooth whitening.
Tooth whitening will change the color of the tooth whether or not the pathology is resolved. A patient may seek tooth whitening to improve the appearance of a dark tooth but a radiograph shows the patient has an abscessed tooth (Figures 2A and 2B). If the patient had begun whitening treatment unsupervised, the tooth would have remained undiagnosed and possibly led to the need for extensive endodontic treatment or resulted in the loss of the tooth. Besides abscessed teeth, a radiograph will also show internal resportion, supernumerary teeth, and pulp size discrepancies.
Dental supervision provides professional assessment of a patient's particular case, recommendations for methods and/or materials to help reduce possible side effects, and the early detection and improved management of any ill effects. Professionally performed or supervised bleaching helps patients avoid inferior products, the incorrect use of products, and product abuse.1
Patients may also be bleaching without informing their dental professionals, which can pose problems. Many patients consider bleaching prior to a new restoration or crown preparation. When the shade is selected during bleaching, the teeth are artificially white. After cessation of bleaching, the shade of the composite restoration or crown may no longer match. Additionally, the bond strength of a bonded restoration can be reduced by 25% if the patient is actively bleaching during bonding, or provisional restorations may be removed during removal of the bleaching applicator from poor adaptation.
Proper examination, diagnosis, treatment recommendations, and supervision for side effects and questions, in addition to knowledge of patient actions outside the office, are important for proper patient care and welfare.
REFERENCES
ADA Council on Scientific Affairs. Tooth Whitening/Bleaching: Treatment Considerations for Dentists and Their Patients. Available at: www.ada.org/prof/resources/positions/statements/HOD_whitening_rpt.pdf. Accessed February 9, 2010.
Li Y. Biological properties of peroxidecontaining tooth whiteners. Food and Chem Toxicology. 1996;34:887-904.
From Dimensions of Dental Hygiene. March 2010; 8(3): 46-47.