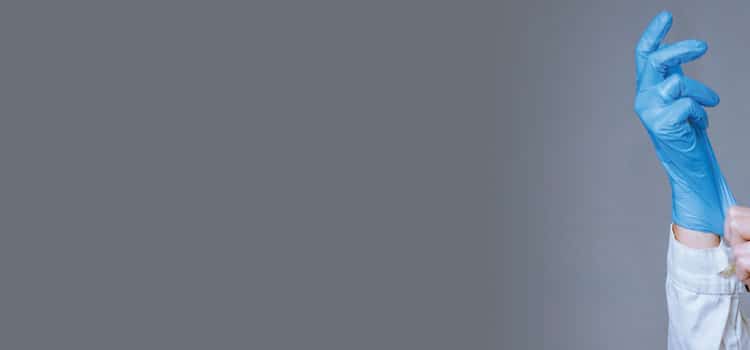 The Role of Gloves in Breaking the Chain of Infection
Practicing proper glove protocol will help oral health professionals reduce the risk of occupational exposure.
More than 30 years have passed since oral health professionals switched from wearing virtually no personal protective equipment (PPE) to donning gloves, masks, protective clothing, and eye protection with all patients.1 The Occupational Safety and Health Administration's (OSHA) Bloodborne Pathogen (BBP) Standard defines how oral health professionals should protect themselves from blood and other potentially infectious materials (OPIM), and specifies what type of PPE should be worn and when.2 The proper use of gloves remains a vital component of clinicians' PPE.
BLOODBORNE PATHOGEN STANDARD
OSHA published the BBP Standard in 1991 to protect health care workers from bloodborne infection. It was later expanded to include all patient secretions and excretions except sweat.2,3 A review of the "chain of infection" is the first step in properly adhering to the BBP Standard (Figure 1). Potential infectious agents reside in reservoirs that can include surfaces, instruments, or patients. The potential pathogen must leave the reservoir through a portal of exit and move via direct or indirect transmission to a portal of entry in a susceptible host. The point of an infection control program—including the wearing of PPE—is to break this chain of infection at as many points as possible. Proper use of gloves will effectively protect the hands from becoming a portal of entry for potential bloodborne pathogens.
PPE should be procedure specific. As such, oral health professionals should wear appropriate PPE whenever they may have hand contact with blood, OPIM, or contaminated surfaces/items.4 All clinical procedures fall into this category and examination gloves are adequate for these situations. When clinicians follow these recommendations, the risk for transmission is greatly decreased.5 A review of the specific guidelines for glove use is always a good practice, as numerous studies continue to document problems with compliance.6,7 The most common compliance issues include failure to perform proper hand hygiene before placement and after glove removal, improper removal that causes hand contamination, and the wearing of artificial nails and/or rings.8 
GLOVE TYPES AND RECOMMENDATIONS
Several types of gloves are used in the dental setting, such as sterile, examination, heavy-duty utility, and overgloves. For all clinical procedures—excluding surgery, which requires sterile gloves—examination gloves are recommended.9 They are available in a variety of materials, are nonsterile, either ambidextrous or designed for right or left hands, and come in a variety of textures.10 The addition of left and right sizing and different textures were made to help improve the ergonomics of clinical practice. Historically, latex gloves were the most popular option, but due to problems with microtears and latex allergy/sensitivity, nitrile gloves are gaining popularity.11 Powdered gloves are no longer available, as they were banned by the United States Food and Drug Administration (FDA) in January 2017 due to their ability to cause illness/injury.12 
Sterile gloves come individually packaged, are manufactured on specific right and left hand forms, and come in exact sizes. They are more costly, and are reserved for surgical procedures. Evidence has not demonstrated that sterile gloves are more effective at reducing infection risk during nonsurgical procedures, so they are not recommended for routine use.13 
Heavy-duty utility gloves should be used for disinfection, cleaning tasks, and instrument processing, as examination gloves are not recommended for these activities.14 Using examination gloves for these procedures increases the likelihood of occupational exposure and the wicking of disinfectants to the skin.14
Overgloves are similar to food-handling gloves, and are not recommended for use in patient care. They may be worn over contaminated examination gloves to prevent cross contamination when clinicians need to retrieve or handle an item during patient care.
BEST PRACTICES
Proper hand hygiene is key to effective glove use.15 Wearing gloves is not a substitute for hand hygiene, and is of limited value if hand hygiene is not routinely and meticulously performed. The US Centers for Disease Control and Prevention (CDC) Guidelines for Hand Hygiene in Health-care Settings state that one of the most common factors in noncompliance with hand hygiene protocols is the false sense of security provided by gloves.16 Contamination of the hands is likely during glove removal, and can also occur through undetected breaks in the glove during procedures,17 so performing hand hygiene both before donning and after removal is essential. Unfortunately, a high percentage of oral health professionals report they do not perform hand hygiene between patients.18,19 
Myers et al18 conducted a study of 4,107 dentists on the knowledge, attitudes, and practices of CDC hand hygiene guidelines. They found that 71% always or almost always washed with soap/water and 22% almost always or always disinfected with an alcohol-based hand sanitizer between patients. The dentists who were most familiar with the CDC guidelines were most likely to use acceptable hand hygiene procedures than dentists who were less familiar with the guidelines.
In a study by Garland,19 dental hygienist participants reported a high level of knowledge and compliance with infection control guidelines with only a few exceptions that were not related to hand hygiene. Handwashing procedures, or the proper use of an alcohol-based hand rub are recommended before donning gloves and immediately after glove removal. For hands that are visibly soiled, handwashing with soap and water is required.20
Another factor to consider is that glove integrity decreases with time worn. There is not an exact time recommended to wear one pair of gloves, but the incidence of glove failure through microtearing increases between 30 minutes and 3 hours of use.21 This should be considered during longer dental procedures, and gloves should be changed often to reduce this risk.
FINGERNAILS AND JEWELRY
Wearing artificial nails is a popular trend, but their use is discouraged among health care professionals by both the CDC and the World Health Organization.22 There is an increased likelihood of pathogenic microbes growing under and around artificial nails, and handwashing protocols cannot adequately remove them.23 The length of time the nails are worn increases the likelihood for Gram-negative bacilli and yeasts to be found.23 Artificial nails have also been linked to poor handwashing practices and more tears in gloves, as well as disease outbreaks that could be traced to specific individuals in hospital settings.24,25 
Although not a proven risk for disease transmission, the wearing of rings increases the bacterial load on the hands and is discouraged.26 Nail length is another factor, as the majority of microbes that can be cultured from the hands are found under fingernails. The CDC recommends that nails be kept clean, and that nail tips be kept to less than ¼ inch in length.16 
CONCLUSION
The proper use of gloves is an important component of PPE for every oral health professional. Effective glove use includes the performance of meticulous hand hygiene prior to donning gloves and after glove removal, wearing the appropriate glove for the clinical task at hand, keeping natural nails trimmed short with no artificial adornments, and following recommendations for length of time worn. Practicing these protocols with consistency will reduce the risk of occupational exposure.
REFERENCES
Occupational Safety and Health Administration. Timeline of OSHA's 40 Year History. Available at: osha.gov/osha40/OSHATimeline.pdf. Accessed February 20, 2018.
Occupational Safety and Health Administration. Bloodborne Pathogens, Standard 1910.1030. Available at:osha.gov/pls/oshaweb/owadisp.show_document?p_table=STANDARDS&p_id=10051. Accessed Accessed February 20, 2018.
Occupational Safety and Health Administration. OSHA Fact Sheet: OSHA's Bloodborne Pathogens Standard. Available at: osha.gov/OshDoc/data_BloodborneFacts/bbfact01.pdf. Accessed February 20, 2018.
Occupational Safety and Health Administration. OSHA Fact Sheet: Personal Protective Equipment (PPE) Reduces Exposure to Bloodborne Pathogens. Available at: osha.gov/OshDoc/data_BloodborneFacts/bbfact03.pdf. Accessed February 20, 2018.
Centers for Disease Control and Prevention. Summary of Infection Prevention Practices in Dental Settings: Basic Expectations for Safe Care. Available at: cdc.gov/oralhealth/infectioncontrol/pdf/safe-care2.pdf. Accessed February 20, 2018.
Eveillard M. Wearing gloves: the worst enemy of hand hygiene.

 

Future Microbiol. 2011;6:835–837.
Girou E, Chai S, Brun-Buisson C, et al. Misuse of gloves: the foundation for poor compliance with hand hygiene and potential for microbial transmission?

 

J Hosp Infect. 2004;57:162–169.
Ward DJ. Hand adornment and infection control.

 

Br J Nurs. 2007;16:654–656.
World Health Organization. Glove Use Information Leaflet, Available at: who.int/gpsc/5may/Glove_Use_Information_Leaflet.pdf. Accessed February 20, 2018.
Patel HB, Fleming GJ, Burke FJ. Puncture resistance and stiffness of nitrile and latex dental examination gloves.

 

Br Dent J. 2004;12:695–700.
Korniewicz DM, El-Masri M, Broyles JM, Martin CD, O'Connell KP. Performance of latex and nonlatex medical examination gloves during simulated use.

 

Am J Infect Control. 2002;30:133–138.
Federal Register. Banned Devices; Powdered Surgeon's Gloves, Powdered Patient Examination Gloves, and Absorbable Powder for Lubricating a Surgeon's Glove. Available at: federalregister.gov/documents/2016/12/19/2016-30382/banned-devices-powdered-surgeons-gloves-powdered-patient-examination-gloves-and-absorbable-powder. Accessed February 20, 2018.
Cuny E. Best practices for personal protective equipment.

 

Dimensions of Dental Hygiene.

 

2016;14(06):36–42.
Kohn WG, Collins AS, Cleveland JL, et al. Guidelines for infection control in dental health-care settings–2003.

 

MMWR Recomm Rep.

 

2003;52(RR-17):1–61.
Fuller C, Savage J, Besser S, et al. "The dirty hand in the latex glove:" a study of hand hygiene compliance when gloves are worn.

 

Infect Control Hosp Epidemiol. 2011;32:1194–1199.
Centers for Disease Control and Prevention. Guidelines for Hand Hygiene in Health-care Settings: Recommendations of the Healthcare Infections Control Practices Advisory Committee and the HICPAC/SHEA/APIC/IDSA Hand Hygiene Task Force.

 

MMWR Morb Mortal Wkly Rep. 2002;51(RR-16):6–32.
Picheansanthian W, Chotibang J. Glove utilization in the prevention of cross transmission: a systematic review.

 

JBI Database System Rev Implement Rep. 2015;13:188–230.
Myers R, Larson E, Cheng B, Schwartz A, DaSilva K, Kunzel C. Hand hygiene among general practice dentists: A survey of knowledge, attitudes and practices.

 

J Am Dent Assoc. 2008;139:948–957.
Garland K. A survey of United States dental hygienists' knowledge, attitudes, and practices with infection control guidelines.

 

J Dent Hyg.

 

2013;87:140–151.
Centers for Disease Control and Prevention. Clean Hands Count for Healthcare Providers. Available at: cdc.gov/handhygiene/providers/index.html. Accessed February 20, 2018,
Partecke LI, Goerdt AM, Langner I, et al. Incidence of microperforation for surgical gloves depends on duration of wear.

 

Infec Control Hosp Epidemiol. 2009;30:409–414.
World Health Organization. Hand Hygiene: How, Why, and When? Available at: who.int/gpsc/5may/Hand_Hygiene_Why_How_and_When_Brochure.pdf. Accessed February 20, 2018.
Hedderwick SA, McNeil SA, Lyons MJ, Kauffman CA. Pathogenic organisms associated with artificial fingernails worn by healthcare workers.

 

Infect Control Hosp Epidemiol. 2000; 21:505–509.
Toles A. Artificial nails: are they putting patients at risk? A review of the research.

 

J Pediatr Oncol Nurs. 2002;20:16–22.
Morgan DJ, Liang SY, Smith CL, et al. Frequent multidrug-resistant

 

Acinetobacter baumannii

 

contamination of gloves, gowns, and hands of healthcare workers.

 

Infect Control Hosp Epidemiol. 2010;31:716–721.
Fagernes M, Lingaas E. Impact of finger rings on transmission of bacteria during hand contact.

 

Infect Control Hosp Epidemiol.

 

2009;30:427–432.
---
From Dimensions of Dental Hygiene. March 2018;16(3):20, 22-19.