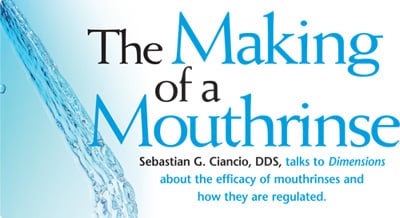 The Making of a Mouthrinse
Sebastian G. Ciancio, DDS, talks to Dimensions about the efficacy of mouthrinses and how they are regulated.
Q. What criteria are used to determine if a mouthrinse is cosmetic or therapeutic?
A. Basically, if a mouthrinse makes any claims that discuss gingivitis, then it's considered therapeutic. But if the mouthrinse claims relate to making the mouth cleaner, the teeth brighter, or creating less plaque in the mouth, then the rinse is considered cosmetic. Currently, the removal of plaque is considered cosmetic because plaque is not labeled a disease. This is one of the problems with the current system. The practitioner should look at the claims associated with a particular mouthrinse, if the claims are only cosmetic, then it probably has not gone through any regulatory process. If the company makes a claim for gingivitis, which is a disease, then the mouthrinse becomes therapeutic and is subject to Food and Drug Administration (FDA) regulations. FDA regulations supercede American Dental Association (ADA) regulations.
Q. Are FDA regulations tougher than the ADA's?
A. No, they both have very similar guidelines. But before a therapeutic product is brought to market, it must receive FDA approval. If the product is approved for sale by the FDA, then the company can go to the ADA to make a claim for data. But the important factor here is that practitioners should look for the same criteria that the FDA and the ADA use. The FDA and ADA require the following for the combined claim of plaque and gingivitis: 1. Two studies that are at least 6-months long and conducted at two separate institutions. 2. A statistically relevant effect as well as a clinically relevant effect. 3. It must be shown that no adverse changes occurred throughout the course of the studies, including no adverse tissue side effects and no adverse effects on the microflora. In other words, if a product selects out certain bacteria, such as candida, to let them grow, that would be a problem. 4. The microbiology data must come from at least one of the two studies. These are the standards that the practitioner should understand when evaluating a product.
THE TREATMENT OF PERIODONTITIS
Q. Do any mouthrinses have ADA or FDA approval for the treatment of periodontitis?
A. No, there is nothing available for the treatment of periodontitis in the mouthrinse form at this time. Nor is there any dentifrice approved for the treatment of periodontitis. However, a dentifrice containing triclosan has been shown to arrest periodontitis although this claim is not ADA or FDA approved.
Q. Why haven't any mouthrinses or dentifrices been approved for addressing periodontitis?
A. Because so far, with the exception of a few studies done on triclosancontaining dentifrice, studies on mouthrinses do not show pocket depth reduction or gains in clinical attachment level. The ADA Seal of Acceptance requires a reduction in pocket depth and a gain in clinical attachment level. Some mouthrinses can show the pocket shrinking, some because of a decrease in edema, but attachment level gain has not been demonstrated. The second reason is that even when patients rinse very vigorously, the mouthrinse does not penetrate beyond 2 mm subgingivally. With periodontitis, pockets are between 4 mm and 6 mm.
Q. So mouthrinses are not an appropriate treatment vehicle for periodontitis?
A. No, however using the mouthrinse in an irrigation device is a possibility. The irrigation device can deliver the product subgingivally up to 6 mm or 7 mm with a subgingival tip. Also, studies have shown that subgingival irrigation can effectively reduce the microflora,1 which may have beneficial effects on the periodontium, but more studies are needed on this topic.
INGREDIENTS
Q. What specific mouthrinse ingredients are effective against gingivitis?
A The FDA recognizes four ingredients as effective against gingivitis: chlorhexidine, essential oils, stannous fluoride, and cetylpyridinium chloride. In contrast, the ADA-accepted mouthrinse ingredients that are effective in treating gingivitis are chlorhexidine and essential oils. The rest of the ingredients have not met the ADA requirements at this time.
Q. What mouthrinse ingredients are effective against caries?
A. Fluoride is effective in the treatment of dental caries, including sodium fluoride, stannous fluoride, and acidulated phosphate fluoride. We are moving into a new era where focus is on the remineralization of teeth to reduce dental caries. Products that contain Recaldent® and Novamin®, and amorphous calcium phosphate, which help remineralize teeth, may be the future of treating dental caries. The concept of delivering calcium phosphate of value in the vehicle of amorphous calcium phosphate to help remineralize early carious lesions—not just using fluoride to remineralize and strengthen teeth—is just beginning. These ingredients are available in pastes applied directly to the tooth surfaces, dentifrices, and in-office products, as well as chewing gum. A number of dentifrice manufacturers are now increasing the amount of calcium released from their dentifrices because of the benefits associated with remineralization. Clinical studies are needed to verify these potential benefits.
Q. Which mouthrinse ingredients are effective in treating malodor?
A. Most mouthrinses containing antiseptic agents have the ability to reduce malodor. In addition, tongue scraping adds a significant benefit to malodor control. Malodor is an unregulated area because it is cosmetic. In the cosmetic world, only safety needs to be proven. Neither the FDA nor the ADA regulate cosmetic mouthrinses.
PENETRATING BIOFILM
Q. Since plaque biofilm forms a protective barrier for bacteria, are there are any mouthrinse ingredients that break down the biofilm matrix?
A. Yes, essential oils penetrate biofilm as do triclosan and chlorhexidine. Stannous fluoride also has some ability to penetrate biofilm.
REFERENCES
Reynolds MA, Lavigne CK, Minah GE, Suzuki JB. Clinical effects of simultaneous ultrasonic scaling and subgingival irrigation with chlorhexidine. J Clin Periodontol. 1992;19:523-607.
García-Godoy F, Hicks MJ. Maintaining the integrity of the enamel surface: the role of dental biofilm, saliva and preventive agents in enamel demineralization and remineralization. J Am Dent Assoc. 2008;139(Suppl):25S-34S.
From Dimensions of Dental Hygiene. November 2008; 6(11): 36-37.