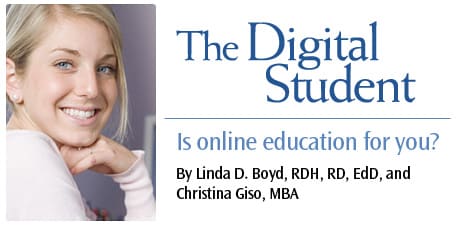 The Digital Student
Is online education for you?
To see the MSDH programs with online components, read the authors' article "Further Your Education in Cyberspace" in Dimensions' first Digital Edition. Click here to view.
For dental hygienists who wish to continue their education at a master's degree level, distance learning is a viable option.

Distance learning is defined by the Instructional Technology Council as "the process of extending learning, or delivering instructional resourcesharing opportunities, to locations away from a classroom, building, or site, to another classroom, building, or site by using video, audio, computer, multimedia communications, or some combination of these with other traditional delivery methods."1 There are three types of course delivery methods: web facilitated, blended/hybrid, and online.2 Each method incorporates variable amounts of content in online and face-to-face interaction. Table 1 provides a description of these types of course delivery methods. Distance learn ing can also be further categorized into either synchronous or asynchronous delivery. Synchronous distance learning means the students and the instructor interact online simultaneously in real time, eg, video conferences or chat rooms. Asynchronous distance learning is accomplished on a variable time schedule 24/7; the students and the instructor interact at different times, eg, online discussion boards or email. Most programs use some combination of these types of interaction for their distance learning courses.
DISTANCE LEARNING IN MSDH PROGRAMS
Currently, 12 Master's of Science in Dental Hygiene (MSDH) and two Master's in Dental Hygiene (MDH) programs are available in the United States.3 Approximately six more MSDH programs plan to enroll students over the next few years. Of the current programs, six programs offer from 8% to 100% of their courses via distance learning methods. Of the six distanceMSDH programs, only four programs fall into the online classification, in that they offer more than 80% of their program online. The online programs provide students with maximum flexibility in meeting their professional, family, and educational goals.
The admission requirements of the MSDH programs vary, but Table 2 provides general requirements. Some basic admissions criteria for graduate programs are:
Graduation from an accredited dental hygiene program (by the Commission on Dental Accreditation),
Submission of official transcripts from all undergraduate education,
A minimum of a 3.0 GPA in undergraduate degree,
Current licensure to practice as a dental hygienist, and
A baccalaureate degree in dental hygiene or related discipline.

The MSDH degrees currently offered have a number of areas of emphasis, providing potential students with many choices. Dental hygiene education is the most common emphasis area. A majority of graduate programs require 30-37 credits for graduation and some allow transfer of graduate credits from other universities. Even though several MSDH program are offered primarily online, a number of campus visit are still required to complete the online programs.
BENEFITS AND CHALLENGES
Online learning can be ideal for motivated, self-directed, busy professionals because it allows them to enroll in an MSDH program as either full-time or part-time students and stay in their local communities. Although most courses are not self-paced, the online delivery allows a variable degree of synchronous and asynchronous interaction, which provides students with flexibility in completing their course work. However, online learning is not for everyone. Some students feel the need for the face-to-face interaction of the traditional classroom setting in order to succeed. Most MSDH distance learning programs offer surveys to self-assess whether online learning is right for the potential student prior to applying for the program. Students in distance learning programs become experts at troubleshooting and problem solving, and quickly adapt to the learning environment. Orientation to distance learning is an essential part of helping prepare students to be successful and should be provided either in an online format and/or in a face-to-face setting.
In conclusion, distance learning opportunities continue to evolve and expand for those seeking an advanced degree in dental hygiene. These opportunities will continue to increase—fueled by the need for advanced dental hygiene practitioners and the decreasing numbers of dental hygiene educators as many begin to retire.
REFERENCES
Instructional Technology Council. Definition of Distance Learning. Available at: www.itcnetwork.org/definition.htm. Accessed October 20, 2008.
Allen IE, Seaman J. Seizing the Opportunity: the Quality and Extent of Online Education In the United States, 2002 and 2003. Wellesley, Mass: the Sloan Consortium; 2006.
American Dental Hygienists' Association. Master of Science Degree in Dental Hygiene and related disciplines. Available at: www.adha.org/careerinfo/masters.htm. Accessed October 20, 2008.
From Dimensions of Dental Hygiene. November 2008; 6(11): 20-21.