The American Dream
To truly understand the meaning of the American Dream, I've found that talking to immigrants makes it perfectly clear.
I was truly moved by a Facebook post I saw recently from a dental hygiene colleague. A recent graduate of Fortis College in Erie, Pennsylvania, Morris Mugo, RDH, is a newly practicing dental hygienist and is thrilled to be in the United States. Mugo emigrated from Kenya in 2013 and the obvious joy for his new life jumps off the page with each word. We often hear about the American dream. Those of us born in this country tend to take it for granted. To truly understand its meaning, I've found that talking to immigrants makes it perfectly clear. Mugo wrote this Facebook post on his birthday as he, his wife, and young son were traveling in the American west. It was so poignant and uplifting, especially during the challenges of this year, that I wanted to share parts of it with you.
TO TRULY UNDERSTAND THE MEANING OF THE AMERICAN DREAM, I'VE FOUND THAT TALKING TO IMMIGRANTS MAKES IT PERFECTLY CLEAR.
"Seven years ago, I was 23 years old when I landed at Dulles international Airport in Virginia from Nairobi, Kenya, with my wife and life savings of $200 in my pocket as a legal immigrant to the US. It was my first time on an airplane. I was armed with nothing but raw ambition and the desire to succeed in the best country in the world … The past 7 years have not been bliss but they have definitely been the best of my life. I have a great career (same as my wife who earned a doctoral degree in pharmacy), built my family, and contributed to this great nation in the best way I can. I even got my citizenship. America has its own problems like any other nation and, being the best country in the world, a lot is expected of it. I would still choose to come to America over any other country any day."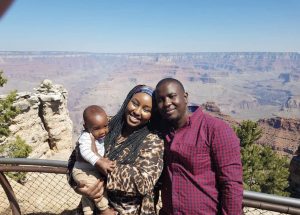 I immediately reached out to Mugo because I had more questions for him. Why did he choose dental hygiene? What did his family in Kenya think of his new life and profession? Are there differences in the oral health issues in Kenya vs the US? These questions and Mugo's answers appear in the online version of Dimensions of Dental Hygiene at: dimensionsofdentalhygiene.com.
Mugo just bought a home in his newly adopted city of Washington, DC. As Morris put it, "God has blessed us with a home!" By the time this editorial is published, the national election will have occurred, and we will have voted for the candidates and issues we support. Regardless of the outcome, one fact remains clear: the US is a beacon of freedom for people from around the world. Mugo, and countless others like him, remind us of that. Thank you, Morris Mugo, RDH, and welcome to the US!
Jill Rethman, RDH, BA
Editor in Chief
[email protected]
From Dimensions of Dental Hygiene. November 2020;18(10):6.