Technology Evolution
Intraoral imaging and tablet technology are moving the dental operatory further into the digital age.
While many dental professionals may be "gadget geeks," using the latest smartphones, tablets, and laptops in their personal time, some are slow to adopt new technology in the operatory. Dental hygienists may feel quite comfortable with the instruments and technologies they have been using since they started practice. While most have probably integrated an ultrasonic scaler into their routine, this may be the only innovation they have tried. High tech products, such as intraoral cameras, intraoral dental viewers, and tablet technology, can provide significant benefits to patient treatment, education, and compliance. The first generations of intraoral cameras were cumbersome and time-consuming to operate, however, technology has changed and products today are simple to use and easy to integrate into patient care.
ROOTS OF INTRAORAL PHOTOGRAPHY
The roots of intraoral photography can be traced as far back as 1839 when inventor Louis J. M. Daguerre showcased the first process of photography at the Paris Academy of Sciences.1 Later that year, Alexander S. Wolcott, a New York-based manufacturer of dental instruments, patented the first camera using the Daguerre method of capturing images.1,2 The advent of photography eliminated the need for subjective representation of oral images by drawings or models.1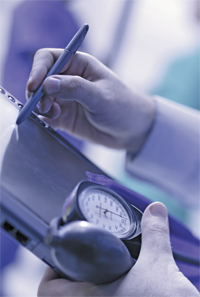 In 1987, Fuji Optical Systems introduced the DentaCam™, the world's first dedicated intraoral wand camera.1 The DentaCam, which retailed for $35,000, was a medical grade unit with a monitor and printer contained in a cart for mobility.1 The images produced were analog (representation of data along a continuous scale) and had to be stored on floppy disks, which could hold only 50 pictures.1
In the 1990s, advancements in digital technology allowed for the creation of intraoral wand cameras that produced better quality images, required less storage memory, and could be integrated into existing practice management software.1 The bulky cart of the analog system was replaced with a docking station that made camera transfer easier.3 Today, intraoral cameras have become even more compact and economical, with a purchase price of less than $5,000.
ADVANCEMENTS IN TECHNOLOGY
Intraoral cameras initially used a fiber-optic light source, which was housed in the docking station and then connected to the camera handpiece with a fiber optic cord.3 This system produced high-quality images but was very heavy and the entire system had to be moved from operatory to operatory, unless each had its own docking station, which was quite expensive. Today most intraoral cameras are universal serial bus (USB)-based systems.
USB is the most common type of computer port used today.1 These systems have light-emitting diode (LED) lights built directly into the handpiece, typically in a ring around the camera lens. These systems are very portable, lightweight, and can integrate directly into existing dental practice management software, but some image quality is sacrificed.3 Wireless options are also available.
BENEFITS OF INTRAORAL WAND CAMERAS
Intraoral wand cameras can provide many benefits for a dental practice. The ability to physically show patients a problem with their dentition or oral cavity can significantly support treatment acceptance and patient compliance. The old adage "seeing is believing" can ring true when trying to educate patients. Storing images, either digitally in the patient record or printing them out and keeping hard copies in the patient files, provides a visual record of diagnosis, treatment, and progress. Images can also be printed out for patients to take home for review, emailed to a laboratory for the creation of restorations, or shared with specialists when referring patients for additional treatment.
INTRAORAL DENTAL VIEWERS
For practices seeking an economical and simple entry into the world of digital dentistry, an intraoral dental viewer system may be the right fit. These systems include an LED viewer wand that connects to a small viewing screen, which allows the dental professional to show a patient the problem area in the mouth, including fractures, decay, restorations that need repair, and gingival bleeding. These all-in-one systems are designed to increase case acceptance and patient compliance, but they do not store, transfer, or print collected images.
TABLET TECHNOLOGY
Incorporating tablet technology into the dental operatory is an exciting new approach to engaging patients and creating a partnership with them in the management of their oral health. Tablet computers, such as the popular Apple iPad, are portable devices that offer wireless Internet connection and are used by touching the screen, either with a finger or a stylus (Figure 1). Tablets are lightweight with a slim profile and typically include a camera. Tablet computers can be used as a chairside patient education tool, to view intraoral photographs and digital radiographs, and to input patient notes into digital charts. Patients can also fill out all necessary paperwork and sign forms on a tablet computer, moving dentistry even closer to a true paperless office.
CONCLUSION
As more technological advancements are made and they become more affordable, the dental operatory will continue its transformation into the digital age. Intraoral imaging and tablet computers are easy to use, readily available, and patient friendly—a perfect fit for dental hygienists to incorporate into practice.
REFERENCES
Obrochta JC. Efficient and Effective Useof the Intraoral Camera. Available at:www.dentalcare.com/en-US/dentaleducation/continuingeducation/ce367/ce367.aspx?ModuleName=coursecontent&PartID=0&SectionID=-1. Accessed May 14, 2012.
Humphrey SD. American Handbook of the Daguerreo type . 5th ed. New York:Humphrey

Publishing; 1858:67.

The Digital Dentist. Intraoral cameras.Available at: www.thedigitaldentist.com/website/article.asp?id=95&title=IntraOral_Cameras. Accessed May 14, 2012.
Marsh L. Picture perfect. Dimensions of Dental Hygiene. 2011;9(6):62–64.
Plummer KD. Digital dental imaging:incorporating digital photography into the dental operatory. Dimensions of Dental Hygiene. 2009;7(9):24–26.
Plummer KD. Digital dental imagingpart 2. Dimensions of Dental Hygiene.2010;8(5):60–62.
Progressive Utah Dentist Uses iPad Appto Engage Patients in Dental Care. Dental Health Magazine. Available at: www.worldental.org/dentists/progressiveutah-dentist-ipad-app-engage-patientsdental-care/5002. Accessed May 14, 2012.
From Dimensions of Dental Hygiene. June 2012; 10(6): 42, 44.