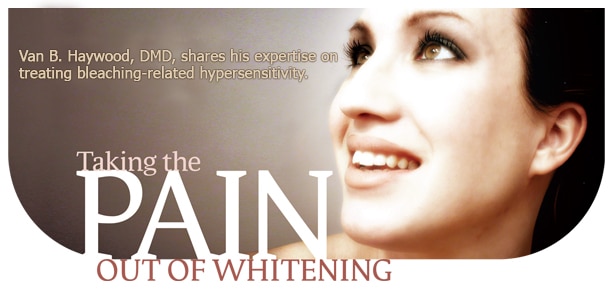 Taking the Pain Out of Whitening
Van B. Haywood, DMD, shares his expertise on treating bleaching-related hypersensitivity.
Q. Why does in-office whitening cause more hypersensitivity than take-home tray bleaching?
A. In-office whitening products contain a higher concentration of peroxide material, even though the whitening formula is delivered in a shorter period of time. The process is similar to receiving a sudden burst of intense sunlight in comparison to being under an overcast sky all day long. The initial burst creates the sensitivity. Patients undergoing in-office bleaching need to wait 1 week between appointments in order for the pulp to calm down. Many dental professionals will either premedicate patients who are undergoing in-office whitening with nonsteroidal anti-inflammatories or prescribe post-medication in case the sensitivity is acute. Sensitivity is the main challenge with bleaching across the board.
Q. How many treatments does in-office whitening typically take to get the desired results?
A. With in-office bleaching, the range is from one to six office visits, with the average being three.1-3 We did a study on how many in-office visits it took to make patients pleased with the results and came up with three as well.4 Regarding sensitivity, about 74% of the patients experienced sensitivity.4 New materials, especially potassium nitrate, have made a dramatic improvement in treating dentin hypersensitivity.
Q. Is potassium nitrate included in some of the whitening products available?
A. Yes. Potassium nitrate was first added to desensitizing toothpastes. It is the only ingredient currently recognized by the Food and Drug Administration as an effective desensitizer. Then potassium nitrate was used in whitening trays for 10-30 minutes before the whitening procedure. One study found that this method reduced sensitivity in 97% of the participants.4 Subsequently, dental manufacturers figured out how to incorporate the potassium nitrate into the whitening products without damaging the effectiveness of the bleach. At first, the solution was chemically unstable but now the formula is more perfected. Currently, most whitening products contain potassium nitrate or offer it as a stand alone product to be used in conjunction with the whitening process.
If patients are using the take-home tray method of whitening, they can use the trays to hold a potassium nitrate solution to treat their own sensitivity at their own convenience. Using a toothpaste containing potassium nitrate is the most economical solution but I advise patients to find one without sodium lauryl sulfate (SLS) if possible. SLS is the ingredient that causes toothpaste and shampoo to foam and it can cause gingival irritation and remove the smear layer from the dentin.
Combatting whitening-induced sensitivity is like a one-two-three punch. Patients should first start using a desensitizing toothpaste 2 weeks before beginning whitening treatment, continue using it during the process, and after the bleaching process is complete, either continue brushing with the desensitizing toothpaste or use another product that contains potassium nitrate.
Q. When patients start the prewhitening hypersensitivity treatment, should they wear trays or is brushing with a potassium nitrate toothpaste enough?
A. It depends on how sensitive the patient's teeth are. For the most sensitive patients, I recommend that they start brushing for 2 weeks with a potassium nitrate toothpaste. Then they should wear the tray with nothing in it for 1-2 nights because for some people, this causes sensitivity. Then they should add the potassium nitrate toothpaste to the tray for 1-2 nights. Finally, they should start with the bleaching product. Different people have different pain thresholds. Dental professionals need to investigate patients' pain thresholds at their initial examination. Their inherent sensitivity can be identified by answers to questions like "Do you drink cold drinks through a straw?" and "Do you avoid very hot or very cold foods?" Also, some patients are uncomfortable during polishing, which is a clue to their pain threshold.
Q. How long do the effects of the potassium nitrate last?
A. That's a good question. I don't think we know. In studies, patients feel relief immediately, usually within 10 to 30 minutes of exposure to the potassium nitrate. Some patients may need to use potassium nitrate the next night, while others may only need to use it once a week. It depends on the total insult experienced by the pulp and what the patient's pain threshold is. If the patient is not feeling the sensation of pain, then I would advise using potassium nitrate every third or fifth night of bleaching.
Most bleaching-related sensitivity happens within the first 2 weeks of treatment, regardless of the length of the treatment. Some patients who are bleaching every night for a year due to tetracycline exposure experience no sensitivity but those with acute sensitivity will feel it right away, usually within the first 2-3 days of treatment. This is why I advocate starting patients off with the potassium nitrate exposure because waiting for the patient to experience pain is not a good strategy. For those patients who admit to acute sensitivity before beginning whitening treatment, I would not recommend in-office whitening or high concentration tray bleaching.
Q. For those patients who want immediate results, is it safe to leave the whitening material on longer to make their teeth whiter in one session?
A. Teeth change at a maximum rate. Once the maximum is reached, that's it. Hydrogen peroxide is only active 30 minutes to an hour; this is what is used with in-office whitening. After the initial exposure to high concentrations of hydrogen peroxide, another dose is still necessary to make a difference in one appointment. This causes another insult to the pulp. In our studies of sensitivity, we found that the two factors that determine whether patients will experience sensitivity is their history of sensitivity and performing whitening treatments more than once per day because the pulp doesn't have time to recover.5 The danger is in whether it's possible to submit the pulp to so much insult that it can't recover, although there are no documented cases where a pulp has died from bleaching. Plus, with in-office whitening, three 20-minute sessions leave the patient in the chair an hour and a half, which is a long time to wear a rubber dam with no anesthesia or to have a liquid rubber damn painted on and not be able to close your mouth. People will reach a physical limit of tolerance, comfort, and practicality. Take-home tray whitening can be quicker in the end because patients can do it on their own time at their own convenience.
Q. One of our website forum members posed a question regarding a new whitening toothpaste sold on the QVC cable channel. She wants to know how to find out more about products like these.
A. Unfortunately, there is no clinical research available on the products sold on television. This is not to say that the product can't be good but there is no science behind it. The American Dental Association seal is a good indicator of quality because it means the product claims have been investigated and corroborated. Regardless, toothpastes in themselves are not designed to whiten teeth. They give the illusion of whitening by taking off extrinsic stains.
REFERENCES
Goldstein RE, Garber DA. Complete Dental Bleaching. Chicago: Quintessence; 1995:113-118.
Blankenau R, Goldstein RE, Haywood VB. The current status of vital tooth whitening techniques. Compend Contin Educ Dent

. 1999;20:781-796.

Auschill TM, Hellwig E, Schmidale S, Sculean A, Arweiler NB. Efficacy, side-effects and patients' acceptance of different bleaching techniques (OTC, in-office, at-home). Operative Dent

. 2005;30:155-163.

de Silva Gottardi M, Brackett MG, Haywood VB. Number of in-office light-activated bleaching treatments needed to achieve patient satisfaction. Quintessence Int

. 2006;37:115-120.

Haywood VB, Leonard RH, Nelson CF, Brunson WD. Effectiveness, side effects and long-term status of nightguard vital bleaching. J Am Dent Assoc

. 1994;125: 1219–1226.
From Dimensions of Dental Hygiene. September 2006;4(9): 32-33.