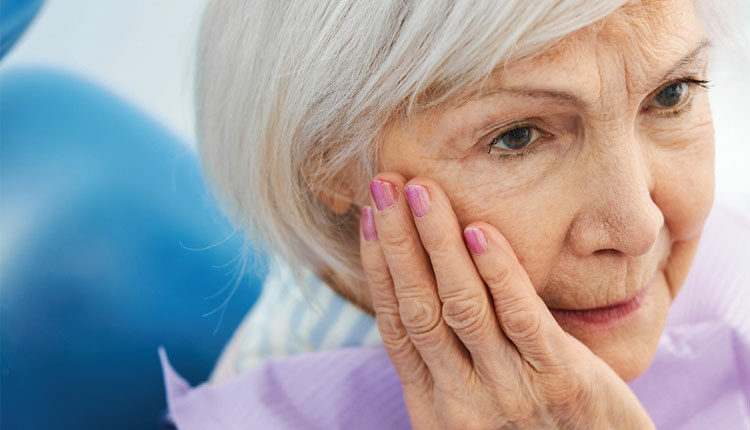 SVITLANA HULKO / ISTOCK / GETTY IMAGES PLUS; SUBJECT IS A MODEL
Support the Oral Health of Your Patients with Alzheimer Disease
Individuals with this common type of dementia can be successfully treated in the traditional dental practice.
PART 2 OF A TWO-PART SERIES: PUBLISHED IN THE SEPTEMBER ISSUE, PART 1 FOCUSED ON THE HALLMARKS OF ALZHEIMER DISEASE, CLICK HERE TO READ MORE.
PURCHASE COURSE
This course was published in the January 2023 issue and expires January 2026. The author has no commercial conflicts of interest to disclose. This 2 credit hour self-study activity is electronically mediated.
AGD Subject Code: 750
EDUCATIONAL OBJECTIVES
After reading this course, the participant should be able to:
Identify oral diseases commonly found among those with Alzheimer disease (AD).
Discuss oral hygiene strategies for individuals with AD.
Implement appropriate modifications to support succesful dental appointments in this patient population.
---
Alzheimer disease (AD) is the most common type of dementia and more than 6 million Americans live with AD.1 Dental hygienists need to be prepared to provide safe and effective oral healthcare to this patient population. Implementing a variety of strategies and techniques may help increase the likelihood of successful dental visits.
Oral Diseases Common In Patients With Dementia
Xerostomia. Hyposalivation is frequently found among individuals with dementia; it may increase biofilm accumulation as well as the risk for oral disease.2 Xerostomia is a common side effect of medications used to manage symptoms of mild to severe AD including donepezil, galantamine, and memantine.3,4 Medications used to treat the comorbidities of AD, such as antidepressants, antipsychotics, and sedatives, may also cause xerostomia.5
Xerostomia leads to a host of dental problems, including tenacious biofilm formation, dental caries, candidiasis, dysphagia, and difficulty retaining dentures.6
Biofilm Accumulation. Older adults with dementia often experience poor oral health, and biofilm accumulation is frequently the root cause.7 Research shows that individuals living with dementia have high levels of biofilm in the oral cavity.2 A 2018 systematic review discovered that those with dementia have higher plaque indices, more bleeding on probing, higher gingival bleeding indices, higher probing depths, and more clinical attachment loss than individuals without dementia.8
Coronal and root caries are more common among those with dementia compared to older adults without dementia.7 As dementia progresses, the risk for gingival disease and caries rises due to xerostomia, forgetting to brush teeth, forgetting how to brush teeth, or not wanting to brush teeth due to the sensation.2
Impact of Place of Residence. Research on the effect of where individuals with dementia live on oral health has produced conflicting results.2 A cross-sectional study with 552 participants concluded that individuals with dementia have poor oral health no matter if they live in a long-term care facility or at home.9 The rate of caries and retained roots of those living in nursing home facilities was similar to the rate of those who lived at home.9
While nursing homes are federally mandated to evaluate residents' oral health needs and facilitate access to dental care, compliance in the past has been low.10 No recent data have been published on this topic.
Nursing home staff may lack awareness of the health benefits of good oral hygiene, while also experiencing a high turnover rate.10 No matter their place of residence, individuals with dementia may resist a care partner assisting them with oral care, leading to poor oral health.10
Oral Care Assistance
People with AD will eventually need assistance with activities of daily living.3 In the early stages of AD, the individual is encouraged to be self-sufficient. As the disease progresses, more assistance from a care partner is needed.
The individual with dementia may forget what to do with toothpaste or how to rinse without swallowing.11 Object recognition and purpose become less familiar for people living with dementia.12 Individuals in the mild to late stages of AD should avoid using mouthrinse, because it can easily be mistaken for a beverage, leading to nausea or vomiting if swallowed.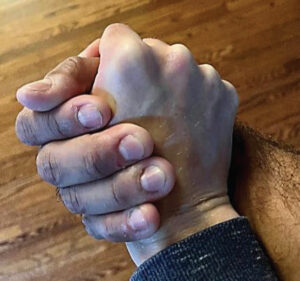 The shape of a toothpaste tube might also look like another product, such as an ointment or cream. This may confuse some individuals with AD. Dental products may need to be labeled with a simple phrase so individuals with dementia recognize them. Mistakenly rubbing toothpaste on the skin when thinking it is a pain-relieving joint cream is not problematic, but brushing teeth with a pain-relieving joint cream could be of concern.
During the mid to late stages of AD, many individuals experience increasing levels of agitation and resistance, which may make oral care more difficult.11 One reason for resistance may be intolerance of the way something feels in the mouth. Sensation in the mouth, lips, and tongue may be heightened during these stages of dementia, which could lead to exaggerated responses.12
Due to language deficits, the individual with dementia may not understand what the care partner is saying, hindering cooperation. Comprehension deficits occur during the moderate and late dementia stages due to a decline in the ability to create sentences and diminished working memory.13 Care partners may need to change their language into short, simple instructions during oral care. An example for breaking down the steps of brushing is to give commands, for example: "Hold the toothbrush. Squeeze the paste. Brush your teeth."11
Another strategy to encourage cooperation when assisting with oral care is to incorporate hand-under-hand guidance. (Figure 1 and Figure 2).14 This technique enables individuals with AD to feel like they are performing the task, too, instead of someone performing the task for them. In hand-under-hand guidance, the care partner uses their own skill fingers (thumb, index, and middle fingers) to complete the task while the person living with dementia's hand is on top. Figure 2 demonstrates this with the toothbrush being held by the care partner.
A short video on using hand-under-hand guidance for toothbrushing—created by Teepa Snow, MS, OTR/L, FAOTA—is available at: youtube.com/watch?v=6gLrH8mioCw. Snow founded the Positive Approach to Care®, whose mission is to enhance life and the relationships of those living with brain change by fostering an inclusive global community.
Oral care for those living with dementia should follow the standard of care. The American Dental Association recommends biofilm removal by brushing teeth twice daily for 2 minutes.15
A manual toothbrush made for individuals with limited dexterity may be helpful. One example includes a toothbrush with bristles on three surfaces allowing for simultaneous brushing of the occlusal, lingual, and buccal surfaces. The unique design of the bristles facilitates removal of biofilm from all surfaces of the teeth with a simple brushing stroke that can be performed by most individuals. Timers can be used to ensure users are brushing for at least 2 minutes.
A dentifrice with ingredients that control biofilm growth, such as stannous fluoride, may prevent caries and periodontal inflammation. Stannous fluoride inhibits biofilm growth and modifies the composition of organisms in the biofilm.16 Other methods of biofilm removal include use of a tongue scraper and interdental devices. The mouth is highly sensitive and oral care can trigger a negative response among those with AD.12 If one dental product isn't tolerated, a different one should be tried until cooperation is gained.
Effectively removing biofilm daily may impact more than the mouth. Oral bacteria can be aspirated into the lungs, increasing the risk for aspiration pneumonia, which is the most common cause of death in those with late-stage AD.17,18
Before initiating movement toward the operatory, a positive and personal connection should be established.
Dental Hygiene Appointment Modifications
Prior to beginning the appointment, determine if the patient is capable of providing consent. In the early stages of AD, the individual may have no issues providing consent. Those with mild AD may still be driving to the appointment alone. As the disease progresses, consent for treatment should be obtained from the legal guardian.
Medical history intake forms may not provide information about cognitive disorders and their presence may not be obvious. Dental providers may need to ask more questions after reviewing the forms completed by the patient to determine if a patient is capable of providing consent.
Appointment planning should consider the length of time needed for appointments, as shorter appointments may reduce stress experienced while at the dental office.
More appointment modifications will be needed as AD progresses. While still cooperative, individuals with mild AD should be seen for a comprehensive examination, radiographs, creation of a treatment plan, and dental hygiene services.19
In the mid-stage of AD, maintenance procedures should continue. If treatment was not rendered before the patient reached the mid-stage, extensive treatment may be necessary.19 Oral sedation may be helpful at this point. Minimally invasive restorative options, such as silver diamine fluoride, may be tolerated better because the treatment is completed quickly.19
Teeth at risk for future problems should be extracted while in the mid-stage of AD.19 Once the late stage of AD is reached, treatment in the dental setting becomes more challenging. Use of deep sedation or general anesthesia may aid facilitation of treatment.19
The shrinking volume of the brain of an individual with AD eventually impacts most bodily functions.20 This requires providers to change their approach to make dental appointments pleasant for all involved.
Positive Physical Approach
A part of Snow's Positive Approach to Care program, the Positive Physical Approach prevents the individual with AD from being startled and allows for welcomed interaction. The approach begins by knowing the two zones of interaction. Public space is 6 feet away from the individual. In this zone, the clinician can greet patients and gain their attention while in their narrowed field of vision.
A helpful way to gain eye contact is to place an open hand near the face, smile, and greet the individual by name. Next, try to move into the patient's personal zone by extending a hand to shake. If the individual accepts by extending his/her hand, this is an invitation to the personal zone and the handshake can proceed. The handshake can now shift into the hand-under-hand grasp as seen in Figure 1 and the provider moves to the patient's side, which is called a supportive stance, as opposed to a confrontational stance (standing directly in front of the individual). Supportive stance may prevent feelings of blocking the individual's escape path.21 Maintain this stance while walking the patient to the dental chair.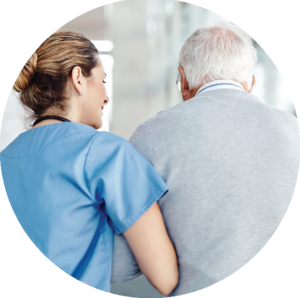 Before initiating movement toward the operatory, a positive and personal connection, obtained by methods such as complimenting the individual or identifying an unmet need or want, should be established.21
Clinicians can also incorporate positive action starters after connecting with the individual. These starter phrases should be short and easy to understand while giving the individual with AD a sense of choice and autonomy. These may include holding up an item and asking if it's OK to try it; asking the person to help with a task, such as turning the head to the right; offering choices on which flavor prophy paste to use; and providing single-step directions to complete a task.21
Avoid asking the individual if he/she is ready or wants to do something as this results in a yes or no answer. If the answer is no and the task needs to be completed during an appointment, it may create a conflict.
Verbal, visual, and physical connection with the patient may assist with engagement and compliance during the appointment. As hearing is not affected by AD, verbal connection should be a starting point.12 It could lead to a visual connection to gain the individual's attention while physical touch maintains that connection.
Dental professionals should be cheerful and kind to facilitate cooperation. Remaining calm, being patient, and using simple language with short verbal commands may be key to this cooperation. Consider the field of vision when interacting with the patient and approach him/her from the middle of the field to avoid startling the individual.12
Dental providers frequently enter a patient's field of vision from the side or from the top of the head, which might feel like a sudden threat since peripheral vision is lost.12 Establish eye contact to maintain focus on what is being said. Attention can also be gained through physical connection, such as gently squeezing the patient's hand if already in hand-under-hand grasp.
Clinicians should also be aware of bad habits to avoid during the appointment. Refrain from questioning the patient with phrases such as "Don't you remember me? I treated you last time." Avoid disagreeing when inaccurate information is shared. Practice patience when the individual completes tasks slowly; do not take over and complete a task for the patient with AD.
A shorter recare interval may offer the most benefit for patients with AD as biofilm can be controlled with supragingival and subgingival debridement. As AD progresses, a shorter recare interval may aid in caries prevention.19
Conclusion
While the oral problems that accompany AD pose challenges, dental hygienists can assist those with AD and their care partners by implementing strategies for prevention and treatment. Knowing the most effective ways to interact with individuals with AD may facilitate cooperation and increase the likelihood of a positive experience at the dental office.
References
Alzheimer's Association. What is Dementia? Available at: alz.org/​alzheimers-dementia/​what-is-dementia. Accessed April December 13, 2022.
Delwel S, Binnekade T, Perez R, Hertogh C, Scherder E, Lobbezoo F. Oral hygiene and oral health in older people with dementia: a comprehensive review with focus on oral soft tissues. Clin Oral Investig. 2018;22:93–108.
Alzheimer's Association. 2022 Alzheimer's Disease Facts and Figures. Available at: alz.org/​media/​Documents/​alzheimers-facts-and-figures.pdf. Accessed December 15, 2022.
Medications for Alzheimer's Disease. Drugs.com. Available at: drugs.com/​condition/​alzheimer-s-disease.html. Accessed December 13, 2022.
Cockburn N, Pradhan A, Taing MW, Kisely S, Ford PJ. Oral health impacts of medications used to treat mental illness. J Affect Disord. 2017;223:184–193.
American Dental Association. Xerostomia (dry mouth). Available at: ada.org/​resources/​research/​science-and-research-institute/​oral-health-topics/​xerostomia. Accessed December 13, 2022.
Lauritano D, Moreo G, Della Vella F, et al. Oral health status and need for oral care in an aging population: a systematic review. Int J Environ Res Public Health. 2019;16:4558.
Maldonado A, Laugisch O, Bürgin W, Sculean A, Eick S. Clinical periodontal variables in patients with and without dementia-a systematic review and meta-analysis. Clin Oral Investig. 2018;22:2463–2474.
Chen X, Clark JJ, NaorungroJ S. Oral health in older adults with dementia living in different environments: a propensity analysis. Spec Care Dentist. 2013;33:239–247.
Sifuentes AMF, Lapane KL. Oral health in nursing homes; what we know and what we need to know. J Nurs Home Res Sci. 2020;6:1–5.
Alzheimer's Association. Dental Care. Available at: alz.org/​help-support/​caregiving/​daily-care/​dental-care. Accessed December 13, 2022.
Snow T,. Workshop A: normal aging vs. not normal aging. Available at: learn.teepasnow.com/​trainer-post-certification-tools/​. Accessed December 13, 2022.
Liu X, Wang W, Wang H, Sun Y. Sentence comprehension in patients with dementia of the Alzheimer's type. Peer J. 2019;7:e8181.
Batchelor-Aselage M, Amella EJ, Rose SB, Bales CW. Dementia-related mealtime difficulties: Assessment and management in the long-term-care setting. In: Bales CW, Locher JL, Saltzman E, ed. Handbook of Clinical Nutrition and Aging. New York: Springer; 2015:287-301.
American Dental Association. Toothbrushes. Available at: ada.org/​resources/​research/​science-and-research-institute/​oral-health-topics/​toothbrushes. Accessed December 13, 2022.
Xingqun C, Jinman L, Jiyao L, et al. Comparative effect of a stannous fluoride toothpaste and a sodium fluoride toothpaste on a multispecies biofilm. Arch Oral Biol. 2017;74:5–11.
Alzheimer's Association. Late-Stage Caregiving. Available at: alz.org/​help-support/​caregiving/​stages-behaviors/​late-stage. Accessed December 13, 2022.
Kalia M. Dysphagia and aspiration pneumonia in patients with Alzheimer's disease. Metabolism. 2003;52(10 Suppl 2):36–38.
Marchini L, Ettinger R, Caprio T, Jucan A. Oral health care for patients with Alzheimer's disease: an update. Spec Care Dentist. 2019;39:262–273.
Alzheimer's Association. Inside the Brain; A Tour of How the Mind Works. Available at: alz.org/​alzheimers-dementia/​what-is-alzheimers/​brain_​tour_​part_䁰. Accessed December 13, 2022.
Positive Approach to Care. PPA Resource Card 25-pack. Available at:  shop.teepasnow.com/​product/​ppa-cheat-sheet-25-pack. Accessed December 13, 2022.
From Dimensions of Dental Hygiene. January 2023; 21(1)28,31-33.