Researchers Work to Develop a Universal Coronavirus Vaccine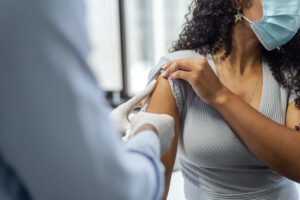 With COVID-19 still prevalent globally, how will the global pandemic end? Some researchers suggest a universal vaccine that is effective against all mutations of the novel coronavirus may be the answer and they believe this is possible—all thanks to a specially designed nanoparticle.
While researching a universal flu vaccine, investigators at the California Institute of Technology pivoted to begin work on a universal COVID-19 vaccination. Their approach uses a mosaic nanoparticle—a protein with spikes similar to the novel coronavirus—designed to adhere not only to the eight coronaviruses within the protein, but also other coronaviruses not included in the vaccine. Published in Science, the team's investigation showed the vaccine offered protection against a wide variety of coronaviruses in mice and monkeys. Based on these results, the researchers hope to eventually begin human trials.
From Dimensions of Dental Hygiene. October 2022; 20(10)8.