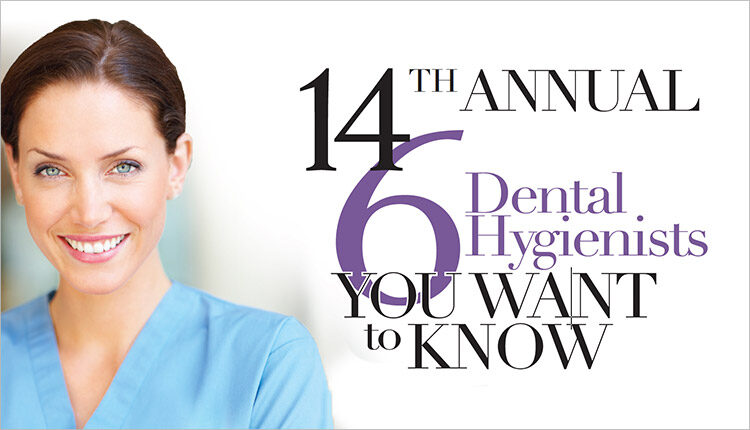 14th Annual Six Dental Hygienists You Want to Know
In the 14th edition of this annual feature, Dimensions of Dental Hygiene recognizes the best and the brightest in academia, clinical practice, industry, "mover and shaker," public health, and research.
We are excited to recognize these dental hygienists who have made a major difference within their areas of expertise—academia, clinical practice, industry, "mover and shaker," public health, and research. These visionaries have sculpted their own careers and significantly impacted the field of oral health.
Academia
Janet Kinney, RDH, MS
Janet Kinney, RDH, MS, is a clinical professor and director of dental hygiene at the University of Michigan (U-M) School of Dentistry in Ann Arbor. In September, she was installed as the inaugural Dr. Dorothy G. Hard Legacy Professor, the first professorship to honor a dental hygiene faculty member at U-M. 
A U-M graduate, Kinney spent 20 years in clinical practice both in the United States and in Europe before returning to U-M to earn two master's degrees. She has served as program director sine 2012. With a passion for both U-M and dental hygiene, Kinney led the charge to transform U-M's Bachelor of Science in Dental Hygiene Program from a 3-year program to a 2-year, year-round program, which is now fully accredited. 
Kinney's clinical research interest is in the area of salivary diagnostics. Specifically, her research has focused on investigating the role of oral fluid biomarkers, alone or in conjunction with pathogens, as predictors of periodontal disease progression. She is also a member of Dimensions of Dental Hygiene's Editorial Advisory Board.
Q. What do you love about working in academia and what do you find most challenging?
A. I love working with a team of like-minded educators. We all have a passion for teaching and are educators at heart. The students are the center of academia. Every year when our seniors graduate, my faculty and I feel this immense sense of pride. Being part of students' journeys from the time they enter the program to graduation and then transition to dental hygiene colleagues is very rewarding. 
I also enjoy the diverse range of my job responsibilities. At my institution, my position is divided into teaching, service, and research. I teach in our entry-level and graduate programs and serve on a variety of different department, school, university, and state committees and boards. These service activities give me a chance to network both inside and outside of the dental school. One of my favorite activities is participating in clinical research. It's exciting to be on the cutting edge of new discoveries and patient care treatment approaches. I continue to provide patient care each week and love the fact that I keep my clinical skills sharp. Basically, I am never bored in this position!
Of course there are challenges, and one of the most pressing challenges for me is coordinating student and faculty schedules. Just when I think we have everything in place, something will happen and all of the pieces of the puzzle become disjointed and we need to go back to the drawing board.
Q. What are the benefits and/or negatives of teaching in a dental hygiene program that is part of a dental school?
A. Having a dental hygiene program located within a dental school offers several opportunities and challenges, but by far the opportunities outweigh the challenges. One key benefit is the possible learning experiences it offers. Our students take several classes with the dental students and provide patient care in an integrated clinical setting. These intraprofessional experiences offer both groups of students a chance to learn about each other's scopes of practice and how each team member contributes to the success of a dental practice. Also housed in the dental school are several graduate specialty clinics, such as periodontics, prosthodontics, and orthodontics. Our students provide patient care at these clinics. Often students come away from these rotations having discovered that they really enjoy the specialty and want to seek employment in that setting after graduating and receiving their license. 
Compared to the dental classes, the dental hygiene classes are much smaller, about a quarter of the size. We like to say that we are small but mighty. However, being a small program in a huge school can be challenging at times. Thankfully, my dental colleagues know that when I'm in a meeting with them I will always speak up for dental hygiene and advocate for our students. 
Clinical Practice
Angie Stone, RDH, BS
Angie Stone, RDH, BS, has more than 24 years of experience as a clinical dental hygienist. She began her career in dentistry as a dental technician in the United States Navy. After completing her military service, Stone began work as a dental assistant and went on to earn an Associate of Arts in Dental Hygiene from Madison College in Wisconsin. Passionate about lifelong learning, she also completed a Bachelor of Science in Psychology from Upper Iowa University in Fayette. 
She has honed her clinical skills in a variety of settings and currently focuses on caring for patients with Alzheimer disease (AD). Both her father and aunt have AD, and she herself has the gene responsible for AD. This motivated her to develop extensive knowledge and skills in brain health. 
A popular speaker and educator, Stone has given presentations in 47 states and seven countries. She is also a published author and key opinion leader.
Q. What advice would you give new dental hygienists who are just beginning their career in clinical practice?
A. When I graduated from hygiene school, I thought I would spend the next several decades working in a dental office in my small hometown. Little did I know that would only last for 2 months! Even though I had been the lead dental assistant at that office for 5 years, the workplace environment wasn't conducive to my staying once I became a dental hygienist. I left because I was consistently asked to work as an assistant after I had finished with my hygiene patients. My boss told me I was making the worst decision of my career by leaving that office. It ended up being the best decision I ever made, even though it was hard to do. Here a few pieces of advice to consider as you begin your career: 
Practice clinical hygiene for a few years to get very comfortable with your clinical skills.

 

Pay attention to the things about clinical practice that make you want to get out of the bed in the morning. Hone in on what types of patients you connect with the most. Find a practice where you can see these kinds of patients frequently!

 

Find a mentor, but not someone doing the same things you do. Find someone who has done many things in his or her career. These are the people who can help you grow.

 

If you get restless doing clinical hygiene, it's ok. Some dental hygienists will stay clinical their entire career, and some won't. Either way is good, it simply depends on what makes each person happy.

 

Remain open to new experiences. Never stop learning. Watch and listen to what the universe places in your path. There are many clues as to what you will ultimately do in your career.
Q. You began your career as a dental assistant in the military. How did this prepare you for a career as a dental hygienist?
A. Being trained as a dental assistant at the United States Navy's School of Dental Assisting and Technology was a great educational experience and was followed by stepping into my role of ensuring the dental readiness of our nation's sailors. As I rose through the ranks, I moved into a role of preventive technician, where I provided oral health programs for our sailor's children, educated active-duty members about the importance of dental health, and provided dental hygiene services. At that time, dental technicians were allowed to do dental hygiene after completing a brief training. Further advancement placed me in administration. I was responsible for a small team that tallied and submitted dental procedures completed for 13 dental clinics to naval headquarters in Washington DC. 
Serving our country in these roles prepared me for dental hygiene school and my subsequent career paths in many ways. While working through the dental hygiene program at Madison Area Technical College, I possessed many of the basics being taught in several courses. This allowed me to focus on the things I did not know. I had experience working with patients, which was also helpful. 
From a nonclinical aspect, having worked in various positions helped me to see that a career in the dental profession was not destined to being in an operatory for 40 years. There are so many other areas we can work in, so many other things we can do! 
I also learned the importance of working as a team to reach a goal. Making sure all the military members in our care were dentally ready for deployment took a lot of teamwork. Each person on the team was as important as the next. If one person wasn't pulling his or her weight, the goal would not be reached. This also transfers into everything we do in a dental office in the civilian world. Having that instilled in me early on has certainly helped me be successful in my career. The need to work hard, study, and perform to pick up rank also set the stage for me as my career progressed. I knew if I wanted to continue to move forward and do new things, it was up to me to put in the time and energy to get there. I use the things I learned in the military three decades ago every single day. I couldn't be more thankful for the experience. 
Industry
Jill Meyer-Lippert, RDH
The career of Jill Meyer-Lippert, RDH, spans nearly 30 years. She is the founder of Side Effect Support LLC, an online resource for patients with cancer and their families, caregivers, and healthcare providers to reduce the harmful oral side effects of treatments. 
A graduate of Northeast Wisconsin Technical College's Dental Hygiene Program, Meyer-Lippert holds a certificate in oncology management, was a member of the inaugural class of the American Academy of Dental Oncology, and has authored articles in several dental and oncology publications. In addition, she provides educational and community relations services for Custom Dental Solutions as its community relations manager. 
Highly regarded for her expertise, she is a member of the Registered Dental Hygienist Advisory Board for the Oral Cancer Foundation, a thought leader for Teethcloud, and a member the Triage Cancer Speakers Bureau. Meyer-Lippert is also a member of the American Academy of Dental Hygiene, American Dental Hygienists' Association, Wisconsin Dental Hygienists' Association, and Wisconsin Cancer Collaborative.
Q. What sparked your passion for caring for patients with cancer?
A. In the early 1990s, I watched my mom suffer with painful oral side effects from chemotherapy as I began my first job in dentistry. I realized there was very little information available for both patients and healthcare providers to prevent or manage these issues. As a result, people were suffering with added discomfort and risking serious infection during the treatment process. Some also experienced damage to their long-term oral health that resulted in additional physical, emotional, and financial hardships years after cancer treatment was complete.
Losing my dad to cancer in 2005 was my call to action. I first created a volunteer program at a local oncology clinic, providing oral care kits that contained information about oral side effects of treatments along with a sampling of oral health products. After providing this service for several years, the donations necessary to stock the kits ran low. I was unable to continue the program but my desire to fill this gap in care remained. I longed to find a convenient and easy-to-use resource to address the oral health concerns associated with cancer care, so I decided to create one! In 2013, Side Effect Support was launched as an online resource for patients with cancer and their families, caregivers, and healthcare providers to reduce harmful oral side effects of treatments. 
While I continue to expand products and services at Side Effect Support, my goal remains the same: to improve the cancer care experience not only during the treatment process but throughout survivorship. Currently, Side Effect Support provides free educational articles, printable patient brochures, affordable over-the-counter oral care products, and, through a partnership with The TeleDentists, virtual dental care within 10 minutes or less 24/7, 365 days a year. Presentations are available for support groups and healthcare providers, including continuing education for dental professionals. Our new "Partner's Marketplace" will offer direct access and discounts for a growing number of products and services with partner companies.  
I'm grateful for finding a way to create something positive out of very challenging times. My greatest hope is that Side Effect Support will not only reduce the fear and uncertainty that so often accompanies a cancer diagnosis, but also improve comfort and help to achieve superior treatment outcomes through a focus on oral health.
Q. What qualities do you think are necessary for dental hygienists to transition from clinical practice to a career in industry?
A. I think the most valuable qualities are the desire to never stop learning and to always strive to excel in your role. Every class, certification, and professional relationship is an opportunity to open a new door. And sometimes these opportunities arise very unexpectedly.
It is also very important to think outside of the box, to be open to options beyond traditional roles, and not let a fear of failure hold you back. By nature, most hygienists are perfectionists but that sometimes results in creating our own limitations. I think that is where so many hygienists fall into the feeling of being "trapped." You will never know until you try!
"Mover
and
Shaker"
Lancette VanGuilder, RDH, BS
Lancette VanGuilder, RDH, BS, has spent the past two decades actively involved in the dental industry as a speaker, author, clinician, and public health advocate. A graduate of the University of South Dakota, she currently resides in Reno, Nevada. A past president of the Nevada Dental Hygienists' Association (NDHA), VanGuilder is a recipient of the Nevada Dental Hygienist of the Year Award and received the Innovative Career Vision Award for her work in all seven professional roles of the dental hygienist. She served on the board of directors for the American Dental Hygienists' Association (ADHA) and has received the ADHA Irene Newman Professional Achievement Award for her contributions to advancing the art and science of the dental hygiene profession over the past 15 years. 
VanGuilder is an internationally recognized continuing education speaker and serves as a key opinion leader in the dental industry. Currently, she is an airway ambassador at Sierra Smiles, a complete health dental practice. VanGuilder also works as a clinician in private practice; owns/operates her own mobile dentistry business, Community Dental Connections; developed a national continuing education (CE) company, Hygienist for Health; and volunteers as a vaccinator with Battle Born Medical Corp. To date, she has administered nearly 10,000 COVID-19 vaccines.
Q. How did you become a COVID-19 vaccinator, and what sparked your interest in this?
A. There has never been a better time for dental hygienists to meet the needs of our communities. During the earliest days of the COVID-19 pandemic, I signed up to volunteer with COVID-19 screenings and contract tracing. I worked tirelessly alongside colleagues from a variety of organizations to elevate the role that licensed dental practitioners can play in vaccine administration. After Nevada's Governor Steve Sisolak signed the directive expanding the list of approved vaccinators to include dental hygienists, I quickly completed my training and started giving vaccines. I have had the opportunity to provide thousands of COVID-19 vaccines to adults and children, individuals experiencing homelessness, seniors, firefighters, emergency medical technicians, casino workers, and more. I was even chosen to vaccinate my city's mayor. 
My passion for dental hygienists giving immunizations actually began back in 2017 when I began to learn more about the human papillomavirus (HPV) as I was developing an oral cancer CE course. As data continued to emerge on HPV-related cancers, I felt compelled to find a way that the dental hygienist could help with cancer prevention. In 2018, I began my work with the NDHA and the Nevada Department of Health and Human Services on the possibility of dental hygienists administering HPV vaccines. In 2020, the United States Food and Drug Administration approved the HPV vaccine, Gardasil 9, as a cancer prevention tool for oropharyngeal and other head/neck cancers. By the end of 2020, a global pandemic prompted the development of a whole new vaccine for disease prevention, and my vaccine interest broadened.
Whether it is in a public health setting, a mobile outreach program or in a dental office, dental hygienists can play a key role in health education, screenings, and vaccine administration. Licensed dental hygienists are a ready-made workforce. We are highly educated, accustomed to taking CE courses to advance our skills, and maintain a great interest in increasing medical-dental collaboration. Dental hygienists and dentists can both play a vital role in unprecedented times such as these, where efforts are so vitally needed, while also preparing for the future of healthcare. 
Current opportunities for vaccine administration by dental hygienists could include those mandated for school entry, influenza, HPV, and COVID-19. Looking to future possibilities, there are many other vaccines in the pipeline being studied for conditions such as human immunodeficiency virus, periodontal diseases, allergies, Alzheimer disease, and other infectious diseases.
Q. Discuss your role as an unpaid lobbyist for legislation related to dental hygiene practice?
A. I have had the tremendous privilege of serving as an unpaid lobbyist in Nevada for many years. This has allowed me to play a key role in helping shape healthcare policy by writing bill draft requests, securing bill sponsors, providing legislative testimony, and working closely with state policymakers, other lobbyists, and various stakeholders. Some of my proudest moments have been dedicated to improving access to care and expanding the scope of practice for dental hygienists. I have advocated for opportunities for the dental hygienist with teledentistry, self-regulation, botox, dental therapy, and immunizations. I have experienced many highs and lows in my legislative journey but advocacy still remains among my top priorities and the future is bright for the dental hygiene profession!
Creating systems change takes courage, flexibility, and collaboration. Serving as an unpaid lobbyist has allowed me an avenue to help build bridges between the dental industry, the state legislature, the media, and other organizations. It is important for dental hygienists to be at the table where critical conversations are happening and to be recognized as an elite healthcare provider and the disease prevention specialists that we are.
Public Health
Amber Lovatos, RDH, BSDH, MAADH
Amber Lovatos, RDH, BSDH, MAADH, is the clinical director of dental services at a nonprofit medical and dental clinic in Tomball, Texas. A graduate of the University of Texas School of Dentistry at Houston, she serves as an adjunct assistant professor at her alma mater. Lovatos speaks nationally and regionally on teledentistry, public health, caring for the Latin community, abuse, and human trafficking. She is the co-founder of Dental Hygiene Spark, a social media platform dedicated to empowering dental hygienists. Identifying as "The Latina RDH," Lovatos is also the founder of Latin RDH, a nonprofit dedicated to providing professional development and mentorships to Latino/a/xs in dental hygiene. She is also the host of a spinoff to "A Tale of Two Hygienists" podcast, "Un Cuento De Dos Higienistas." 
Lovatos is the recipient of numerous awards including the American Dental Education Association's (ADEA) Crest Oral-B Scholarship for Dental Hygienists' Pursuing Academic Careers, ADEA Sigma Phi Alpha Scholarship, American Dental Hygienists' Association (ADHA) Irene Woodall Graduate Scholarship, and ADHA Mars Wrigley Community Outreach Grant.
Q. What inspired you to go into public health?
A. I was inspired to go into public health because I saw myself and my parents in my patients. I knew that I could do for my community what was not done for me. I grew up without access to dental care and know firsthand the consequences of that. I know what it is like to have tooth pain, to not chew on your molars for fear of the pain, and to lose teeth prematurely due to decay. I also know the importance and impact that knowledge can have on an individual's oral health. I also know that I hold a great gift within me. I have the gift of knowledge and the ability to share that knowledge with others. I feel that I have been given this gift for a reason, and it is my responsibility to use it to care for my community. And if I am being honest, I am the happiest when I am serving people. I work in public health because it fulfills me.
QYou've written a children's book. What do you hope it accomplishes?
ASmiles Por Vida is a not-for-profit book that tells the story of Mateo's first dental visit. We wanted to create a book that better represented the Latin community. It is written in the language of Spanglish, as we want to normalize speaking Spanish and English in one sentence, as many Latins living in the United States do. Socially, we want our community to see themselves represented in dental children's books. The purpose of our book is to provide basic dental education to Latin children and their families. Our story follows Mateo as he tells his abuelita (grandmother) about his dental experience and ends with him inviting her to the dentist, too.
Research
Marilynn Rothen, RDH, MS
Marilynn Rothen, RDH, MS, is a clinical professor at the University of Washington (UW) School of Dentistry in Seattle. She teaches dental hygiene students to provide preventive and restorative oral healthcare to children ages 0 to 5, and she directs the Master of Science in Oral Health Sciences Program for dental hygienists. With nearly 30 years of experience conducting research studies and clinical trials, Rothen is also the manager of the school's Clinical Dental Research Center. As a clinician, she has provided dental hygiene care to patients with extreme dental fear for 30 years. The 2015 president of the Washington Dental Hygienists' Association, Rothen also serves at the national level for the American Dental Hygienists' Association on the Research Advisory Group and is a member of the International Association for Dental Research.
Q. Discuss a pivotal event in your life that shaped your professional aspirations.
A. Graduation from dental hygiene school took me straight in to a periodontics practice. I had excellent mentorship from the senior hygienist in the practice, but despite being able to administer local anesthesia and nitrous oxide and trying to be kind and gentle, I felt that most patients were anxious about receiving the dental care we provided. Something was lacking in our ability to help patients cope. When I returned to Seattle after working in Switzerland for about 6 years, I was ready for a change. I took a position as a clinical instructor in a community college dental hygiene program. One day a psychologist from the University of Washington School of Dentistry who was giving a guest lecture on patient management techniques used in the Dental Fears Research Clinic (DFRC) shared that the clinic was looking for an additional hygienist. After meeting with the dentist and psychologist who had established the DFRC, I knew I wanted to learn the techniques they had developed for treating fearful dental patients. I went through a training period where I learned about studies they had conducted to understand the development of dental fear and their research on strategies and techniques patients and clinicians could use for managing dental fear. This was evidence-based practice before the term had even been coined. All of the providers in the clinic—psychologists, dentists, and the dental hygienist—were heavily involved in research and their excitement for their work was palpable. Imagine being able to contribute to the generation of new knowledge that would have an immediate effect on the patients you treated. Seeing the link first-hand made me want to contribute if the opportunity presented itself and it did about 2 years later. A new dental research center was being established in the school and one of our dental colleagues who had worked in the DFRC asked me to be the dental hygienist on his 5-year grant studying acute and chronic drug tolerance through the use of nitrous oxide. With that, my 30 year career in clinical dental research was born.
What advice do you have for dental hygienists working in clinical practice who are interested in research? 
A. Our careers in dental hygiene are a path with opportunities that present themselves along the way. There are two aspects to this: one is to take a path where opportunities are likely to arise and the other is to recognize them when they do and to be open to taking advantage of them. 
Where are opportunities to become involved in research likely to arise? Much of the funding for research goes to academic institutions, comes from foundations, or takes place in the corporate "research and development" area. Many dental hygienists, interested in enlarging their horizons, are seeking advanced degrees to complement their dental hygiene education, and this can make them eligible for new positions such as those in research. It can be an excellent way to create a network of resources to learn about potential opportunities and the additional credentials can also put you in a position to seek research funding. If you feel there is a gap in our knowledge, something lacking in our ability to treat patients, an area that you are interested in or feel passionate about, read up on it. Who is doing work in that area? What companies make or produce the kind of products or services that might be related? What foundations are working to address the challenge? Many of these people gather at regional or national meetings such as the American Dental Hygienists' Association Annual Conference to present their work and network with colleagues. Your aim should be to become known to the people working in your area of interest. 
The second aspect is to recognize an opportunity and to be open to taking advantage of it. An opportunity might begin as teaching part-time, working in a related area, or volunteering with a program, all the while the people who can open doors for you are getting to know you. When the offer comes to take on something new, it can be intimidating to jump in, and you may not think you are prepared for it. My experience is that people who ask you to take on a new role have confidence that you have the qualities needed and they are ready to help you succeed. Research is becoming more and more team-based and interdisciplinary. As the profession of dental hygiene gains recognition and with the increasing awareness of the contribution of oral health to systemic health, the value of dental hygienists to the research team is increasingly appreciated.
Categories
From Dimensions of Dental Hygiene. December 2021;19(12)18,21-23.