What if Teeth Could Repel Plaque?
A new, food-safe dental gel ingredient removes plaque 250% better than current toothpastes.
Traditional toothpastes approach plaque reduction as a scrubbing or bactericidal problem. Neither approach seems to work because—as every oral health professional knows—most adults have gingival inflammation, bleeding, and more. 
Why does plaque stick to teeth? Plaque initially sticks to teeth due to electrostatic forces created by the local biofilm environment. If that environment is safely altered, then the negative electrostatic charge of the teeth and the negative electrostatic charge of the bacteria will naturally repel each other. Researchers have not traditionally approached plaque control at this molecular level. Scientists at the innovative Silicon Valley oral care sciences company, Livionex Inc., however, asked just that question and identified activated edathamil, a United States Food and Drug Administration-approved, food-safe compound, as an ingredient that reduces the adhesion of dental biofilm at the molecular level. This unique ingredient weakens the bond between the tooth and the biofilm, preventing new plaque from attaching to the tooth surface—like Teflon for teeth.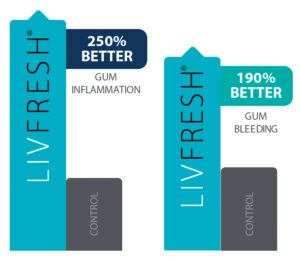 LivFresh Dental Gel utilizes this unique ingredient to control plaque, enabling the teeth to almost clean themselves, although brushing is still required! Continued use makes the tooth surface progressively easier to clean the next time the patient brushes. In addition, LivFresh Dental Gel doesn't require patients to change their brushing habits, only to replace their regular toothpaste with LivFresh Dental Gel. 
Research Demonstrates Efficacy
A 2020 double-blind control study documented the efficacy of LivFresh Dental Gel in periodontal maintenance patients with type 1 and type 2 periodontitis compared to a leading plaque and gingivitis control toothpaste with the American Dental Association (ADA) Seal of Acceptance.1 The study documents LivFresh's superiority in reduction of plaque, gingival inflammation, gingival bleeding, and periodontal pocket depths (Figure 1). A prior study also showed LivFresh Dental Gel reduced plaque up to 250% more as well as provided greater reductions in gingival inflammation and bleeding than antimicrobial toothpastes with the ADA Seal of Acceptance.
Completely New Technology
LivFresh Dental Gel with its inclusion of activated edathamil is completely new—not just a reformulation of previously available ingredients. LivFresh does not contain abrasives, antimicrobials, preservatives, or artificial flavors. Designed for patients who find plaque removal difficult, it is especially beneficial for those in periodontal maintenance. If patients continue using the same old toothpaste, it should be no surprise when they return for their next maintenance appointment with the same oral problems. If patients don't do something different, nothing will change. Patients still need to brush correctly, but LivFresh Dental Gel is that "something" different they need to control plaque and support their periodontal and gingival health. A difference you and your patient can see and document with the reduction or elimination of gingival redness, bleeding on probing, and periodontal pocket depths. n
References

 
Kaur M, Geurs NC, Cobb CM, et al. Evaluating efficacy of a novel dentifrice in reducing probing depths in stage I and II periodontitis maintenance patients: a randomized, double-blind, positive controlled clinical trial. J Periodontol. 2021;92:1286–1294.
Dadkhah M, Chung NE, Ajdaharian J, Wink C, Klokkevold P, Wilder-Smith P. Effects of a novel dental gel on plaque and gingivitis: a comparative study. Dentistry (Sunnyvale). 2014;4:239.
Sponsored by:
Livionex Inc.
(408) 884-1522
From Dimensions of Dental Hygiene. December 2021;19(12)24.