Save the Tooth
Replantation of a permanent tooth is possible if an injury is addressed quickly and correctly. Dennis J. McTigue, DDS, MS, shares his expertise on the prevention and treatment of dental trauma in children.
Q. Considering that dental hygienists are the prevention specialists in the dental practice, what do you see as their role in preventing dental trauma in children?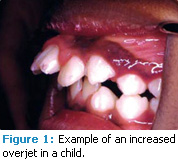 A. Dental hygienists can provide anticipatory guidance by identifying children who are at increased risk of dental trauma and discussing this risk with them and their parents. The permanent dentition of children begins to erupt around the age of 6 years to 7 years. Children with permanent dentition who have an increased overjet (Figure 1) are at higher risk of dental trauma.1 A normal overjet is 0 mm to 3 mm. Children who have twice the normal overjet (3 mm to 6 mm) experience twice the number of injuries to the teeth.2 Kids who have three times the normal overjet (6 mm to 9 mm) experience three times the number of dental trauma injuries.2 These children are easy to identify and dental hygienists should educate them and their parents about their increased risk of dental trauma and provide guidance on what to do if an oral injury occurs.
Children with increased overjet should wear protective mouthguards when playing contact sports, such as basketball, field hockey, soccer, and football. Typically, kids will only wear mouthguards when they are required to, but many injuries occur when playing unorganized sports (eg, skateboarding, roller skating) or just playing, such as riding a bicycle or jumping on a trampoline. Dental hygienists should encourage children with increased overjet to wear a mouthguard even during these everyday activities.
Q. What type of mouthguard do you recommend?
A. The best mouthguard is the one that the child will wear. The most comfortable mouthguards are the ones created in the dental office or laboratory after taking an impression, because they fit better. The evidence is unclear about whether this type is more effective in protecting the mouth.3 Dentist-made mouthguards are, without a doubt, more expensive, which means many kids will not be able to afford them. A good alternative is the "boil-and-bite" guards available at drug stores. Evidence shows that any mouthguard is better than no mouthguard.4
Q. What should parents and children do when a permanent tooth is knocked out?

A. The absolute best treatment is immediate replantation at the site. If a tooth is knocked out, it should be rinsed off, put right back into the socket, and held there until the child can be immediately seen by a dentist. Evidence is overwhelming that if teeth get replanted immediately, they have a great likelihood of reattachment success. With every minute that passes, the likelihood of saving the tooth decreases.5,6 If the tooth can't be put back into the socket, then it should be placed in milk and the child should be seen by a dental professional as soon as possible.
Dental hygienists can be instrumental in accurately advising parents, children, and dental staff members who interface with the public about what to do when a tooth is knocked out. I provide a handout to my patients (available with the web version of this article) that provides instructions on what to do when a tooth is broken. Ensuring that the front office staff who answer the phone are educated about what to advise parents when they call to report a lost tooth can make the difference between the possibility of replantation and complete loss of the tooth. Dental hygienists can inform whoever interfaces with the public in the dental office that this advice is critical to saving a tooth that has been knocked out.
Q. What is the most common type of dental trauma in children?
A. In the permanent dentition, the most common injuries are broken teeth, usually without nerve exposure. These types of injuries are not emergencies. However, sometimes teeth that get fractured also experience unnatural tooth movement. Permanent teeth that get moved—called luxation injuries—present a dental emergency. They must be immediately put back into position.
Q. What are the most frequent oral injuries among children with deciduous teeth?
A. The most common dental trauma seen in preschool-age children is tooth movement. Deciduous teeth have shorter roots and the alveolar bone and supporting tissues that hold the teeth are spongier with large marrow spaces. When young children experience dental trauma, the supporting tissues tend to be forgiving and they move the teeth through the bone. Many times these teeth can be repositioned and they heal just fine. Primary teeth seem to rebound from injury better than permanent teeth, possibly because they are designed to resorb once the permanent dentition erupts. If a primary tooth is lost, it is often not replanted because the permanent dentition is developing next to the apices of the primary roots and if the tooth is replanted it might become infected. The infection could damage the permanent tooth. Not counting the esthetic consideration, the downside to losing a primary anterior tooth is minimal.
Q. Does dental trauma in the primary dentition affect the esthetics of the smile in adulthood?
A. Yes, it can, particularly if the injury occurs before the child is 3 years old. An intrusion injury—when a force pushes the teeth straight up into the gum—can cause the root of the primary tooth to impact the developing permanent tooth while it is still soft. When the permanent tooth erupts, a white or yellow spot may be present. This is why we are so conservative about treating injuries to anterior primary teeth. If they are severe, we want to extract the primary tooth in order to prevent any injury to the permanent teeth.
The views expressed in this interview are those of Dennis J. McTigue, DDS, MS.
REFERENCES
Glendor U. Aetiology and risk factors related to traumatic dental injuries—a review of the literature. Dent Traumatol. 2009;25:19-31.
Borzabadi-Farahani A, Borzabadi- Farahani A, Eslamipour F. An investigation into the association between facial profile and maxillary incisor trauma, a clinical non-radiographic study. Dent Traumatol

. 2010;26:403-408.

Maeda Y, Kumamoto D, Yagi K, Ikebe K. Effectiveness and fabrication of mouthguards. Dent Traumatol

. 2009;25:556-564.

Lim D, Robinovitch S, Goodman D. Effect of mouthguards on the transmission of force across the human jaw. Clin J Sport Med

. 2005;15:313-319.

McTigue DJ. Diagnosis and management of dental injuries in children. Pediatr Clin North Am

. 2000;47:1067-1084.

Turkistani J, Hanno A. Recent trends in the management of dentoalveolar traumatic injuries to primary and young permanent teeth. Dent Traumatol

. 2011;27:46-54.
From Dimensions of Dental Hygiene. May 2011; 9(5): 48, 50.