PRODUCT

GUIDE

|

►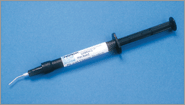 New Color for Wet Bonding Sealant

Pulpdent Corp, Watertown, Mass, announces that its Embrace™ WetBond™ Pit and Fissure Sealant is now also available in off-white as well as a natural color. Embrace is designed to bond chemically and micromechanically to the moist tooth, integrating with the tooth structure to create a strong, margin-free bond that virtually eliminates microleakage. (800) 343-4342; www.pulpdent.com.

Handpiece Henry Schein Inc, Melville, NY, introduces the Acclean Hygienist Handpiece. The small, lightweight, and ergonomically-shaped handpiece is designed for comfort and reduced hand fatigue. The low speed handpiece is also quiet to minimize patient anxiety. The patented collet mechanism is designed to be wobble-free and is compatible with most disposable prophy angles. The lube-free motor doesn't require maintenance and every handpiece is fully autoclavable. (800) 372-4346; www.sullivanschein.com.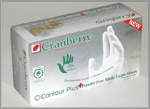 Gloves Cranberry USA Inc, American Canyon, Calif, provides Cranberry Contour Plus™ Nitrile powder-free examination gloves. The gloves are coated with USP-grade vitamin E and lanolin to combat dry skin. Contour Plus gloves are first-touch processed and enhanced to reduce irritants. They are available in extra small, small, medium, large, and extra large. (888) 811-6839; www.cranberryusa.com.

Floss

Procter & Gamble, Cincinnati, announces new Crest Glide Deep Clean Floss with broader fiber designed to deliver up to 90% more micro-textured surface area than Glide original. The patented low-density monofilament fiber delivers extra softness and comfort and resists shredding. A coolant also creates a cooling sensation designed to leave a fresh and clean feeling. (800) 543-2577; www.dentalcare.com.

At-home Whitening Life-Like Cosmetic Solutions, Santa Barbara, Calif, introduces newly upgraded mini-kit packaging, providing more reusable components for its line of at-home whitening products. The kits include two 5.5 cc twist and seal syringes, a stent case, tote bag, patient instructions, and reusable identification tag with metal clip. Percentages of carbamide peroxide include 10%, 15%, 20%, and 30%. (800) LIFE-LIKE; www.life-like.com.

Prophy Angle

Denticator, Earth City, Mo, offers a full line of latex green disposable prophy angles. The Original Green prophy angle is durable, effective, and reliable. Offering a four web cup for quick, efficient cleaning, the Original Green prophy angle is designed to offer maximum comfort and smooth performance. (800) 227-3321; www.denticator.com.

Piezoelectric Ultrasonic Generator ACTEON North America, Mount Laurel, NJ, announces Satelec®'s latest piezoelectric ultrasonic generator—Suprasson® P5 Newtron. The Newtron technology enables real time adjustment of the tips single plane oscillation amplitude (Cruise Control™), designed to provide a smooth, constant, and powerful vibration. Guided by the Color Coding System to select the required setting, the power is automatically controlled and adjusted accordingly. The P5 Newtron is easy to install, compact, and reliable. (800) 289-6367; www.acteongroup.com.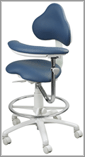 Dental Stools

Brewer Design, Menomonee Falls, Wis, introduces the ErgoFlex series of professional dental stools designed to increase comfort and productivity while preventing musculoskeletal disorders. ErgoFlex features a waterfall front to relieve pressure off the back of the legs. It also features a compact design. The ErgoFlex is available in a low height of 14" to a high height of 31". (800) 558-8934; www.brewer-design.com.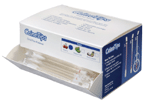 Oral Pain Reliever

J. Morita USA, Irvine, Calif, provides CaineTips, designed for intraoral application offering easy-to-use topical pain relief. Each individually wrapped disposable swab is prefilled with a 20% benzocaine solution. Single dose packaging allows for direct and precise application. CaineTips are available in cherry, peppermint, and pina colada flavors. (888) JMORITA; www.jmoritausa.com.
X-ray Aprons

DUX Dental, Oxnard, Calif, offers Lead Free X-Ray Aprons, containing xenolite alloy sheeting that replaces the need for lead. Constructed with a wear resistant, microfiber front and nonslip corduroy back, the Lead Free Aprons exhibit the same attenuation for x-radiation as a leaded apron. Each apron weighs approximately 50% less than conventional aprons. The aprons are 100% recyclable. (800) 833-8267; www.duxdental.com.

Dental Gel

Oxyfresh Worldwide Inc, Coeur d'Alene, Idaho, has added its patented odor fighting combination of zinc and Oxygene® to its gel. The new Super Relief Formula includes aloe vera and chamomile to help heal, condition, soothe, and deodorize oral wounds, abrasions, and irritated gums. Super Relief Dental Gel has a wintergreen flavor and Oxyfresh has added tea tree oil and folic acid to strengthen its healing power. (800) 333-7374; www.oxyfresh.com.
8
|
►
---
From Dimensions of Dental Hygiene. December 2005;3(12):42-43.