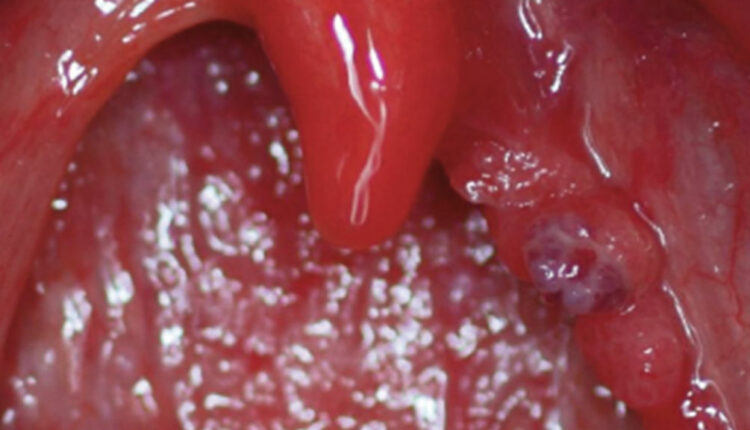 GALLIASM [CC BY-SA 4.0 (HTTPS://CREATIVECOMMONS.ORG/LICENSES/BY-SA/4.0)]
Preventing HPV-Related Cancers Through Immunization
Dental hygienists play an important role in creating a pro-HPV vaccine practice.
PURCHASE COURSE
This course was published in the August 2019 issue and expires August 2022.
The authors have no commercial conflicts of interest to disclose.
This 2 credit hour self-study activity is electronically mediated.
EDUCATIONAL OBJECTIVES
After reading this course, the participant should be able to:
Discuss the growing prevalence of human papillomavirus (HPV)-related cancers.
Identify the role of the HPV vaccine in preventing cancer.
Explain the role of dental hygienists in creating a pro-HPV vaccination practice.
List strategies for improving parents' acceptance of HPV vaccination.
---
The rates of oropharyngeal cancers are increasing rapidly in the United States, posing a major public health challenge.1,2 Primary anatomical sites for oral cancers include the side of tongue and below the tongue while primary sites for oropharyngeal cancers include the tonsils and base of tongue or oropharynx. However, oral cancer can encompass all areas of the mouth, including the gingiva and floor of the mouth.3 The American Cancer Society estimates that 53,000 new cases of oral and oropharyngeal cancers will be diagnosed in 2019, resulting in 10,860 deaths.3 Previously, major risk factors for oral cancers included tobacco  and alcohol use; however, current research has now established that 70% of oropharyngeal cancers are caused by the human papillomavirus (HPV).4,5 Whether alcohol and tobacco use impacts HPV is not clearly understood. However, smoking may support the progression of HPV infection to carcinogenesis.6
HPV is a group of more than 150 viruses, with some types responsible for causing cancers of the cervix, vulva, vagina, penis, anus, mouth, and throat.2 HPV is the most common sexually transmitted disease and the US Centers for Disease Control and Prevention (CDC) estimates that approximately 80 million Americans are currently infected and 14 million will acquire the virus each year.7 In fact, almost all sexually active people will have HPV at some point in their lifetimes.7 Most HPV infections go away within 1 year to 2 years following infection and do not cause cancer. However, persistent infections with high-risk types (HPV16 and HPV18) can lead to cell changes and cancer. HPV16, the type responsible for cervical cancer, also is linked to oropharyngeal cancer.2 HPV-related oropharyngeal cancers have been increasing at an alarming rate and have surpassed HPV-related cervical cancers.1
The US Food and Drug Administration (FDA) has approved three vaccines to prevent HPV related viruses: Gardasil®, Cervarix®, and Gardasil 9®. All three protect against HPV 16 and 18; however, as of May 2017, only Gardasil 9 is available in the US.8 An HPV vaccine has been available for girls ages 9 to 26 since 2005 and for boys since 2011. Currently, it is recommended that all children ages 9 to 13 receive two doses of Gardasil 9, with the second dose given 6 months to 12 months after the first. After age 13, youth should receive three doses, with the first two being given 2 months apart and the third dose given 6 months after the second dose. In 2018, the FDA approved the use of Gardasil 9 for individuals 27 through 45 to assist in preventing HPV-related diseases across a broader population.9 The CDC followed suit in 2019. Overall, the HPV vaccine is safe with few adverse reactions, with the most frequent being similar to those experienced with other vaccinations, such as redness and soreness at the injection site. In addition, a few individuals may experience an elevated temperature for up to 15 days following the injection.10
Despite the availability and proven safety and effectiveness of the HPV vaccine, uptake in the US has been low compared with other childhood vaccines.11 Factors contributing to low HPV vaccine uptake include: low levels of knowledge regarding HPV and the HPV vaccine, misconceptions and concerns among parents, lack of health care provider recommendation, and lack of supportive systems and polices such as not requiring the vaccine for school entry.11,12 Moreover, suboptimal uptake of the HPV vaccine could be attributable in part to the "feminization of HPV."13 Specifically, support for HPV prevention activities significantly has struggled due to the following: its association with sexual activity; early research and marketing conducted only among females and focused solely on cervical cancer, thus positioning HPV as a female-specific disease; and the lag in vaccine approval for males. In addition, both vaccine hesitancy and anti-vaccine attitudes in general have become more prevalent in recent years, limiting optimal HPV vaccine uptake.14
CONTRAINDICATIONS
There are a few contradictions for the HPV vaccine among certain individuals. While data on vaccination during pregnancy are limited, pregnant women should not receive the HPV vaccine. However, no adverse effects have been reported on the developing fetus in cases where the woman was vaccinated but unaware she was pregnant. In addition, individuals allergic to latex should not receive the HPV vaccine via a prefilled syringe as the syringe tip may contain latex. Further, individuals who have an acute illness should wait until their symptoms have passed.10
ROLE OF THE DENTAL HYGIENISTS
The American Dental Association (ADA) and the American Academy of Pediatric Dentistry (AAPD) both recognize the important role that dentistry has in increasing HPV vaccine uptake. The ADA states that "oral health professionals should strongly and clearly recommend HPV vaccination to all age-eligible patients"15 and the AAPD states oral health professionals should "advocate for HPV vaccination as cancer prevention."16 Dental hygienists need to recognize their role in HPV prevention and discuss HPV with their family, friends, patients, and communities.17
Dental hygienists are leaders in health education and promotion both in their clinic setting as well as in the community. As such, dental hygienists are uniquely positioned to increase uptake of the HPV vaccine, especially when they work in a practice that includes children and youth. Dental hygienists are trained to provide oral health education and oral cancer examinations. Thus, educating patients about how to prevent cancers and providing oral cancer examinations are within dental hygienists' scope of practice. Additionally, because at least one state has legislation allowing dentists to provide HPV vaccinations, others are likely to follow, which strengthens the call to action on the part of dental hygienists.18
Nonetheless, studies have shown that neither dentists nor dental hygienists are especially knowledgeable about HPV or its prevention. Oral health professionals have not been receptive to educating their patients about the need for HPV vaccination for a variety of reasons. For instance, although dental providers strongly believe it is within their role to prevent HPV-related diseases, noted barriers to discussing HPV prevention include: patient characteristics such as age, low HPV-related health literacy, a practice environment that has open operatories and reduced privacy, concerns about liability, and the sensitive nature of the topic.19–21 In addition, new research results are continuing to change recommendations for this vaccine, requiring health care providers to always be on the alert to ensure they understand and share with patients the most recent findings.
ESTABLISH A PRO-HPV VACCINE PRACTICE
Health care professionals must be health literate about this vaccine, the cancers it prevents, and its connection to oral health. First, be well informed about oral and oropharyngeal cancers. Ensure the use of the most recent research findings from the most reliable sources such as the FDA, National Institutes of Health, CDC, National HPV Vaccine Roundtable, President's Cancer Panel, and ADA. Sign up for current list serves from these organizations. Second, ensure all staff are thoroughly trained and comfortable with providing a comprehensive oral cancer examination. Once well-armed with current information and skills, take a lead role in the clinic setting. Three of the four goals established by the President's Cancer Panel are particularly relevant for practicing dental hygienists. These include:
Reduce missed clinical opportunities to recommend and administer HPV vaccine.
Increase parents' acceptance of HPV vaccine.
Maximize access to the HPV vaccine.
To accomplish these goals, dental hygienists need to work with their dentist-provider to create and maintain a pro-immunization environment. A pivotal step to being pro-HPV vaccine is to obtain immunization history on patients during the health intake and when updating it at each appointment. Using a tracking system is essential to identifying patients who are due for vaccination. Tracking systems are relatively easy to embed into electronic health records. Further, when working in a health maintenance organization or a federally qualified health center in which dental and medical electronic health records are interoperable, it provides even greater opportunity to increase access to HPV vaccine. For example, with a 10-year-old patient, the dental hygienist can check to determine whether she has had the HPV vaccine. If not, suggest to the parents the need for the vaccine and also send a prompt to the child's pediatrician within the health system.
Dental hygienists also need to know where their patients can obtain the HPV vaccine. For example, if patients' primary care providers are co-located with the dental practice, patients should know they can obtain the HPV vaccine from their primary care providers and may want to make an appointment for the vaccination after their dental appointment. Individuals also can obtain the HPV vaccination at pharmacies that have walk-in or minute clinics. Patients also need to understand that while most insurance plans cover the vaccine, it is expensive ($240 per injection) and there may be a co-pay. Re-remind those who are concerned about cost that the vaccine prevents five cancers.
The Agency for Health Research and Quality's universal precautions are designed to reduce complexities within the clinic and across health systems, and provide helpful information for oral health professionals in their efforts to become a pro-HPV vaccine setting.22 All staff members with patient contact must be educated about HPV and clinics should establish clear responsibilities among team members with regards to patient education on cancer prevention, including HPV vaccine recommendation and documentation in the patient's dental record. All staff members with patient contact should be trained to communicate strongly the need for HPV vaccine action. Further, all staff members must be enabled to address any questions patients and families may have. This may be challenging, as the virus is transmitted through vaginal, anal, and oral sex. The focus, however, of the pro-vaccination culture should be that the vaccine prevents multiple cancers. A priority should be to listen to any concerns the parents may have and to counsel parents and children about the safety of the vaccine.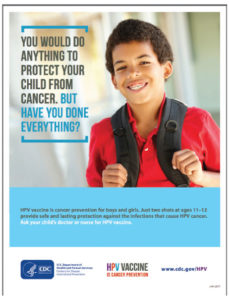 INCREASE PARENTS' ACCEPTANCE
Educating parents about their children's need for the HPV vaccine can be challenging, but the CDC has developed some useful suggestions.23 For example, the CDC provides excellent posters for download and helpful talking points (Figure 1).24
Previously, the FDA and CDC suggested different age ranges for Gardasil 9, which impacted whether health insurance payers would cover the vaccine at different age levels and may have confused parents. However, on June 26, 2019, the CDC adopted the same age range (9 to 45) as recommended by the FDA. The CDC also changed its age recommendation for catch-up vaccinations for both women and men to age 26, which is the same as the FDA's recommendation.
In the dental practice, all relevant print and nonprint literature should be evidence-based, written in plain language, easy to understand, and culturally appropriate. Established tools, such as Patient Education Materials Assessment Tool or the Clear Communication Index, should be used to evaluate print/audio-visual materials to ensure they are user friendly.25,26
MAXIMIZING ACCESS
Many clinical dental hygienists also work in their communities either as part of their position or as a volunteer. Using these connections can be useful in maximizing access to the HPV vaccine. School nurses are usually excellent partners for educating teachers, staff, and parents about the need for the HPV vaccine. Other venues to consider include the 4-H network for children and youth and boys and girls clubs. In addition, dental hygienists can increase awareness of the need for this vaccine through local and state dental hygiene organizations. For instance, put together a session on HPV and its vaccine or serve as a speaker on a panel that may include other vaccines such as flu or measles.
In conclusion, HPV is a very common virus and the prevalence of HPV-related oropharyngeal cancers is increasing rapidly. Prevention of HPV-related cancers requires a multidisciplinary approach and dental hygienists are key members across health care teams. As such, dental hygienists should become knowledgeable about HPV, the HPV vaccine, and its association with oropharyngeal cancers. Dental hygienists also can champion system-level changes, such as improving patient education, organizational structures, and health care linkages that promote HPV vaccination, and ultimately, improve the health of their patients.
ACKNOWLEDGMENT
The authors thank Sydni Thomas for her assistance in related searches and reference management.
REFERENCES
Chaturevedi AK, Engels EA, Pfeiffer RM, et al. Human papillomavirus and rising oropharyngeal cancer incidence in the United States. J Clin Oncol. 2011;29:4294–4301.
American Cancer Society. Risk Factors for Oral Cavity and Oropharyngeal Cancers. Available at:

 

cancer.org/​​cancer/​​oral-cavity-and-oropharyngeal-cancer/​​causes-risks-prevention/​​risk-factors.html. Accessed June 19, 2019.

American Cancer Society. Key Statistics for Oral Cavity and Oropharyngeal Cancers. Available at: cancer.org/​​cancer/​​oral-cavity-and-oropharyngeal-cancer/​​about/​​key-statistics.html. Accessed June 19, 2019.
National Institute of Dental and Craniofacial Research. Oral Cancer. Available at:

 

nidcr.nih.gov/​​health-info/​​oral-cancer/​​more-info. Accessed June 19, 2019.

United States Centers for Disease Control and Prevention. HPV and Cancer. Available at: cdc.gov/​​cancer/​​hpv/​​basic_​​info/​​hpv_​​oropharyngeal.htm. Accessed June 19, 2019.
Sinha P, Logan HL, Mendenhall WM. Human papillomavirus, smoking, and head and neck cancer. Am J Otolaryngol.

2012;33:130–136.

US Centers for Disease Control and Prevention. Human Papillomavirus (HPV). Available at:

 

cdc.gov/​​std/​​hpv/​​stdfact-hpv.htm. Accessed June 19, 2019.

National Cancer Institute. Human Papillomavirus (HPV) Vaccines. Available at:

 

cancer.gov/​​about-cancer/​​causes-prevention/​​risk/​​infectious-agents/​​hpv-vaccine-fact-sheet. Accessed June 19, 2019.

US Food and Drug Administration. FDA Approves Expanded Use of Gardasil 9 to Include Individuals 27 through 45 years old. Available at: fda.gov/​​NewsEvents/​​Newsroom/​​PressAnnouncements/​​ucm622715.htm.

 

Accessed June 19, 2019.

US Centers for Disease Control and Prevention. Vaccines and Preventable Diseases. Available at:

 

cdc.gov/​​vaccines/​​vpd/​​hpv/​​hcp/​​recommendations.html. Accessed June 19, 2019.

Holman DM, Benard V, Roland KB, Watson M, Liddon N, Stokley S. Barriers to human papillomavirus vaccination among U.S. adolescents: a systematic review of the literature. External JAMA Pediatrics.

2014;168:76–82.

North AL, Niccolai LM. Human papillomavirus vaccination requirements in US schools: Recommendations for moving forward. Am J Public Health

. 2016;106:1765–1770.

Daley EM, Vamos CA, Thompson EL, et al. The feminization of HPV: How science, politics, economics and gender norms shaped U.S HPV vaccine implementation. Papillomavirus Res

. 2017;3:142–148.

Facciola A, Visalli G, Orlando A. Vaccine hesitancy: an overview on parents' opinions about vaccination and possible reasons of vaccine refusal. J Public Health Res.

2019;8:1436.

American Dental Association Center for Evidence-Based Dentistry. Cancer Prevention Through HPV Vaccination: An Action Guide for Dental Health Care Providers. Available at: ebd.ada.org/​​~/​​media/​​EBD/​​Files/​​DENTAL-Action-Guide-WEB_​​ADA.pdf?la=en. Accessed June 19, 2019.
American Academy of Pediatric Dentistry. Policy on Human Papilloma Virus Vaccinations. Available at:

 

aapd.org/​​media/​​Policies_​​Guidelines/​​P_​​HPV_​​Vaccinations.pdf. Accessed June 19, 2019.

Gurenlian J. The gift of a conversation. Available at: rdhmag.com/​​patient-care/​​article/​​16409748/​​the-gift-of-a-conversation. Accessed June 19, 2019.
Harbarger M. Oregon dentists become first in U.S to be able to give all vaccines. Oregon Live

. May 8, 2019.

Kline N, Vamos CA, Thompson EL, et al. Are dental providers the next line of HPV-related prevention? Providers' perceived role and needs. Papillomavirus Res

. 2018;5:104–108.

Vazquez-Otero C, Vamos CA, Thompson EL, et al. Assessing dentists' human papillomavirus- related health literacy for oropharyngeal cancer prevention. J Am Dent Assoc

. 2018;149:9–17.

Daley EM, Dodd V, Vamos, CA, et al. Prevention of HPV-related oral cancer: Assessing dentists' readiness. Pub Health.

2014;128:231–238.

Brega AG, Barnard J, Mabachi NM, et al. AHRQ Health Literacy Universal Precautions Toolkit, Second Edition. Available at: http:/​​/​​www.ahrq.gov/​​sites/​​default/​​files/​​wysiwyg/​​professionals/​​quality-patient-safety/​​quality-resources/​​tools/​​literacy-toolkit/​​healthlittoolkit2.pdf. Accessed June 19, 2019.
US Centers for Disease Control and Prevention. Parents: Vaccines for Your Children. Available at: cdc.gov/​​vaccines/​​parents/​​diseases/​​teen/​​hpv.html. Accessed June 19, 2019.
You Would Do Anything to Protect Your Child from Cancer: Boy with backpack. In: Centers for Disease Control and Prevention [website]. Atlanta, GA: U.S Department of Health and Human Services.
Shoemaker SJ, Wolf MS, Brach C. The Patient Education Materials Assessment Tool (PEMAT) and User's Guide. Available at: ahrq.gov/​​professionals/​​prevention-chronic-care/​​improve/​​self-mgmt/​​pemat/​​index.html. Accessed June 19, 2019.
US Centers for Disease Control and

 

Prevention. The CDC Clear Communication Index. Available at:

 

cdc.gov/​​ccindex/​​index.html. Accessed June 19, 2019.
From Dimensions of Dental Hygiene. July/August 2019;17(7):36–38,41.