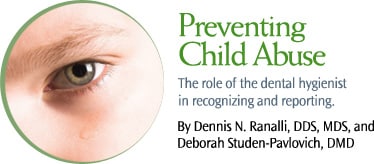 Preventing Child Abuse
The role of the dental hygienist in recognizing and reporting.
PURCHASE COURSE
This course was published in the April 2010 issue and expires April 2013.
The authors have no commercial conflicts of interest to disclose.
This 2 credit hour self-study activity is electronically mediated.
EDUCATIONAL OBJECTIVES
After reading this course, the participant should be able to:
Define child abuse.
Identify the indicators of child abuse that require additional questioning.
Identify the indicators of child abuse that require immediate reporting.
Identify the oral indications of child sexual abuse.
Understand the child abuse reporting process.
---
Every year an increasing number of children are abused in the United States. In 2007 an estimated 794,000 children were abused. The actual figures are most likely higher because of the many incidents that go unreported.
1
A majority of physically abused children are subjected to trauma inflicted at or above the neck, including the head, face, and mouth.
Even more tragic is that many of these same children are abused repeatedly. For example in 2007 an estimated 1,760 deaths were caused by repeated physical trauma. With the exception of 2005, the number of child abuse-related deaths has increased annually.1 In an attempt to break this cycle of devastating and fatal events, April has been designated National Child Abuse Prevention Month since 2003.
While the basis of dental hygiene practice focuses on prevention of dental diseases to promote oral and general health, an essential component of a comprehensive in-office prevention program is the prevention of child abuse through proper identification and reporting of suspected cases. According to state law in each of the 50 states members of the dental team, including dental hygienists, are mandated reporters of suspicious cases.
In order to properly identify physically abused children and to avoid inappropriate reporting, the dental team must have a good understanding of the currently accepted definitions and enumerating indicators of child abuse as well as the ability to provide an appropriate reporting protocol for suspected cases of child abuse.
DEFINITION OF CHILD ABUSE
According to federal legislation contained in the Child Abuse Prevention and Treatment Act, the definition of child abuse includes: "Any recent act or failure to act on the part of a parent or caretaker, which results in death, serious physical or emotional harm, sexual abuse, or exploitation, or an act or failure to act which presents an imminent risk of serious harm."2 Similarly, all states and United States territories provide definitions of child abuse and neglect in their statutes.
Child abuse may be categorized as physical abuse (nonaccidental physical injury); sexual abuse (sexual acts, prostitution, and child pornography); emotional abuse (disruption of psychological capacity or emotional stability); and parental substance abuse (alcohol and drugs).2
Recognition of nonaccidental physical injury is decidedly within the purview of dental hygiene practice since the craniofacial region, including the oral cavity, is the site where most physical abuse occurs. In craniofacial physical abuse, dental professionals need to be able to distinguish between indicators that require additional questioning in order to determine cause, and indicators that are self evident and require immediate reporting.
INDICATORS REQUIRING ADDITIONAL QUESTIONING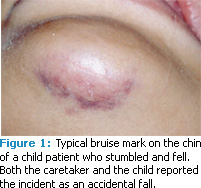 In the normal course of early childhood growth and development accidents, such as falls, often cause bruises to bony protuberances such as the knees, elbows, and chin (Figure 1). For example, when toddlers are learning to walk, they fall frequently, which may cause dental trauma such as fractured teeth (Figure 2), intrusive luxation to one or more primary anterior teeth (Figure 3), or a laceration to the labial frenum. While these types of injuries may be accidental, they also might represent abuse from a slap to the mouth or from forced feeding. Thus, additional questioning of the parent or caretaker is warranted to distinguish between an accidental or nonaccidental etiology and whether or not a child abuse report is necessary. When noted in the presence of other indicators, these types of injuries should heighten suspicions of reportable abuse.
---
TABLE 1. PROVIDING AS MUCH OF THE FOLLOWING INFORMATION AS POSSIBLE IS MOST HELPFUL WHEN MAKING A REPORT OF CHILD ABUSE.
Name and age of child.
The name of the suspected abuser.
The type of suspected abuse.
Documentation and actions of the reporter.
---
Childhood pediatric medical conditions may result in the clinical appearance of conditions that could be misconstrued as physical abuse. For example, multiple bruises at different stages of healing might be related to abuse but they could also be indicative of ongoing treatment of a blood disease. Missing patches of hair may represent another form of abuse or they could be related to medical conditions such as alopecia or chemotherapy treatment. Because of the possibility of alternative causes, snap decisions to immediately report child abuse are ill-advised until further questioning or the presence of other indicators reveals a need for suspicion.
INDICATORS REQUIRING IMMEDIATE REPORTING
There are physical injuries that leave no room for doubt as to whether a report must be filed. Slap marks to the face, human bite marks, cigarette burns to the skin, or choke marks to the neck are all nonaccidental forms of physical abuse that require immediate reporting.
Slap marks. Slap marks to the tender skin of a child's face will result in the pooling of blood into the tissues outlining the hand of the perpetrator. The use of an object such as a strap or a belt buckle will produce a similar type of injury that will progress through the various stages of healing similar to a black-and-blue bruise mark. Slap marks to the face require no further questioning of the parent or caretaker and such nonaccidental physical abuse injuries must be reported immediately in the best interest of the child.
Human bite marks. Human bite marks must be distinguished from animal bite marks such as those produced by a dog or other carnivorous animals. The pattern of a human bite mark is ovoid or elliptical in shape with a central area of ecchymosis (contusion) caused by compression of the flesh and disruption of the underlying small blood vessels. Carnivorous animal bites are associated with a "V" shaped pattern with torn flesh and deep indentions in the region of the canines. The presence of any human bite mark on the flesh of a child is cause for filing an immediate report of physical abuse.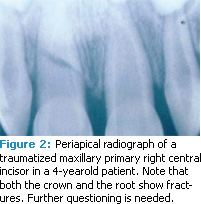 Cigarette burns. Nonaccidental burns can range from scalding or immersion burns to contact burns from objects, such as curling irons or cigarettes. Characteristically, cigarette burns are round and the degree to which the cigarette is held to the skin determines the diameter and depth of the wound. While arguably a single cigarette burn might be accidental in origin, multiple cigarette burns unquestionably require immediate reporting.
Choke marks. Visual evidence of attempted strangulation around the neck may show marks of the hands and fingers of the perpetrator, a strap mark, or a rope burn. Should such marks be observed during the course of a routine dental examination a report must be submitted immediately to protect the child from further harm.
INDICATORS OF CHILD SEXUAL ABUSE
Because of its significance in communication and nutrition, the oral cavity is often the focus of not only physical abuse but also sexual abuse in children. Dental professionals need to be alert for signs of unexplained palatal petechiae that may be indicative of forced oral sex or to the presence of lesions associated with sexually transmitted diseases (STDs) (Figure 4). STDs may include evidence of oral/perioral gonorrhea or venereal warts from human papillomavirus. Immediate reporting is indicated for suspected cases of child sexual abuse and referral to specialized facilities for comprehensive evaluation is recommended.3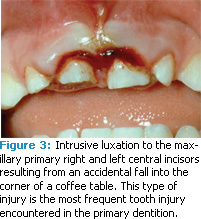 DOCUMENTATION OF CHILD ABUSE
In addition to visual indicators, dental professionals are in a unique position to obtain photographic and radiographic evidence without prior parental or caretaker consent for suspected cases of child abuse. The Social Services Law, Section 416, states: "Any person or official required to report cases of suspected child abuse and maltreatment may take or cause to be taken, at public expense, photographs of the areas of trauma visible on a child… and, if medically indicated, cause to be performed a radiological examination on the child."4 To diminish distortion and enhance the accuracy of the photographic evidence, the camera lens should be aimed directly over and perpendicular to the plane of the site in question. Photographs of the site should include an identification tag and scale marker for the purposes of future verification and measurement.
---
THE PANDA COALITION
Developed by Lynn Mouden, DDS, MPH, and sponsored by Delta Dental of Missouri, Prevent Abuse and Neglect through Dental Awareness (PANDA) is an educational program that trains dental and health care professionals to recognize and report the signs of physical and sexual abuse and neglect in their pediatric patients.5
Dental and health care professionals are more apt to be effective reporters of child abuse with additional education.6 PANDA programs can help improve the knowledge base of dental and health care professionals, thus improving their response to cases of suspected abuse. PANDA offers a variety of educational programs that provide information about preventing child abuse and neglect.
The seminars include discussion of the clinical indicators of abuse and neglect, the state laws on child abuse, dental professionals' exposure to liability, and the prevention of child, domestic, and elder abuse and neglect.6 To find a PANDA program in your area, call your state dental or dental hygiene association.
---
In cases involving bite marks, two additional pieces of information may be obtained to identify the perpetrator. Impressions of the bite mark on the child's flesh can be made and poured into stone casts for subsequent matching with the occlusion of the perpetrator. Swabs of the bite mark may be used to corroborate DNA identification. Both of these techniques may require additional continuing education in forensic odontology for dental team members.7
REPORTING
Once the decision has been made to report a suspected case of child abuse, the process should be initiated without further delay. Depending on the practice situation, dental hygienists may wish to consult with the dentist prior to reporting. However, the dental hygienist is mandated to report suspected cases even if the dentist disagrees.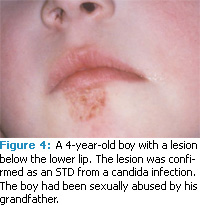 The dental hygienist must decide whether to discuss the suspicion with the parent or caretaker. Such a discussion is not required but if the decision is made to engage in a dialogue the conversation should avoid being accusatory or judgmental. However, referring to the legal obligation of dental professionals as mandated reporters of suspected cases of child abuse is appropriate.
Initially, a telephone call must be made to either to the national hotline Childline—(800) 932-0313—or to the child, youth, and family services department of the county where the child resides. See Table 1 for the information that should be included in a report.
The report to Childline will initiate an investigation within 24 hours. The dental hygienist must submit a report of suspected child abuse (CY 47 form), which may be obtained from the county child, youth, and family services department. It must be completed within 48 hours of placing the telephone call. Most forms are state-specific so dental hygienists should be familiar with the forms from their states. As an alternative, it is acceptable to submit the information in letter form.
CONCLUSION
The best approach for the prevention of child abuse involves education and preparation. Dental hygienists in their roles as prevention advocates and educators may be the most appropriate staff member within the dental office to collect and disseminate information, establish protocols, and discuss the prevention of child abuse through proper recognition and appropriate reporting of suspected cases. See the sidebar for information on the Prevent Abuse and Neglect Through Dental Awareness (PANDA). The dental team is in a unique position to intercept the cycle of child abuse, thus preventing the continuation of pain and suffering of children.
REFERENCES
US Department of Health and Human Services, Administration for Children and Families. Child maltreatment 2007. Available at http://www.acf.hhs.gov/programs/cb/pubs/cm07/chapter3.htm. Accessed March 17, 2010.
US Department of Health and Human Services, Administration for Children and Families. Definitions of child abuse and neglect. Available at http://www.childwelfare.gov/systemwide/laws_policies/statutes/define.cfm

Accessed March 17, 2010.

American Academy of Pediatrics Committee on Child Abuse and Neglect; American Academy of Pediatric Dentistry; American Academy of Pediatric Dentistry Council on Clinical Affairs. Guideline on oral and dental aspects of child abuse and neglect. Pediatr Dent

. 2008-2009;30(Suppl):86-89.

Botash AS. Photographic documentation, CHAMP Practice Recommendations. Available at http://champprogram.com/pdf/photographic-documentation-jan-2009.pdf

. Accessed March 17, 2010.

Mid-Atlantic PANDA. About PANDA. Available at: www.midatlanticpanda.org/html/about.cfm

. Accessed March 17, 2010.

Prevent Abuse and Neglect Through Dental Awareness. Available at: http://www.healthyarkansas.com/Oral_Health/pdf/pandab.pdf

. Accessed March 17, 2010.

Lee LY, Ilan J, Mulvey T. Human biting of children and oral manifestations of abuse: a case report and literature review. J Dent Child

. 2002;92-95.
From Dimensions of Dental Hygiene. April 2010; 8(4): 58-61.