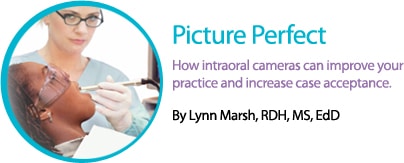 Picture Perfect
Intraoral cameras can improve your practice and increase case acceptance.
A quality, thorough assessment is essential to providing patients with the highest standard of care. Patient assessment typically includes a radiographic examination as well as a clinical examination. Intraoral cameras can help oral health care professionals provide comprehensive patient assessments.1,2 Intraoral cameras can be incorporated into patient assessment effectively and routinely to enhance care outcomes and treatment acceptance. They are also useful for documentation, patient education, and professional presentations.3,4
The intraoral camera works similarly to digital radiography. The camera captures the image through a charged coupled device (CCD) and processes it to produce a viewable image.5 Oral health care providers are able to incorporate the images captured from the intraoral camera into patient charts to be used during examination, treatment planning, and patient education. Some types of intraoral cameras also provide magnification capability, offering clinicians a closer examination of the oral cavity.
ADVANTAGES
One of the intraoral camera's most important advantages is the ability to capture and manipulate an image in the oral cavity and save it to the patient's chart. If electronic patient charts are not being used, the images can be printed and filed in the patient's paper chart. This allows oral health care providers to share their observations with patients so they can become better informed about their own dental health.
The images captured by intraoral cameras allow patients to accurately visualize problems with their teeth and/or tissues, including fractured teeth or restorations, carious lesions, plaque buildup, and bleeding or inflamed tissues. With this technology, oral health care providers and patients can collaborate on the right treatment plan to achieve optimal oral health. Patients are now able to view potential problems along with clinicians while their treatment progress is effectively monitored. Sequential photos of treatment are an effective way to document patient compliance and improved oral health.
TABLE 1. ADVANTAGES OF INTRORAL WAND CAMERAS
3,4
• Ease of use
• Immediate viewing of the images
• Effective in difficult to reach posterior areas
• Provide a high intensity light source
• Offer magnification capabilities
Clinicians examine the oral cavity for any precautionary symptoms that may indicate a health risk. Including images of all symptoms of oral lesions, eating disorders, and other diseases that may be present in the oral cavity is essential to effective patient documentation. The images captured by the intraoral camera closely illustrate the diagnoses and explain further to patients how to proceed with treatment. Consequently, oral health care providers can effectively explain consequences to patients if the condition is left untreated.
Intraoral images can also be printed out for patients to take home. This allows patients to consider the proposed treatment plan and hopefully become more motivated to improve their oral health. Some intraoral software programs allow images to be modified in real time to illustrate proposed esthetic changes prior to altering the tooth structure. Additionally, images can be sent electronically to dental laboratories for a more accurate color match in veneers, crowns, and/or fixed partial dentures.6,7
Magnification is an important benefit of intraoral cameras. It can help oral health care providers visualize pathology, open margins, fractures, and caries that are not easily seen with the naked eye. A study that looked at the efficacy of intraoral camera use in the treatment of occlusal surfaces of molars found that intraoral cameras did aid clinicians in making restorative treatment decisions.8 Erten et al had four clinicians review 68 extracted human molars using the following techniques: visual examination only, examination with an intraoral camera, and examination with a microscope to assess each molar and make treatment recommendations. In a comparison of the three techniques, the study found that the use of an intra oral camera improved the clinicians' treatment decisions on the occlusal surfaces of the molars.8
The intraoral camera provides the dental office with a permanent record of a patient's condition prior to treatment. Photo documentation is helpful when submitting insurance claims and can serve as evidence if legal issues arise during or after treatment. Current technology provides oral health care providers with a unique ability to record as much information as they deem necessary.9
PATIENT EDUCATION
Patient education is a vital aspect of dental hygiene practice, and advanced technology has made the patient education process more user friendly. An intraoral camera is one of the most effective tools in the patient education armamentarium.
TABLE 2. ADVANTAGES OF SINGLE LENS REFLEX CAMERAS
3,4
• Provide high quality images

• Economical

• Can be used for other applications

• Variety of automatic settings can make photography easier
Incorporating intraoral cameras into patient assessment can help improve patient compliance. Oral health care providers can use the intraoral camera to show "live" images on the computer monitor to demonstrate conditions directly to patients.10-12 This provides visual proof of patients' treatment needs, which can be especially helpful for reluctant or fearful patients.
Intraoral cameras allow dental professionals to compare intraoral images at routine recall visits in order to re-evaluate patient's self-care strategies. The images are important for patient education and documentation of the patient's condition before, during, and after treatment.13 Intraoral cameras are integral to effectively educating patients about their oral hygiene, overall oral health status, and in gaining acceptance of treatment.
TYPES OF INTRAORAL CAMERAS
There are two options in intraoral cameras: intraoral wand and single lens reflex (SLR). Intraoral wand cameras go inside the mouth and thus require the use of plastic barrier sleeves. They provide excellent visualization of the oral cavity. The main advantages of this type of intraoral camera are ease of use and the immediate viewing ability of images. Intraoral wand cameras are equipped with USB connections or dock ing stations that provide portability.3,4 Table 1 provides a list of other features. SLR cameras are more economical and they can provide extremely high-quality images. Table 2 provides a list of additional benefits.
TECHNOLOGY ADVANCES
When intraoral wand cameras were first introduced in the late 1980s, they were cumbersome, requiring a large amount of space in the operatory. They were also very expensive, with a sticker price of about $40,000.1 The handpiece that housed the intraoral camera was just a small part of the machine, which included a large video processor box, a dedicated computer with monitor and keyboard, a floppy disc drive for saving and transporting still images, and a VCR for saving video captured by the camera. Every part of the system, besides the actual intraoral camera handpiece, seems massive by today's technology standards.14 Subsequent versions improved dramatically, becoming more compact and more economical. Now an intraoral wand camera is the size of a handpiece and can be purchased for less than $5,000.15
TABLE 3. TIPS FOR IMPLEMENTING INTRAORAL CAMERAS INTO PRACTICE
10-12
1. Do your homework. Before purchasing a camera, make sure it will integrate seamlessly into your existing patient management/education software systems.

2. Designate one person in the practice to take most of the intraoral photos. This allows the team member to develop his or her skills and serve as the practice expert on photography. The dental hygienist may be well suited for this role.

3. Determine which procedures your practice performs the most and then create a collection of images of these procedures. This strategy allows for immediate and easy access to the images you will use the most during patient education.

4. Keep your digital image library organized. When storing images for specific patients, determine a file labeling system so they are easily found and retrieved.

5. Institute a back-up system. You must protect your images with a daily back-up system that includes an offsite component in case of fire, flood, theft, etc.
The days of wheeling an enormous unit between operatories to demonstrate intraoral images to patients have vanished. The docking station processor of yesterday's intraoral camera has been abandoned and replaced with USB connectivity so the entire device fits in only the lightweight handpiece. As technological advancements continue to yield more powerful and more compact cameras, it seems likely the rate of acceptance will increase until the intraoral camera becomes a standard part of every operatory.14 See Table 3 for a list of helpful tips for implementing intraoral cameras into practice.15-17
CONCLUSION
Intraoral images can be a fundamental part of the oral health examination. Oral health care providers are educated and trained to focus on patient needs and prevention. Although patients can look into their mouths, never before has every feature been so clearly identifiable, enabling clinicians to effectively educate their patients. Educating patients about their oral health through intraoral photography empowers them to take charge of their own dental health and accept necessary treatment. The old saying, "a picture is worth a thousand words" definitely applies to treatment planning and assess ment.15
REFERENCES
Snyder TL. Integrating technology into dental practices. J Am Dent Assoc. 1995;126:177.
Rinaldi SJ. The digital age and image of dentistry. Dent Today. 2007;26:132, 134.
Plummer KD. Digital dental imaging: incorporating digital photography into the dental operatory. Dimensions of Dental Hygiene. 2009;7(9):24–26.
Plummer KD. Digital dental imaging part 2. Dimensions of Dental Hygiene. 2010;8(5):60–62.
DiTolla MC. Intraoral Camera Technology. Available at: www.drditolla.com/pdfs/ditolla_ intraoral_camera.pdf. Accessed May 17, 2011.
Gallegos AG. Enhancing interprofessional communication through digital photography. J Calif Dent Assoc. 2001;29:752–757.
Hirschinger R. Digital dentistry: information technology for today's (and tomorrow's) dental practice. J Calif Dent Assoc. 2001;29:215–221, 223–235.
Erten H, Uçtasli MB, Akarslan ZZ, Uzun O, Semiz M. Restorative treatment decision making with unaided visual examination, intraoral camera and operating microscope. Oper Dent. 2006;31:55–59.
Benjamin S. The hygienist's role in photo documentation. Journal of Practical Hygiene. 2003;14(5):30.
Feuerstein P. Can technology help dentists deliver better patient care? J Am Dent Assoc. 2004;135(Suppl):11S–16S.
Anderson LH. Integrated office technology: how technology can help improve office efficiency. J Am Dent Assoc. 2004;135(Suppl): 18S–22S.
Levato CM. Putting technology in place successfully. J Am Dent Assoc. 2004;135(Suppl): 30S–37S.
Christensen GJ. Intraoral television cameras versus digital cameras, 2007. J Am Dent Assoc. 2007;138:1145–1147.
Levine N. Product flashback: Intraoral cameras. Available at: www.dentalproductsreport.com/articles/show/dpr0609_we_flashbackintraoral. Accessed May 17, 2011.
Christensen GJ. Important clinical uses for digital photography. J Am Dent Assoc. 2005;130: 77–79.
Christensen GJ. Why expand the role of dental staff members? J Am Dent Assoc. 2001;132: 529–531.
Christensen GJ. Educating patients about dental procedures. J Am Dent Assoc. 1995; 126:371–372.
From Dimensions of Dental Hygiene. June 2011; 9(6): 62-64.