October 2020 Marketplace For Dental Hygienists
A listing of featured products.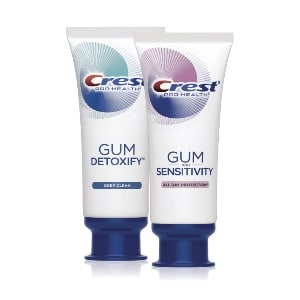 TOOTHPASTE PROMOTES GINGIVAL HEALTH
Procter & Gamble, Cincinnati, offers Crest Gum Detoxify and Crest Gum and Sensitivity. Crest's stannous fluoride formulation is designed to deliver optimal gingival health and usage experience. Crest Gum Detoxify and Crest Gum and Sensitivity are active up to 4 mm below the gumline and penetrate deep into the biofilm to neutralize gingivitis-causing bacteria. 800-543-2577; dentalcare.com/en-us/product/toothpaste/stannous-fluoride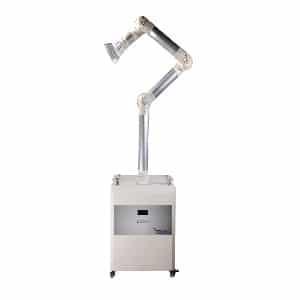 AEROSOL SCAVENGER
OCTOdent, Marshall, Arkansas, has released its extraoral aerosol scavenger. This unit is designed specifically to remove and filter viruses, bacteria, and potentially toxic vapors away from the immediate area of the oral health professional and patient. It captures harmful aerosols at the source and cleans the air with a six-stage filtration system while performing ultrasonic scaling, high-speed drilling, and other procedures where an oral aerosol vacuum system is recommended or required. The OCTOdent unit is a mobile, standalone, hands-free air cleaning device with a flexible source suction duct, and is extremely portable and quiet while in use. 870-224-0966; octodent.com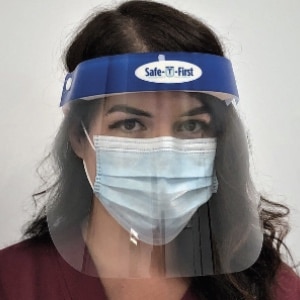 FACE SHIELDS
Flow Dental, Deer Park, New York, introduces Safe-T-First face shields. Made from quality materials, Safe-T-First face shields are described as meeting the highest standards for safety, clarity, and reliability. These shields are scratch resistant, anti-fog, and include two peel-off layers of safety film to ensure the shield will provide clinicians with the clearest possible viewing area. The latex-free forehead cushion band allows clinicians to wear the face shield comfortably for hours. 800-356-9729; flowdental.com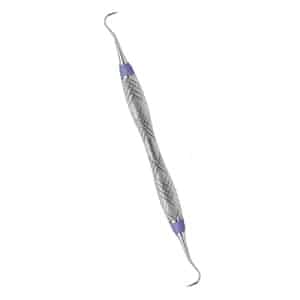 NEW SCALER
HuFriedyGroup, Chicago, introduces the Harmony™ Scaler. This scaler is designed to reduce pinch force up to 65% and the amount of pressure applied to the tooth by up to 37%. Designed with TrueFit™ Technology, an advanced sensor-based technology system, more than 2.8 million data points were collected to develop this ergonomic solution. With a design that is easily adaptable to the clinician's individual grasp, the HarmonyScaler is the perfect fit for dental hygienists. 800-483-7433; hu-friedy.com/harmony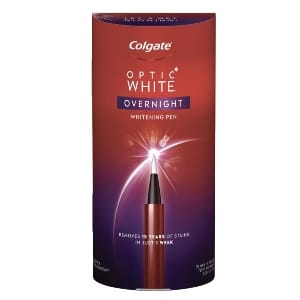 WHITENING PEN
Colgate-Palmolive Co, New York, has launched its new Colgate® Optic White® Overnight Teeth Whitening Pen. Designed to brighten patients' smiles while they sleep, Colgate Optic Overnight Teeth Whitening Pen is powered by hydrogen peroxide. Users will appreciate the whitening pen's easy application where the formula goes on wet and dries seconds after applying. The formula is easily removed the next morning when patients simply brush their teeth. Key product benefits include: easy and effective whitening while the patient sleeps; no tooth sensitivity during or after the whitening process;designed to remove 15 years of stains in 1 week when used as directed; and 2-week treatment time. 800-468-6502; colgate.com/en-us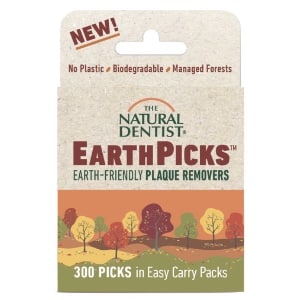 PLAQUE REMOVERS
The Natural Dentist, Madison, New Jersey, introduces EarthPicks Plaque Removers. These environmentally friendly wood plaque removers are an alternative to plastic, single-use disposable plaque removers. They are made from birch wood grown in managed forests. EarthPicks are a special triangular shape designed to fit in the spaces between teeth. While the base of the triangle sits against the gums and massages them, the sides of the triangle remove plaque and food debris from in-between teeth. The picks are flavored with mint from mint oil; 888-317-4402. bleedinggums.com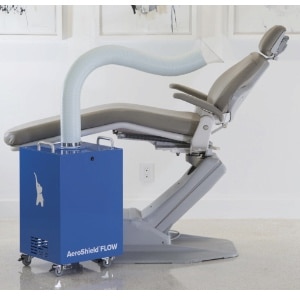 SUCTION SYSTEM
AeroShield, Fort Lauderdale, Florida, offers its new AeroShield FLOW Extra-Oral Suction System to help protect dentists, dental hygienists, staff, and patients from potential viral infection by capturing bioaerosols during procedures. AeroShield FLOW features 330 cfm at the face of the intake nozzle, 66 decibels, German-engineered motor rated for more than 40,000 hours, hospital-grade H14 HEPA filter, medical-grade sterilizing ultraviolet light, activated carbon filter, and MERV 8+ high-capacity filter. AeroShield FLOW fits into small operatories and has a flexible, easy-to-use and clean arm. The unit is also said to provide consistent and powerful airflow to evacuate bioaerosols directly from the working area. 754-704-1497; aeroshieldhealth.com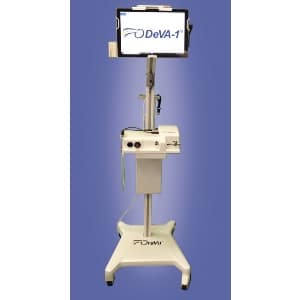 DENTAL ENDOSCOPY
OraVu®, Scottsdale, Arizona, offers the DeVA-1®2G Dental Vision Assistant. The camera sensors are now placed in the distal tip of the digital camera fiberscope so a lens coupler is not needed to focus. This new design is said to allow for cleaner and crisper images and videos when viewing deep into the sulcus. Depth of field is 1 mm to infinity and uses a 0.65 mm square sensor with pixel spacing (density) equal to that of a 12 Mp camera. The 2G has 40,000 pixels. The 2nd Generation DeVA-1 digital camera endoscope allows periodontists, dentists, and dental hygienists to see deep into the gingival pocket without flap surgery. The system allows dental hygienists to perform Visual-SRP℠ with ease and comfort for both clinicians and patients. The system is fully transportable and is available in two configurations: lightweight, wheeled system that can be quickly moved in an intra-office environment and transportable unit that can be easily disassembled/reassembled and transported in a hard sided, two-wheel case. 480-884-1552; oravu.us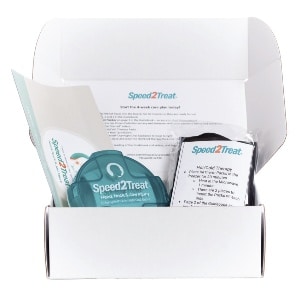 KIT FOR HEAD, NECK, and JAW INJURY
Orofacial Therapeutics LP, San Diego, provides the Speed2Treat™ Home Healing Kit for Head, Neck & Jaw Injury. Designed to decrease pain, reduce dysfunction, and help prevent a musculoskeletal injury from progressing to a chronic condition, Speed2Treat can help patients post-assessment to alleviate symptoms and speed recovery. The kit includes an evidence-based, 4-week care plan along with multiple components that can be easily implemented, including a temporary, overnight oral appliance, hot/cold therapy packs, self-care instructions, and online resources including pain education, prescribed exercises, breath training, and calming virtual reality experiences linked with a smartphone. The kit is appropriate for acute jaw joint and muscle sprain/strain caused by intubation; mild cases of trauma involving the head and neck; blow to the jaw or injury to the chin; tension headaches from jaw clenching, muscle tension, strain, and stress; and flare ups of existing jaw or neck conditions. 800-760-0526; quicksplint.com

ORAL PROBIOTIC
BURST USA Inc, Walnut, California, introduces Oral Probiotics, minty fresh, dissolvable lozenges that, in conjunction with regular oral hygiene, help to reestablish a healthy balance of bacteria in the oral cavity and upper respiratory system. The product focuses on promoting the growth of good bacteria, such as Streptococcus salivarius and Lactobacillus rhamnosus, in the oral cavity and curtailing the growth of pathogenic bacteria. Formulated with 6 billion colony forming units (with a guaranteed 2 million upon consumption, as with all living things, they degrade over time) and six strains of bacteria, these clinically researched probiotic strains specifically target plaque buildup, caries, and oral malodor. The Oral Probiotics are made from 100% natural ingredients, and are sugar- and genetically modified organism free, and vegetarian; burstoralcare.com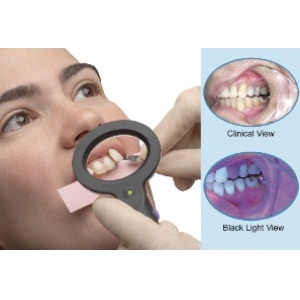 MATCHING LIGHT
AdDent, Danbury, Connecticut, offers the Rite–Lite PRO. This matching light features Multi-Spectra HI CRI LEDs; three intensity levels; a blacklight setting for matching restorations to the natural dentition fluorescence, a rechargeable Li-Ion battery and more. According to the company, the operator takes the shade with 5,500 K, and then verifies the shade match under incandescent (3,900 K) and ambient (3,200 K) and black light. The chosen shade should match in all four wavelengths. The Rite-Lite PRO also features a larger viewing area, and it's high CRI allows for better color rendition of all the shades as well as natural tooth fluorescence. 855-211-3143; addent.com
From Dimensions of Dental Hygiene. October 2020;18(9):44-45.