November 2020 Social Commentary
Like Dimensions of Dental Hygiene's Facebook page to share your thoughts on posted questions.
How do you care for your pet's oral health?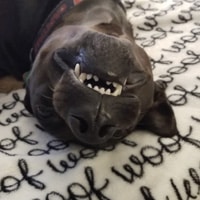 Francine R. Hoffman, RDH, BSDH Dimensions Facebook Commenter

I clean my daughter's dog's teeth by letting him chew on his bone on one side, while I use a soft adult toothbrush on the other; then I switch sides. Best to get dogs when they are tired and easy to manipulate. If I see any buildup, I use a scaler very carefully because he is a little skeptical when he hears the scraping sound. He is getting used to it by my doing it as regularly as possible.
Kennedy Cole BSDH, RDH, CDHC Dimensions Facebook Commenter

Oxley gets his teeth brushed at least every other day!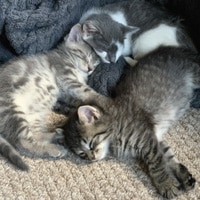 Danielle Sobinsky, RDH, EFDA Dimensions Facebook Commenter

I add a zinc mouthrinse that neutralizes volatile sulfur compounds designed for pets to my cats' water.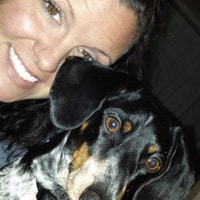 Ann Cote, RDH, MSHA Dimensions Brand Ambassador
@annie_dental_hygienious

I do my best to brush my Dexter's teeth but he hates it. He has had his teeth professionally cleaned as well.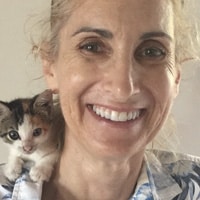 Julie Seidman, RDHEF Dimensions Facebook Commenter

I run an animal welfare clinic in Fiji. The finger cot-like infant toothbrushes seem to be better tolerated by dogs than regular toothbrushes in my experience. Chewing on coconuts appears to be beneficial for cats, but not practical (other than in Fiji).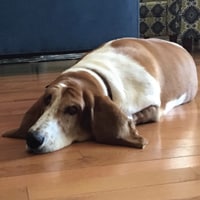 Lynn Pencek, RDH, MS Dimensions Corporate Council Member
My Beatrix is a 6-year-old, very overweight bassett hound. Bea was selected to have two litters of puppies with Tait's Bassett's of State College, Pennsylvania. Due to a significant weight gain with her second litter, she was retired. We took her home at 96 pounds and she is now down to 77 pounds, and could stand to lose another 6 pounds to 10 pounds. Bea's teeth are amazing. She takes toothbrushing well and lets me trace along her gums with an extended shank universal curet. Bea also received full X-rays, periodontal charting, and preventive dental care at the University of Pennsylvania Department of Veterinary Dentistry.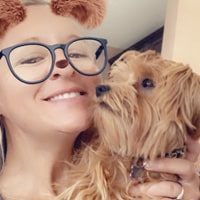 Heather F. Rochlin, CRDH Dimensions Facebook Commenter

My pup will not let me near him with anything but my finger, so I spray a doggy dental herbal spray on gauze or a cotton wipe and wipe his teeth. So far so good. He is 4 and has not needed any professional cleaning according to his veterinarian. I try to do this nightly.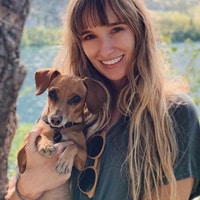 Simòn Bud, RDH Dimensions Brand Ambassador
@simonvbud

I have a chiweenie, which combines two breeds notorious for bad teeth! I grew up with a dachshund and it saddened me to see her go through painful periodontal issues and the loss of most of her teeth. When I became a dental hygienist and got my chiweenie puppy, Milo, I was dedicated to ensuring he had a better dental experience. As a puppy, I was able to get him used to my finger rubbing his gums. After Milo was used to my fingers in his mouth, I started using a little bit of doggy toothpaste on my finger. He didn't love it but he trusted me. I worked him up to using a doggy toothbrush/toothpaste every night, dental doggy spray, and getting a nonanesthesia cleaning from our local veterinary clinic once a year. Since I started this from an early age, Milo handles it all pretty well now! Plus he knows every night after I brush his teeth he gets a treat (a dental "greenie" bone). When I bring him in for his cleanings, the veterinary techs are always surprised at how amazing his teeth and gums look, especially for his breed!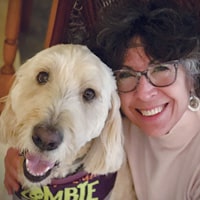 Marianne Contino, RDH, PHDHP Dimensions Facebook Commenter
@mariannecontino

I have a 7-year-old, 70-pound golden doodle that I have trained since he was a puppy. I use scalers to clean his teeth every 3 months to 6 months. My husband holds his head (he has a big head so that does make for easier access) and he lets me go subgingivally and I actually pop off calculus! He doesn't love it but he lets me do it and he knows he gets a treat afterward. The best part is every time he gets examined, the veterinary staff comment that they have never seen a dog his age with such healthy tissues. The last time the vet said he has the tissues of a 6-month-old puppy! That makes me a proud mamma.
Scooby is 10 months old. I brush his teeth and I have extracted some retained baby teeth. He lets me work on his mouth when he is sleepy. Scooby never bites me and seems to enjoy the dental care. My rainbow bridge beagle, Freddy, let me scale his teeth and extract his periodontal-involved teeth as he aged. I am happy to provide dental care to my extended furry family!
SOCIAL COMMENTARY Like Dimensions of Dental Hygiene's Facebook page at: facebook.com/​dimensionsofdentalhygiene to share your thoughts on posted questions. We may publish your comment in an upcoming edition of our new column "Social Commentary," and one lucky respondent will receive a coupon for a free continuing education course. If you would like your Instagram handle included, please be sure to add it to your response. Comments may be edited for clarity or brevity.
From Dimensions of Dental Hygiene. November 2020;18(10):14-15.